Into the Mystic: A Collage of Easter Memories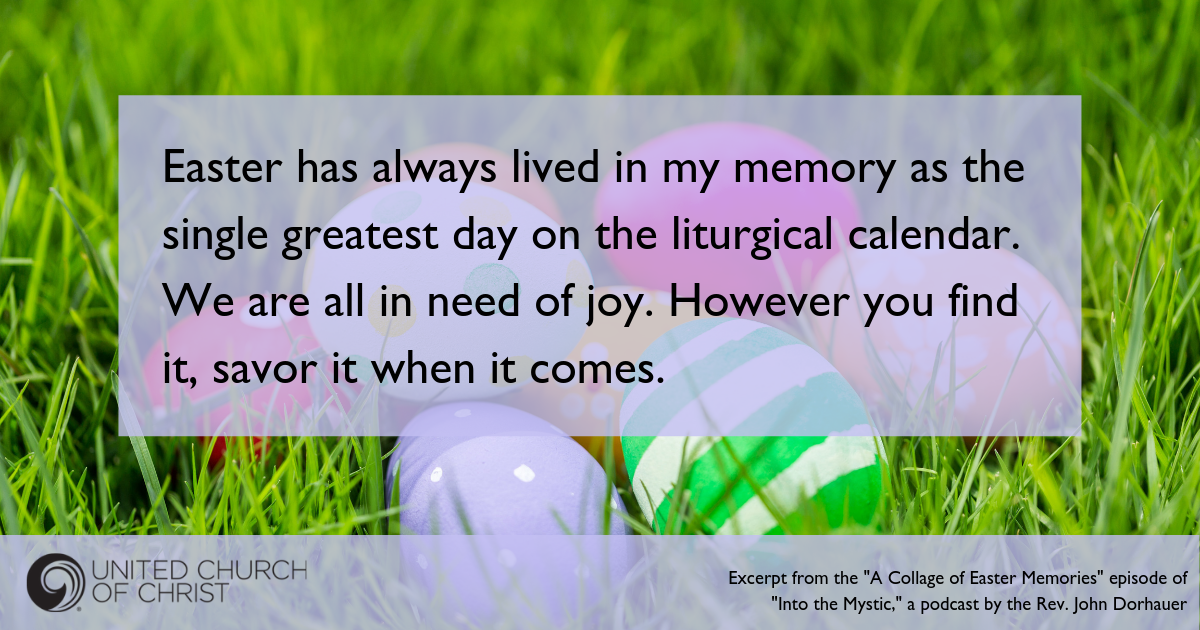 Easter has always lived in my memory as the single greatest day on the liturgical calendar. From my family's deeply held traditions to the Church's sacred ritual preparations, everything about Easter week signaled singularity and emanated unmitigated joy.
What follows is a scattershot of memories around a faith community and a family doing their best to express that joy fully.
I remember:
Mom taking us shopping and for the only time in a year buying new clothes, making sure we looked our best Easter morning.
Posing for the photographer in the days before Easter, another family photo taken while the Easter outfits were still clean and not showing the wear and tear that would inevitably come.
Jelly beans lost in plastic green grass, brightly colored foil covering the ground as chocolate eggs are devoured, malted milk balls spotted with color, chocolate rabbits unwrapped and about to lose their ears, stale peeps, hard-boiled eggs dyed in a splendiferous bounty of color.
Singing a first Hallelujah after being told for 50 days not to even think about uttering that word.
Spending hours rehearsing the Exsultet on a two octave mini organ I had been given as a gift, having been given the honor of chanting it solo in the Easter Vigil on Saturday evening.
That first February choir rehearsal when the director handed out the parts for the Cantata, and spending week after week after week rehearsing before that glorious Easter day when, not a seat empty on the sanctuary, we did our best to tell of joy in word and song.
Children roaming the grounds of the church yard in search of the next hidden egg while parents and grandparents beamed with pride as the newfound treasures were shared with them.
A very cold, very brisk Easter morning wondering whether or not anyone would bother to show up on the green outside the church for the sunrise service, and an hour later marveling at the power of resurrection joy to inspire us to endure this and more in order to hear the good news again.
An Easter morning pancake breakfast at the church that required us to use our oven at the parsonage next door as an extra because we ran out of space in the church kitchen, and then Mimi pre-heating it without remembering that this oven is where she hid Adam's basket – and then calling a brother who lived ten miles away and asking him to run out and find whatever new basket he could so Adam wouldn't go without later that morning.
A hospital room in which an 83 old man, whom we thought two days ago was dying, felt alive again and said to those of us who went to see him after Easter morning service at church: "Today is Easter. I thought I was dead, but I am alive. For the first time in my life, I feel like God has a purpose for me."
An agnostic son rising early on Easter, putting on his finest clothes, and without prompting coming to worship with Mom and Dad.
Happy Easter, everyone.
We are all in need of joy.
However you find it, savor it when it comes.
And may the power of resurrection hope instill within you a certainty that the suffering of this present time is not worth comparing to the joy that in time will be revealed in us.
Jesus is risen. He is risen, indeed. And that is enough for us to walk with joy on this, our journey Into the Mystic.
---
Related News
While I was pregnant with our second child, our local church held an Advent Fair where we all...
Read More