In all Circumstances….
Listen to the podcast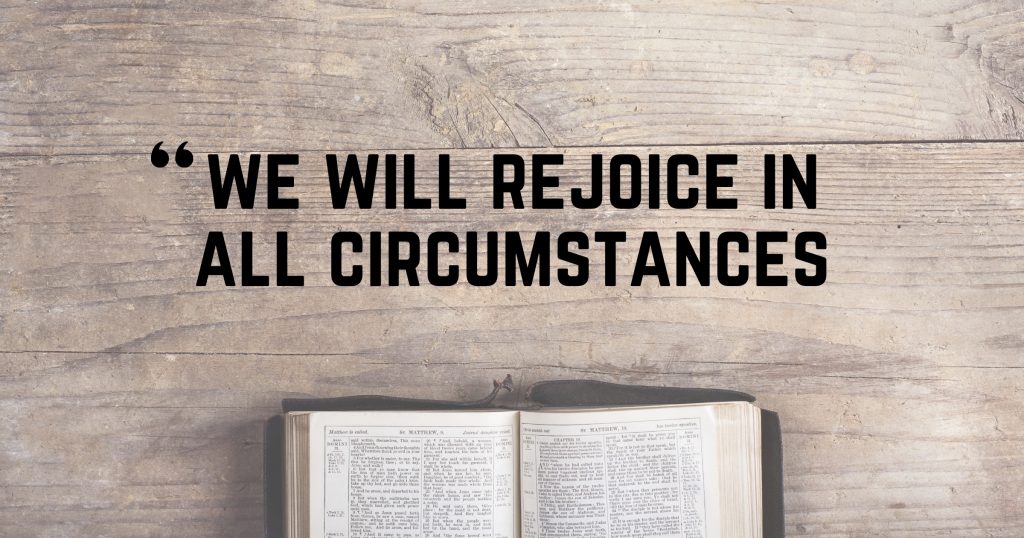 Read the transcript
While on a call with one of our denomination's Conference Ministers last week, I was told about a meeting she was at recently in which three pastors talked about what they learned and were grateful for through this time of pandemic.
It shook something free in me.
I have been, we all have been, carrying heavy weights for long months now. This pandemic came with no warning about what we would all endure. It has hit us all hard – much harder than we expected. Death and grief, sickness and recovery, loneliness and solitude, lost trips and travels, relationships with family and classmates and nothing but a computer screen to maintain them, time with grandkids and cousins and parents we will never get back. The pain associated with this is deep and we will take time to recover from it.
And then I learn that some are giving thanks – not for the pandemic, but from within it and the grief it brought. We read in our sacred texts that we will rejoice in all circumstances. I am moved by those who have inspired me to think this way.
When this podcast releases, I will be on vacation. My wife and I are now fully vaccinated – as are our children. Mimi and I will get in our car and take the trip we have been savoring for long, long months now. It will begin with our first overnight visit to our grandchildren in over 18 months; followed by the first visit with my mom in over 18 months; followed by a trip I weep about even as I write about it – a visit to the wife of my best friend. David died six months ago and I have not yet been given a chance to sit with the fabulous Paula, as he called her, and grieve, laugh, and relive our sacred memories of him.
I know we are a long way from finished with this pandemic. But even from within it there have been gifts offered we can all pause and give thanks for.
I have had every meal at home with my wife and son for 18 months.
I have awakened in my bed every morning for 18 months.
I have been able to work with some of the most amazing leaders, albeit remotely, but who show up every day to do good and important work. We were able to survive this long season without a single one of them having to be laid off or be let go because of budget challenges.
We have born witness to people discovering the mission and message of the faith we espouse through a virtual presence we resisted for so long – only now to discover because of the pandemic that we can not only do this, and do it well, but so many have been waiting for us to show up the digital world they have been living in for a while. They love what they have discovered there as the Church awakens to new avenues to speaking of the love of God known in Jesus.
So, though weary, burdened and grieving so much – I also awaken to a spirit of rejoicing and gratitude for gifts given.
I hope and pray the same for all of you. I know that you, too, carry heavy burdens and have endured great loss. I only hope that you have also come to experience something within that for which you give thanks, from which you derive hope, and because of which you know joy. May there always be new rejoicing on this, our journey Into the Mystic.
---
Related News
One hundred and twenty-five years ago, the United States was in the throes of a most vibrant...
Read More