An Existential Wound
Listen to the podcast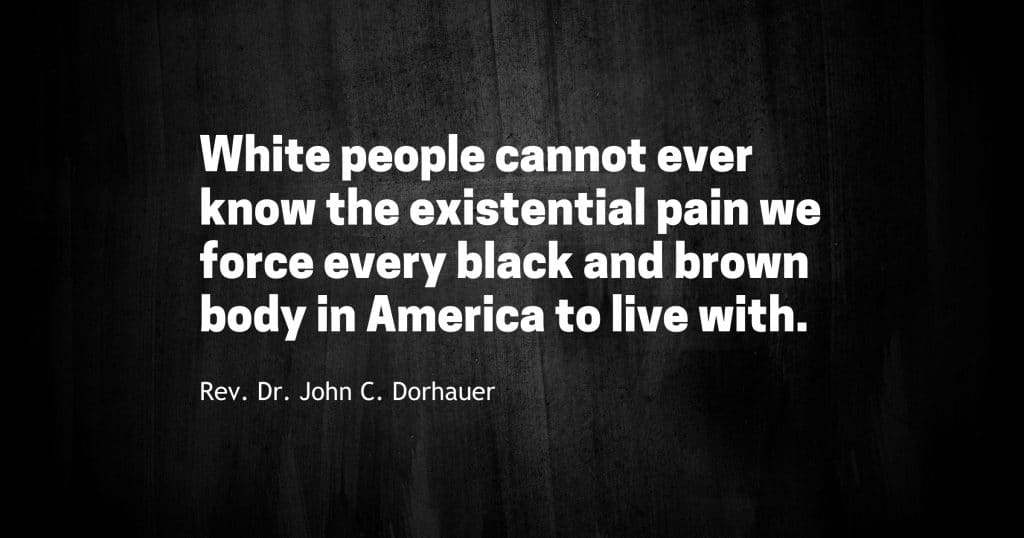 Read the transcript
Anywhere wealth and power accumulate, whites maintain control. No civil rights movement was going to take that on.
I am a white man.
I grew up learning to be a racist.
I had a lot of help.
During my childhoold, overt racism that had been openly tolerated in white culture was wrested to the background. That's a good thing.
But whites control America: its courts, its elections, its media, its military, its police force, its economy, its banks, its schools. Anywhere wealth and power accumulate, or anywhere an application of an institutional outcome can affect where wealth and power accumulate, whites maintain control.
And no civil rights movement was going to take that on.
As Jeremiah wrote, whites cried "Peace, Peace!" after a civil rights movement that effected no real peace. Whites healed the wound of racism only lightly.
This did two things.
It allowed those racists who were marginalized to linger in the shadows, abiding their time while– well below most of our radar screens – recruiting and mobilizing.
It deepened the lived anguish and existential pain of those communities of color impacted by white power, white privilege, and white supremacy.
Now, we see racists crawling out of the ratholes they lived in. They elected a president who called them good. They ransacked our Capital in response to and in homage to him. They have infiltrated our military, our Congress, our police force, our schools.
The body count rises.
Black bodies can't be suspected of handing over a counterfeit $20 bill, run down a street in broad daylight, wear a hoodie, drive a car with temporary plates, or step off a sidewalk without a white cop having what he needs to murder them with full impunity.
Whites suffer.
They grieve.
They mourn and they hurt and they struggle.
But they do so in a world they built which calls them inherently good because they are white.
The grief and pain and struggle of blackness and brownness they cannot know. That is an existential wound – one that exists precisely because of who they are. Created in God's image, black and brown peoples both exhibit inherent beauty and worth AND embody in our culture what our founding mythos calls filth.
There are two spiritual truths whites must get reconciled to. One, the civil rights movement was only ever conducted and calculated to assuage our white guilt and not eradicate systems that were built on and perpetuate white power, white privilege, and white supremacy. Two, we cannot ever know the existential pain we force every black and brown body in America to live with.
We can't know it – but we can recognize it.
This podcast is about spiritual health.
Whites are living with their own untended and unrecognized existential wound, a spiritual emptiness known by the oppressor class that has exchanged the truth for a lie. Because it rewards us with the baubles we so covet, it feels good – until it doesn't.
Our souls and psyches and yes, even our bodies, are exhibiting deep wounds. Everything whites touched is smeared with the filth of our lies – and our own healing was compromised when we failed to fully enact God's vision of shalom, of the beloved community, of full equity for all Her beautiful children.
So, no – we can't know the existential pain of the black and brown bodies we terrorize with our complacency in the face of utter evil. And we continue to ignore our own wounds in order to receive the benefits and privileges of the lie that is whiteness.
Spiritual healing, true healing for all will only come when whites name their own existential wound and then get out of the way while those whom we have oppressed do what they must to heal themselves from the wound whites have forced them to carry for centuries.
May it be so on this, our journey Into the Mystic.

---
Related News
One hundred and twenty-five years ago, the United States was in the throes of a most vibrant...
Read More