In Synod's finale, closing preacher calls for revolution of interdependence
The United Church of Christ's 34th General Synod came to a close July 4 with a service that urged worshipers to go forth from Indianapolis and, echoing the Synod theme, "make all things new."
The final gathering underscored a message of "Re-creation and Revelation." In his sermon, the Rev. JJ Flag, associate minister of pastoral care and justice of Myers Park Baptist Church in Charlotte, N.C., called on participants to renew their covenant with each other and look for ways to change the world.
The offering was designated to a new Fannie Lou Hamer Scholarship Fund, aimed at supporting disabled persons of color who are seeking a theological education at any level. The service also recognized the transition in denominational leadership from the Rev. John Dorhauer to the Rev. Karen Georgia Thompson.
And, at the end of five long days of Synod deliberations, worship and activities, it helped to center Synod-goers with anthems, chants and gentle stretching movements. The service was led and crafted by the Rev. Mia McClain, senior pastor of Riverside Baptist Church in Washington, D.C.
Book of revolution
Flag opened his sermon by emotionally recounting his own faith journey and his discovery that the book of Revelation was "a book of revolution." Listening to the Kirk Franklin song "Revolution," he recalled, had changed his view of the meaning of that Scripture. After quoting from the biblical text, the song's lyrics asked, "Are you ready for a revolution?"
"Whether you want [a revolution] or not, it is here," Flag said. "When we talk about 'God Is Still Speaking,' when we talk about 'Making All Things New,' we are engaging in revolutionary talk."
Flag — a member of the board of the UCC Disabilities Ministries — said that, before hearing the song, the only message he had gotten from the book of Revelation "was of rapturing, and being left behind, having to fight the anti-Christ."
Delivering his sermon while seated in his wheelchair, Flag quipped, "God forbid that I would be left behind because the truth is I can't run."
The song, he said, opened his eyes to seeing not only that there could there be "bad theology," but that it was often "death-dealing theology," the kind of theology "that tells you that there are some parts of you that are not welcome at the table."
'The sin of individualism'
But Flag asserted that "the work of revolution is going to take repentance" — a word, he said, "we don't hear very often now." He urged his listeners to repent of "individualism."
"Let's get off our moral high horses because we are progressive and our theology is 'open and affirming,'" Flag told his congregation of Synod-goers. "… We ought to take the time to discuss that Jesus is our Lord and savior — we don't use that word very much in this space."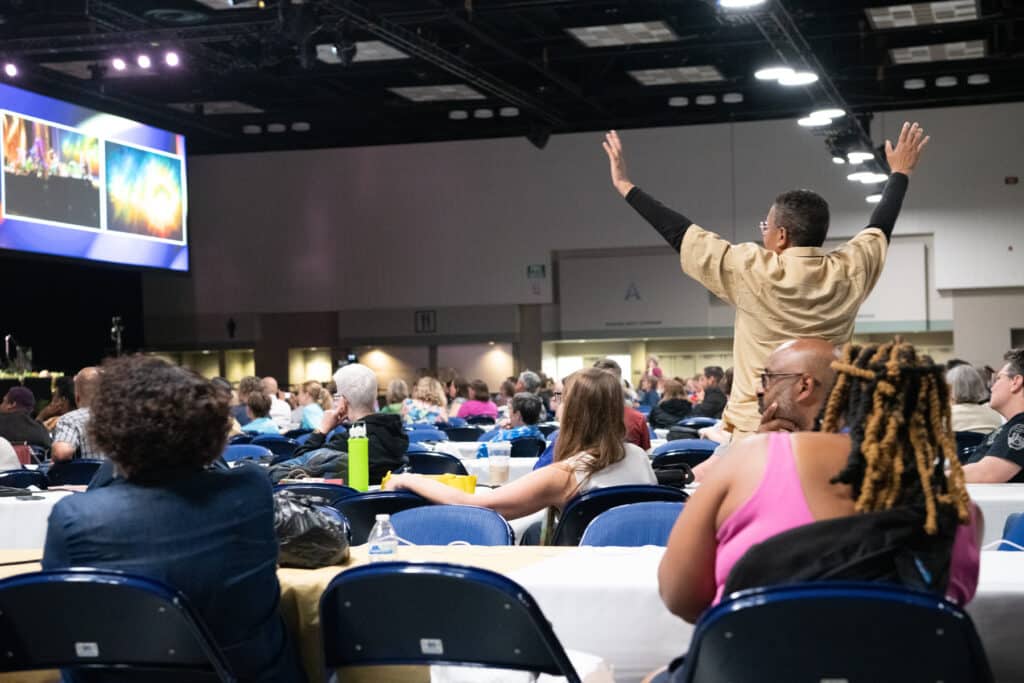 He recalled, "When I came into this denomination, I was told that this was the denomination of 'you can't tell me what to do.' … We have got to get back to the 'we.' Church is not church without people, and people cannot experience personhood by themselves. It happens in community.
"We have to repent of the sin of individualism. … We are going to have to recommit ourselves to interdependence."
As his words were punctuated by applause, Flag continued, "We are a church that often talks of being in covenant with one another, and yet I often wonder where the covenant is. Because we've gotten caught up in worship styles and songs and pronouns for God." He quickly added with a smile, "I'm sorry, I've stepped on someone's toes."
'Revolution is a team sport'
Citing the words of the "problematic Paul," he said the apostle "reminds us that we are part of a body, many parts, many members. … Everybody has purpose in the body."
"So, something has to be done to help us move in covenant with one another," he continued. "We have to recommit to do the work together."
Flag noted the irony that the service took place on a holiday that celebrates independence — or "supposed independence" — and in a state, Indiana, "that has enacted some of the most egregious laws" against marginalized people.
"If we are really going to be about the work of revolution, we have got to do it together," Flag said. "It is not enough to say that 'I'm not being touched by it, so it doesn't really matter to me.'"
The work of revolution, he continued, "is going to take more than writing checks; it's going to take more than marching; it's going to take more than making phone calls. … All of those things have to happen together. The work of revolution is a team sport. Not only do we have to recommit to an interdependence, but we need to reclaim a theology of resurrection.
"After all, we are the United Church of Christ."
The revolution is coming
Flag asked his listeners to think how they could "breathe life into dead things," whether it was starting a neighborhood book drive, opening a church to the unhoused, providing food to hungry people or building a ramp or elevator so people with disabilities could attend church.
This revolution is coming whether people are prepared for it or not, Flag said. He added that some people may say, "You can't preach on this message of revolution" or "It didn't go through the proper committee" or "It didn't come before Synod" or "Let's vote on it."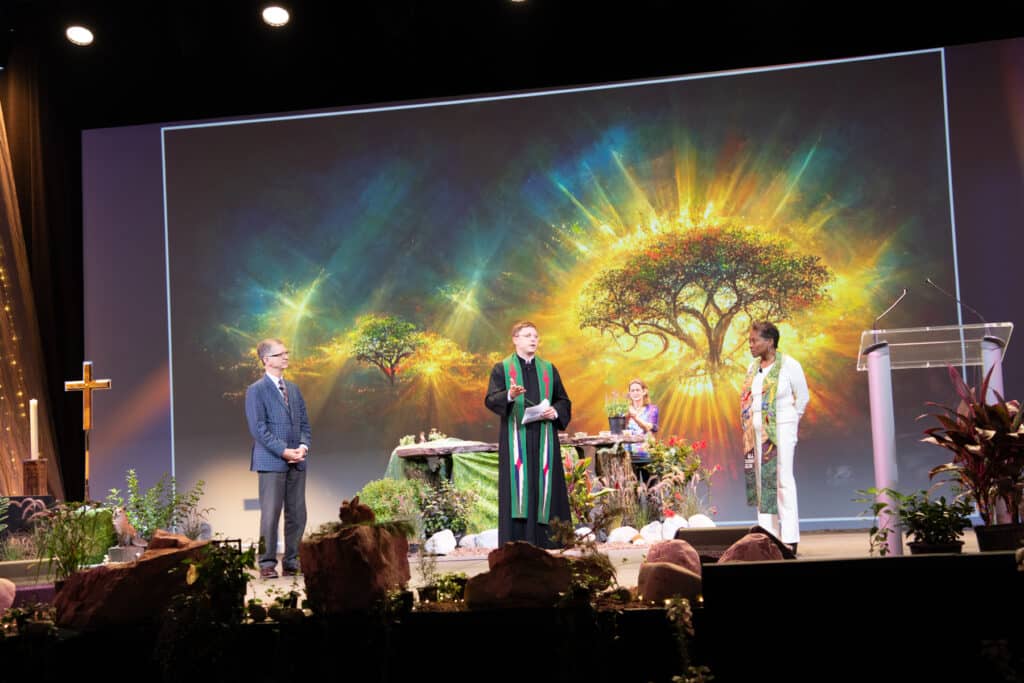 But "the act of worship," he asserted, "is, in and of itself, an act of revolution. So, whether you know it or not, you have been engaged in it all week."
In closing, Flag said those who attended Synod would have to answer the question of "What next?" for themselves.
"But what I pray is that what will be said of us after we leave this place is that 'Those are the people who left Indianapolis, Indiana, and they left to turn the world upside down,'" he said. "May it be so. Now and forever. Amen."
Marking transitions through ritual
In introducing the offering on behalf of the new scholarship fund, Bekah Maren Anderson, co-chair of the board of the UCC Disabilities Ministries, recalled Fannie Lou Hamer's legacy as a Mississippi civil rights activist who died "too soon" in 1977 at the age of 60. The scholarship, Anderson explained, would address the needs of marginalized persons and "support the development of a theology at the intersection of disability and race."
Later in the service, leading a "Ritual of Transition," the Rev. Cameron Barr, the outgoing chairman of the UCC Board, acknowledged that "transitions are always hard in our life" but "God has been faithful to us, from life to death. And in such transitions, we experience God's grace and God's presence.
"Tonight marks a moment in one of our great transitions."
Barr again thanked Dorhauer for his years of service, noting he helped "to plant many seeds in our common life. … He has cultivated the soil in which we all grow, and we have watched many flowers bloom under his leadership. And yet still in every garden there is more work to be done. … There is new growth waiting to come forth in this garden."
Barr passed a blooming potted plant to Dorhauer, who then passed it on to Thompson. The plant, Barr said, "is not a symbol of what is being handed over, but of the sacred opportunity and the sacred promise that we share in Karen Georgia's leadership as our General Minister and President. … We know and trust that, by God's grace, she will also be tending the soil, and we will also be watching many flowers bloom in this garden."
Ready
In his final words to Synod as GMP, Dorhauer recited notable quotes from Scripture and hymns before adding, "Never place a period where God has placed a comma, for God is still speaking,"
He urged his audience to believe, act and play "as if the Holy Spirit envisions a future in which you matter" — a phrase he has often recited.
Thompson offered the benediction, incorporating "lessons," a poem of hers:
we are ready 
our aches and pains 
a sign of restlessness  
calling us back 
to brilliance

the weariness in our spirits 
a reminder  
purpose awaits 
pulling at our center 
willing us to remember

we came  
into this world ready 
we are enough 
we are brilliant
"Church," she concluded, "we are ready."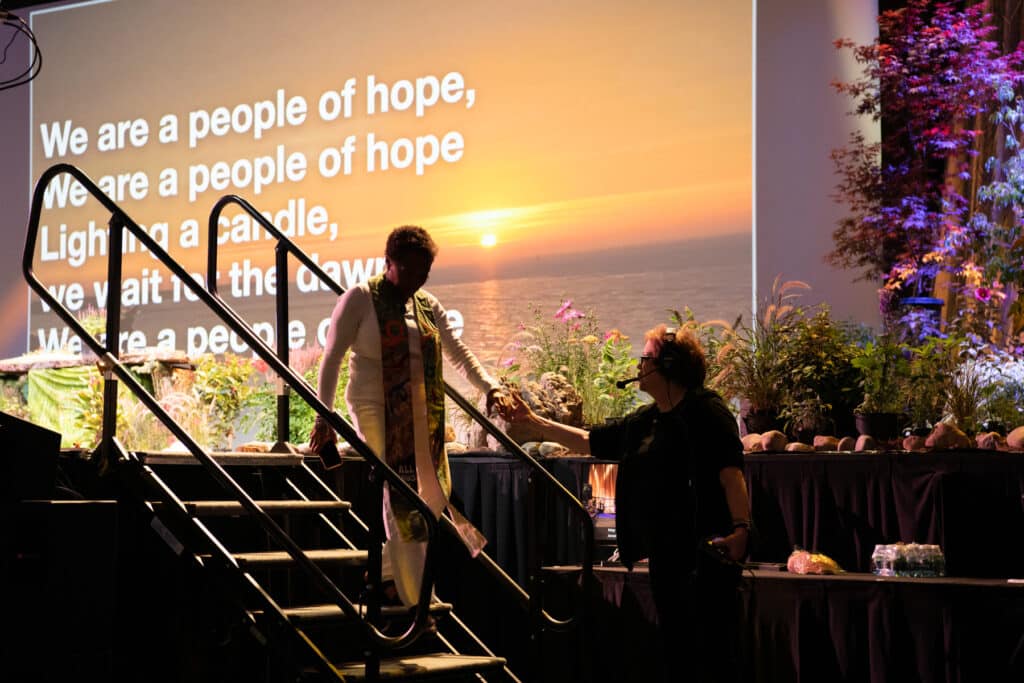 The service ended with a representative of the Missouri Mid-South Conference processing with a large candle, beckoning to the next Synod, to be held in Kansas City in 2025.  
Sara Fitzgerald, a General Synod newsroom volunteer, is a member of Rock Spring Congregational UCC in Arlington, Va., and a member of the board of the UCC Media Justice Ministry.
---
Content on ucc.org is copyrighted by the National Setting of the United Church of Christ and may be only shared according to the guidelines outlined here.
---
Related News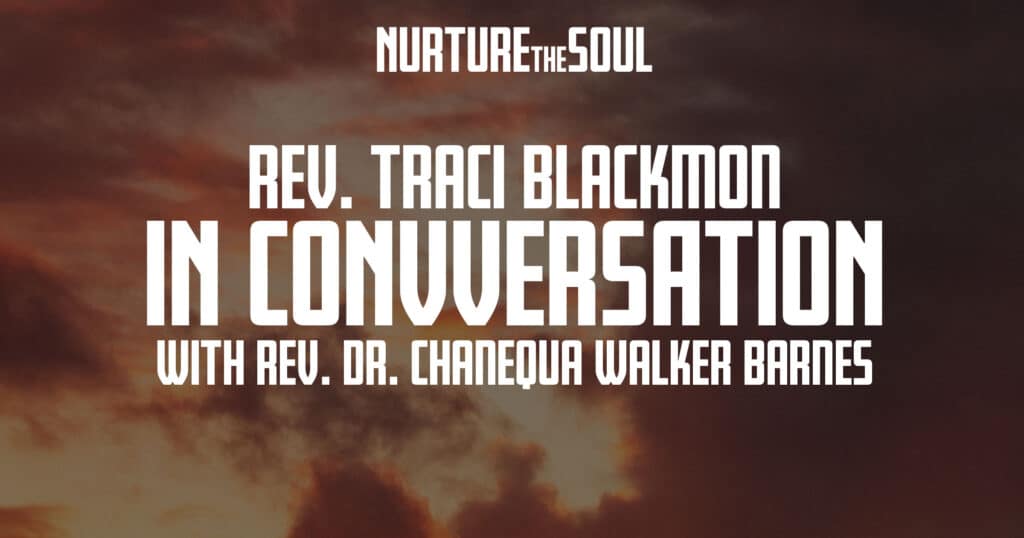 The impact of trauma and the need for self-care are vital -- and sacred -- topics for the...
Read More