How can UCC members celebrate National Voter Registration Day? Check your voter registration.
National Voter Registration Day (NVRD), established in 2012, is Sept. 19 this year. It is the United States' largest, nonpartisan civic holiday dedicated to celebrating democracy by registering as many eligible voters as possible.
Through the collective efforts of partners around the country — schools, businesses, libraries, volunteers and, yes, faith communities — NVRD has helped more than 5 million Americans register to vote.
The Our Faith Our Vote campaign is the United Church of Christ's nonpartisan engagement campaign that offers resources for congregations and communities to support issue education, voter registration and voter mobilization.
The OFOV Civic Action Center is a tool to help folks check their voter registration, get registered and find helpful information like polling dates and locations all in one place.
"This is the last opportunity to celebrate National Voter Registration Day and harness the attention and power of the holiday to register voters before their respective presidential primary elections," said Jessica Quinn, communications specialist for the UCC's D.C. Office, who spearheads the OFOV campaign. "While the calendar may still say 2023, this is an important moment to remind us all that now is the time to ensure we are registered and ready to have our voices heard next November."
Local voting is vital
Plymouth Church in Des Moines, Iowa, is one UCC congregation utilizing Our Faith Our Vote resources to run its own election engagement campaign. Members have been passing out voter registration forms in church, meeting with high school youth in the congregation about registration and including encouragements to register in the church newsletter.
Alicia Claypool, a member of Plymouth, has been a leader in organizing the campaign.
"Our efforts will aid Plymouth members in understanding recent changes in Iowa's voting laws, which shortened voting time frames, put restrictions on absentee balloting and changed many voters' eligibility status," she said.
She added that, for Iowans, it's a vital time to exercise their right to vote.
"We just experienced another regressive year in Iowa legislative history, where the potential of public policy to lift up and offer opportunity to all Iowans suffered numerous setbacks in public school funding, banning of books and restrictions on diversity in history curricula; resources for food security were limited; and weakened protections for our water were enacted," Claypool said.
Impact on communities
Claypool, who is a member of Plymouth's Justice Network Committee, also stressed the importance of elections for both state and local officials, such as school board and city council members. Others in her congregation agree.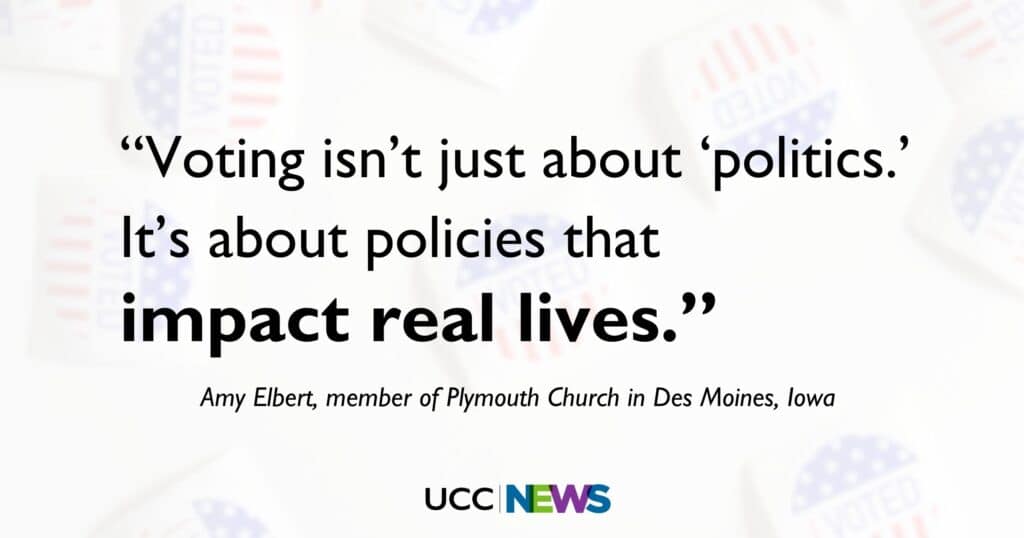 "Our votes determine who is in power, and with that power those officials — whether governor, legislator or state attorney general — can wield dramatic influence over our freedoms," said Amy Elbert, Plymouth's secretary and, like Claypool, a member of its Justice Network Committee. "Never has this been more obvious than this past year in Iowa, where the party in power enacted laws that curtailed the freedoms of women, teachers, and children (particularly LBGTQ+ youth)."
She listed a litany of examples of how such elections have impacted policy — and therefore people.
"They voted to funnel tax money from public schools to support private religious schools that have little to no accountability," Elbert said. "They've made it more difficult for low-income families to feed their families and get health care. They did nothing to address our state's polluted rivers, lakes and streams, or find sustainable agricultural solutions that might protect our soil and waterways. Our governor is massively restructuring state government, giving the executive branch more power while eliminating oversight committees and gender-balanced state boards and commissions."
All that adds up to the main goal of Plymouth's campaign: more voting.
OFOV resources
This gets to the heart of what OFOV is all about.
"Each year, millions of eligible Americans find themselves unable to vote because they missed a registration deadline, didn't update their registration after a move or hadn't voted in a while and didn't realize they were removed from the voting rolls," Quinn said. "There are many reasons why we should all make it a practice to check our voter registration and to encourage others to do the same.
"I sometimes hear messages of concern or hesitancy from churches around engaging in elections, and this is an important consideration, because we do need to remain nonpartisan in all activities," she continued. "But we can, and should, engage in voter registration and voter mobilization, and the Our Faith Our Vote campaign offers guidelines for that engagement."
Claypool expressed gratitude for what the campaign offers local churches like hers.
"OFOV helps our faith community reflect upon the public policy challenges we face in our schools and communities as we strive to realize God's kingdom on earth," Claypool said. "We are grateful for OFOV resources developed by the national UCC office which makes our work possible."
"Voting isn't just about 'politics,'" Elbert said. "It's about policies that impact real lives. Have a voice. Vote."
---
Content on ucc.org is copyrighted by the National Setting of the United Church of Christ and may be only shared according to the guidelines outlined here.
---
Related News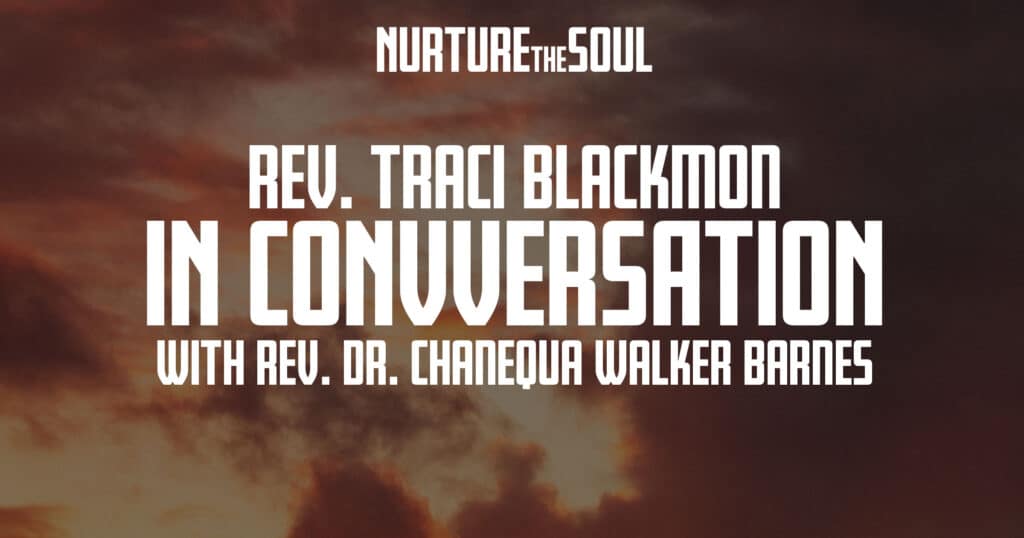 The impact of trauma and the need for self-care are vital -- and sacred -- topics for the...
Read More