A hot cup of Holy Joe's to soothe the soul on Veterans Day
Since 2006, Holy Joe's Café has brought fellowship, companionship and pastoral care—one cup of coffee at a time—to the men and women of the United States military through their chaplains. From the café in a veteran's hospital to the tents of a military base in Afghanistan, Holy Joe's has a single goal of supporting military chaplains by supplying them with coffee to serve to their troops.
As Veterans Day is celebrated on Tuesday, Nov. 11, a ministry like this is a reminder that even the smallest gesture of thanks from American citizens can go a long way to improve the morale of a soldier.
"To date, we have supported over 1,400 chaplains and have shipped over 75 tons of coffee supplies," said Tom Jastermsky, who runs Holy Joe's Café from First Congregational United Church of Christ in Wallingford, Conn. "We are an all-volunteer ministry and it is truly a partnership with the Holy Spirit."
Holy Joe's reaches seemingly every corner of the planet, as Jastermsky coordinates with chaplains of various denominations, to ship coffee anywhere U.S. troops are located. Even in locations where the military presence is withdrawing, Holy Joe's is there.
"Every day over 27,000 lives are touched daily with our coffee ministry via their chaplains," Jastermsky said. "We have a lot going due to current events, and still support the 15,000 troops in Afghanistan and the 8,000 in Kuwait. All troops deploy with a chaplain and we coordinate with them to receive our coffee."
There are cafes located across the globe, in places such as Afghanistan, Iraq, Kuwait, Israel, Turkey, Germany, Italy, Romania, Poland and in Africa.
"On a base far from home, a hot cup of Holy Joe's coffee becomes many more things when offered by a chaplain," said UCC chaplain the Rev. Andrew Sholtes. "It is a precious moment of relaxation and decompression; it is a reviving drink for those scarce of sleep; it is an invitation to a soul-reviving conversation; it is a reminder that, somewhere back home, people care."
Maj. Gen. Douglas Carver, former Army Chief of Chaplains, was visiting Afghanistan after soldiers had taken a building and turned it into a Holy Joe's Cafe. "You could walk in 24 hours a day and get a hot cup of simply incredible coffee, watch a movie or just sit and relax," said Carver. "Here were these soldiers who asked themselves 'What can I do to improve the life of our community?' It is amazing."
At home, Holy Joe's is found in every Veterans Administration hospital throughout New England and Pennsylvania, as well as 127 different military bases—from Camp Lejeune in North Carolina to Camp Pendleton in California.
Jastermsky uses Fair Trade Coffee and since 2007 has partnered with Equal Exchange, which ensures that coffee farmers are paid a decent wage for their beans.
"Our ministry relies completely on coffee that is donated from other UCC churches via the UCC Coffee Project, as well as checks that are mailed," Jastermsky said. "The key to our ministry is to let UCC churches know we still offer this ministry, and for the returning service members they are in need of a lot of ministry support. For them the war is not over in various degrees."
The UCC Coffee Project brings congregations together with the UCC's Justice and Witness Ministries and Equal Exchange to build fair trade for small farming communities that produce coffee, tea, chocolates and olive oil.
Anyone interested in supporting Holy Joe's and the men and women of the U.S. military can send monetary donations, or buy and send coffee through the UCC Coffee Project.
---
Related News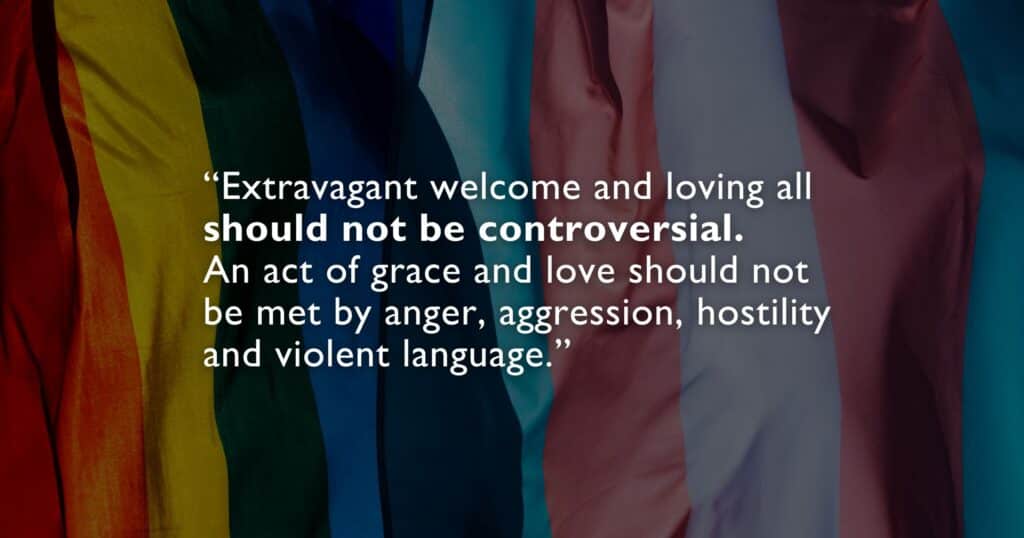 The United Church of Christ National Officers and the Conference Minister of the South Central...
Read More