From Hardship to Hope
"We do not offer "before" pictures of the terrible state people are in when they reach us.  Each refugee has a story of heartbreak, but thanks to the support of caring people, each story becomes one of hope as we nurture them in Christian love, so they can smile again."
~Rev. Pereira, Director of Southwest Good Samaritan Ministries.
Astrid and her mother Elsa were both attacked and abused by kidnappers in Guatemala. Aitana was conceived when Astrid was brutally and repeatedly raped during that confinement.  The women managed to escape together, but endured a long journey to the U.S. 
Having nowhere else to go other than a detention center, the family was invited to stay at the Ebenezer Christian Church in Los Fresnos where shelter and donated food was provided. Our gift has helped with legal support, transportation, and expenses for their day-to-day living. 
Each asylum case has legal complexities and this one is no exception.  Much of their legal and medical costs were covered by professionals offering pro-bono or lower-fee services.  In addition, they were provided the opportunity to meet with consuls of their home countries to discover what the consulates might offer in language lessons, job training and similar services for refugees to assimilate in the U.S. 
Today, baby Aitana faces a brighter future, one very different from the horrors her family faced. 
Southwest Good Samaritan Ministries works in concert with U.S. Customs and Immigration to help facilitate the journey for political refugees from many countries arriving at the U.S./Mexico border.  That journey involves not only travel, but often months of "processing" to gain asylum status.
                 
This story was edited July 2017.  It was submitted to One Great Hour of Sharing in thanks of support given to Southwest Good Samaritan through Global Ministries (United Church of Christ and the Christian Church – Disciples of Christ).               
---
Related News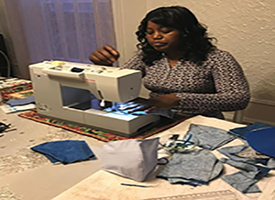 "It's so good making masks because it helps the community," said Sandra, a Congolese refugee...
Read More