General Synod 33 to be a virtual experience
For the first time ever, the United Church of Christ General Synod will gather virtually in 2021. The biennial gathering is moving entirely online next year due to the COVID-19 pandemic. The United Church of Christ Board made this historic decision this week after considering a number of factors. 
"Factoring heavily into our discernment is the likelihood that COVID-19 will be an ongoing presence in our country, requiring our continued vigilance to assure the safety of our neighbors," wrote the UCC Board leadership team in a June 3 letter to the church. It was signed by Yvette Wynn, chair; the Rev. Cameron Barr, vice-chair; the Rev. Penny Lowes, General Synod moderator; and Robert Sandman, assistant moderator. "We anticipate that an in-person General Synod would require social distancing and other protocols to minimize the risk of coronavirus transmission. Planning for General Synod in Kansas City next year has already been strained by uncertainties about travel and lodging. We also understand that financial constraints and health precautions will prevent some of our Conferences from fielding delegations to General Synod. We were reluctant to proceed with plans for a meeting in-person that would risk not achieving a quorum."
The UCCB voted unanimously June 2 to go virtual with General Synod after "a long season of prayerful discernment."
The Rev. John Dorhauer, general minister and president, said that discernment incorporated months of fact-finding. "We had to get hard data and facts from convention centers, hotels, organizations that were already doing virtual events. We had to interview our own staff around events planning, digital strategies, legal risks, possible conversion of revenue generation from what we know in the live world to what we will experience in the digital world. We had to interview key stakeholders, including Conference Ministers. We had to evaluate conflicting data from the federal government and the CDC and WHO. We have been looking at these options for months — knowing all the while we had to make a first decision before July when the penalty for canceling went up considerably."
In a special meeting via Zoom, the board and the UCC national officers weighed all those options before agreeing that the health and safety of members of the church family made it difficult to gather in-person in 2021. As did leaders of both host Conferences.
"As advocates for the health and well-being of all, the Kansas-Oklahoma Conference and the Missouri Mid-South Conference support this decision to move to a virtual General Synod in 2021," said Missouri Mid-South Conference Minister, the Rev. Ginny Brown Daniel. "Like all our local churches, who changed how they worshiped for the health of all during this pandemic, we celebrate the denomination following the powerful lead of our churches."
"In this week of Pentecost, we remember the power of the Holy Spirit to 'create and renew the church of Jesus Christ' and to 'bind in covenant people of faith of all ages, tongues, and races,'" UCCB leaders wrote. "In the United Church of Christ, we testify to the Holy Spirit's power to animate and bless the church even when we are unable to gather in person. We have experienced God's faithfulness in this way since the earliest days of the COVID-19 pandemic."
"We have been watching the church adjust overnight to living in a virtual world," said Dorhauer, noting that the Presbyterian Church (USA) and the Unitarian Universalist Association had only weeks to prepare to go to a virtual national gathering this summer. This decision gives the National Setting staff a year to get ready.
"One of the consistent reactions was if we do this — we don't just do Synod in a virtual environment. We learn all we can about how to succeed in a digital environment and adjust the Synod experience to that," Dorhauer said. "We will be doing exactly what every single one of our local churches is doing: making THAT adjustment."
He added that there are whole new opportunities to be discovered that can add to what General Synod can offer. "The possibilities here are enormous, and there is already a buzz of excitement about that."
"This Synod opens the church to something new," said the Rev. Karen Georgia Thompson, associate general minister. "We will be able to celebrate the unity of the church and connect with each other across the miles. While there will be lament as we will not be able to be together in person, we will be able to live into the joy of being gathered as church. This decision comes in the wake of Pentecost, a time when the mystery of the Holy Spirit was made manifest and those present were filled with the Spirit. They went out and lived into a new reality and changed the world."
While church leaders were very clear in pointing out that a digital General Synod in 2021 doesn't indicate a permanent change in format, it does open the virtual doors wide for even greater participation.
"With each passing Synod we have gotten better at live-streaming and have drawn larger audiences. That was sort of a training ground for this," Dorhauer said. "We fully expect that our audience for this will grow. Some of that will be that online viewers won't feel like an addendum — they will be experiencing Synod the same way all the delegates and staff will be."
"With the intention of a virtual Synod, we will be able to provide workshops, keynote speakers and other options for involving the wider church," Thompson said. "Imagine, if you will, an invitation across the church to participate in these virtual opportunities for leadership development, spiritual growth, fellowship and networking in a space that is nurturing and reflecting the full diversity of the UCC and the church."
But the most exciting part of a virtual General Synod is the opportunity for community worship experiences that can include more of the members and friends of the UCC.
"Our worship team is going to have a year to plan this — and they are going to be brilliant at creating authentic worship experiences in this digital space," Dorhauer said. "And that will mean people all over the world can join us — mission partners from around the globe for whom a typical invitation to Synod costs thousands of dollars and weeks of time. They, too, will be able to be a part of this!"
As Thompson said, "What will it mean for us to throw wide the doors of the church virtually welcoming all to the table? Imagine the UCC gathered well beyond the approximately 3,000 in worship and 5,000 live-streaming, to worship and pray, to learn and fellowship, gathered to be the Church together."
---
Related News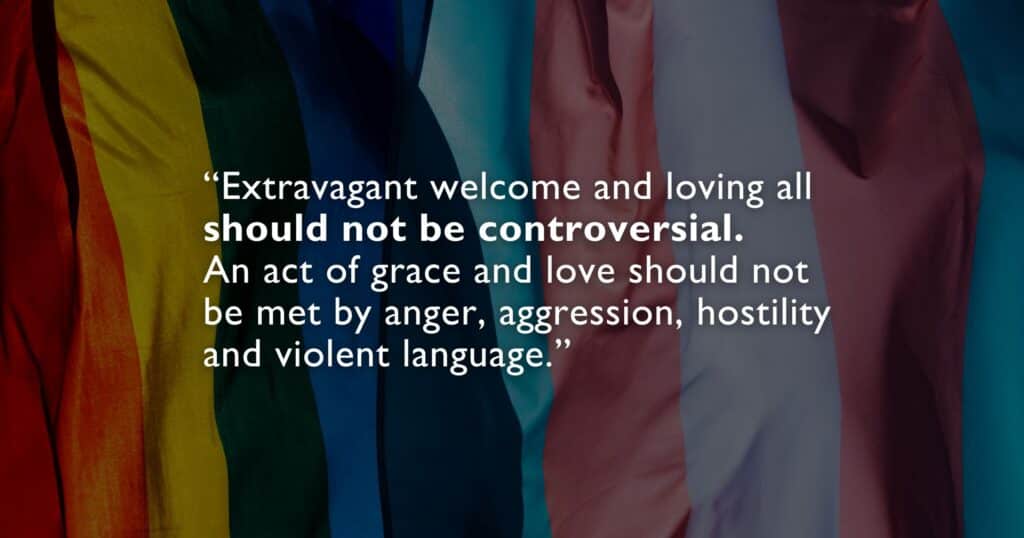 The United Church of Christ National Officers and the Conference Minister of the South Central...
Read More