General Synod 2021 in Kansas City to offer twice the hospitality

UCC General Synod organizers, immersed in preparation for the 2019 gathering in Milwaukee, paused a moment this week to share special news about the next meeting location.
"The 33rd General Synod of the United Church of Christ will be in Kansas City, Mo., in 2021, twenty years after it was first held there," shared Valerie Smith, General Synod Administrator. Her team scouted six cities for the 2021 event, and found Kansas City as the only one that would suit UCC purposes.
"With the realization that time was running out for a location for 2021, I reached out to Edith Guffey, Kansas/Oklahoma Conference Minister, who was the Synod Administrator at that time. She informed me that in 2001 that General Synod was a joint effort — Kansas/Oklahoma (KO) and Missouri Mid-South (MMS) both served as the host conferences as the Convention Center is actually in Missouri. I let Edith know that my back was up against the wall and asked her if she would consider serving as one of the host conferences. Consequently, the Rev. Ginny Brown Daniel, Conference Minister of Missouri Mid-South, was contacted as well and both were present during the site visit. Following the site visit both graciously agreed to take the possibility of hosting General Synod in 2021 to their respective boards."
After both Conference Boards endorsed the plan, it was approved by the United Church of Christ Board at its last meeting.
"I truly thought I was done with General Synod except to support Kansas/Oklahoma delegates as their Conference Minister," Guffey said. "But God has a sense of humor as does the Synod Administrator, Valerie Smith." Prior to her leadership in Kansas/Oklahoma Conference, Guffey served as General Synod Administrator from 1995-2011. Smith was her assistant in 2001.
"In all seriousness, I am well aware that while this will be work for both Conferences, it is also a tremendous opportunity to tell the story of the radical welcome of the United Church of Christ and the incredible ministries being done by our congregations here in the heartland and to invite others to join us," Guffey continued.
"We in the Missouri Mid-South Conference are honored to co-host the thirty-third General Synod in Kansas City with the Kansas/Oklahoma Conference in 2021. We have already begun to pray for those who will arrive in three short years to worship and celebrate our ministries as the United Church of Christ," said Brown Daniel. "The Missouri Mid-South Conference is especially grateful to welcome home our General Minister and President, the Rev. John Dorhauer, and our Associate Minister of Justice Witness and Local Church Ministries, the Rev. Traci Blackmon, as they both served churches in the Missouri Mid-South Conference."
"Twenty years ago, KO and MMS served as the host UCC Conferences for the 2001 joint UCC Synod/Disciples Assembly," Guffey said. "Now in 2021, we will work with MMS to welcome General Synod back to Kansas City. Delegates will find a downtown area that has experienced incredible renaissance but still a city with challenges. We look forward to partnership and supporting the work of the General Synod as it returns to Kansas City in July 2021."
Echoed Brown Daniel, "Like Mary and Martha, who welcomed Jesus into their home, we look forward to welcoming the many faces of Christ to Kansas City at the thirty-third General Synod in 2021! Woohoo!"
---
Related News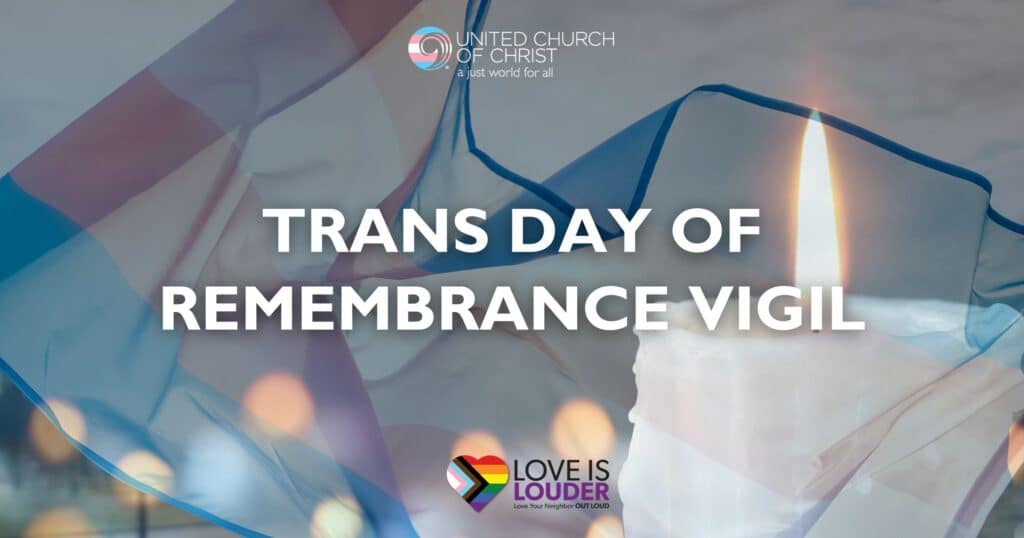 To mark Transgender Day of Remembrance (TDOR), the United Church of Christ hosted a vigil...
Read More