Fiji community recovers from Cyclone Winston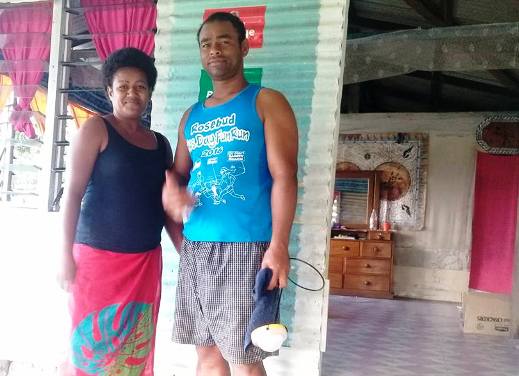 Two years ago this month, Sepa and his wife Josivini had cause to wonder whether they and their neighbors would live or die as Cyclone Winston roared across their Fiji Islands community of Navakawau, on Taveuni Island, blowing away 96 of the community's 111 homes, including theirs.
As their houses were carried away, they and other villagers rode out the February 20 storm in the two- to three-foot crawl spaces under their homes. Suddenly they were faced with the challenge of staying safe and dry, finding adequate food and water, and figuring out how to rebuild.
The plight of the Navakawau community came to UCC Disaster Ministries' attention thanks to the presence in Fiji of long-term Global Ministries volunteer the Rev. Nikotemo Sopepa. In March 2016, UCC Disaster Ministries Executive Zach Wolgemuth together with Sopepa visited Taveuni Island – remote even by Fiji standards.
First priority: shelter. UCC Disaster Ministries provided the funding for constructing a temporary roof on the community hall. Twelve families, including Sepa and Josivini's, were housed there while they rebuilt their homes.
Next: water, which "has been a problem for Navakawau village since its establishment over 100 years ago," Sopepa said. UCC Disaster Ministries funded purchase of four water tanks with a total capacity of 10,000 liters, and today, "Navakawau villagers enjoy the luxury of water."
UCC Disaster Ministries has provided most of the materials needed for completing the restoration of the community hall, including rebuilding part of a wall damaged in the cyclone. And it paid for two chain saws, enabling villagers to cut timber – "responsibly," Sopepa emphasized – for construction of a health center.
Sopepa was able to visit Navakawau in recent weeks, and reported that the water tanks and health center had been completed and the repairs to the community center were in progress. Some homes have yet to be rebuilt.
"They are still rebuilding their lives," Sopepa said. "However the spirits of the villagers are not dampened by the hardship they face financially and materially. The villagers send their love and gratitude for remembering them at their darkest time. Now the future looks bright and they will keep us posted on the progress of their recovery."
Support UCC Disaster Ministries' international and domestic work through One Great Hour of Sharing UCC
---
Related News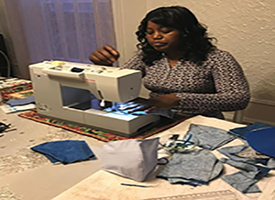 "It's so good making masks because it helps the community," said Sandra, a Congolese refugee...
Read More