UCC Fair Trade Project
Find information here about the Holy Joe's Cafe Coffee House Military Chaplain Ministry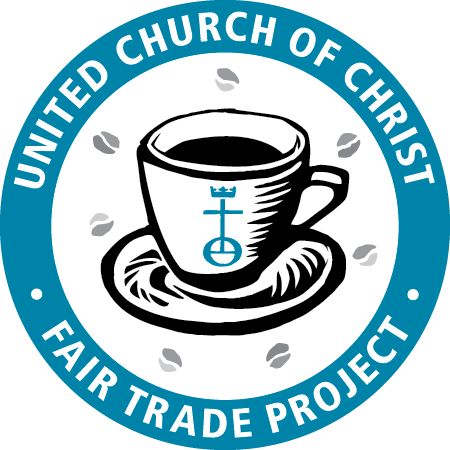 The UCC Fair Trade Project (formally the UCC Coffee Project) allows your congregation to partner with the UCC and Equal Exchange in building fair trade for small farming communities by serving fairly traded coffee, tea and cocoa, and chocolate, snacks, and olive oil for justice at fellowship hour on Sundays.
The UCC Fair Trade Project is a way for your congregation to join hands with communities in the developing world. As Christians we can address a consumer dilemma by buying coffee and other commodities that are fairly traded. Through the project, small farmers and their families gain more control over their lives, earn a fairer share of income, have access to credit and technical support, and gain a trading partner they can trust, a fair trade organization called Equal Exchange. (See the video Equal Exchange: Who We Are and What We Believe In.)  And, through the project, members of your congregation can learn about consumption habits that support small scale farmers and workers throughout the world and encourage careful stewardship of God's creation. At fellowship hour, you will be taking action in a spirit of love.
How to Be Part of the UCC Fair Trade Project
Serve fair trade coffee, tea cocoa and snacks at fellowship hour, church events, in the office and at home.
Design congregational fund raising projects featuring fairly traded coffee, tea, snacks, chocolate and olive oil. Give fair trade gift baskets as thank you gifts.
Order educational resources along with your coffee and make space and time in your congregation for conversation about justice in the global economy.
Encourage other places of worship or businesses in your community to partner with Equal Exchange's Interfaith Coffee Project.
Order Now
At Equal Exchange's webstore, remember to log-in as part of the Interfaith Program and the UCC Fair Trade Project. This will ensure you are offered wholesale pricing! For more information about the UCC Fair Trade Project, go on line to Equal Exchange's Interfaith Fair Trade Program at equalexchange.com/interfaith, e-mail interfaith@equalexchange.com, or call 774-776-7366.
On Halloween Give Treats of Fair-Trade Chocolate
Kids love to get chocolate for Halloween. But for children in cocoa-growing countries in Africa, chocolate often means child labor and family poverty. Equal Exchange, our partner in the UCC Fair Trade Project, participates in a fair-trade program to help end the problems of child labor, poverty, and environmental destruction in the African cocoa industry. Buy fair-trade chocolate mini-bars to give on Halloween. You can also order wholesale to sell to members of your congregation; a youth or women's group could sell the mini-bars as a fundraiser.) Order now. Help end child labor.
Learn More from Equal Exchange
Equal Exchange shares ideas for serving fairly traded coffee.
Here are tips for how to sell Equal Exchange Products. And here is a great fund-raising program.
Explore educational resources about particular fairly traded products:
Your Purchase Counts Twice: UCC Small Farmer Fund
Equal Exchange contributes $0.15 to the UCC Justice & Witness Ministries Small Farmer Fund for every pound of fairly traded products sold through the UCC Coffee Project. Since the Coffee Project began in 2004, Equal Exchange has nearly $100,000 to the UCC Justice & Witness Ministries Small Farmers' Fund.
Small Farmer Fund contributions totaled $7,309.32 in 2014. This money is used to support the Small Farm Project at the UCC Franklinton Center at Bricks. This is one component of the Just Food Project which supports a farmers' market held at FCAB where local small farmers sell their produce and local residents purchase affordable fresh vegetables and fruits. FCAB is located in eastern North Carolina in an area where many people are in poor health, experience food insecurity, and have poor access to healthy foods.  The Small Farm Project is part of a comprehensive approach to community economic development, environmental education, social justice, and health.
A Bitter Cup? Facts about Coffee and the Importance of Fair Trade
Coffee is one of the most heavily traded commodities in the world. Americans drink approximately 320 million cups of coffee every day;20 percent of the world's total coffee production. Some 20 million people near the equator depend on coffee for their livelihood, but for many the coffee trade keeps them trapped in poverty. With little access to markets, farmers often sell through middlemen who offer the lowest price possible. With world coffee prices in constant flux, farmers have no guarantee of how much they will receive for their crop.
Equal Exchange is a worker-owned fair trade company, founded in 1986, that offers consumers fairly traded gourmet coffee direct from small-scale farmer co-ops in Latin America, Africa and Asia. Equal Exchange seeks to establish an alternative model of trade, one that benefits small farmers directly through the following fair trade standards that apply to all Equal Exchange products:
Always pay a guaranteed minimum price to the farmer.
Work directly with democratic cooperatives of small scale farmers.
Provide vital advance credit to farmers.
Encourage ecologically sustainable farming practices.
Develop long-term trade relations based on trust and respect.
Offer consumers the finest gourmet, certified organic, shade-grown coffees.
Learn More
Small Farmers. Big Change, a blog from Equal Exchange
Equal Exchange posts up-to-date resources to inform your congregation about Fair Trade. Check them out.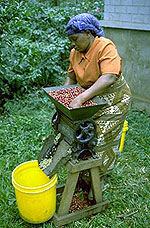 Fair World Project publishes For a Better World, a twice-yearly publication filled with articles and graphics that examines the issues and challenges in fair trade. It is a free publication with all past issues posted on-line.
Keep Plantations Out
TransFair USA, long a major certifying body for fair trade products, has changed its name to FairTrade USA and withdrawn from FLO International, the International Fair Trade Certifying body. Transfair USA has ceased to practice the original Fair Trade mission—to support small farmer organizations by helping them gain access to the international market.  Equal Exchange, our partner in the UCC Coffee Project, left Transfair in the summer of 2010, to affiliate with another certification agency, IMO, the Institute of Market ecology, because, for example, Transfair USA had increasingly permitted products from large plantations to be certified as Fair Trade.