Experience joy and exuberance at General Synod at worship
Rev. Dwayne Royster preaches at General Synod 2015 in Cleveland. 
When delegates and visitors assemble for the 31st General Synod this summer in Baltimore, worship will take them into the United Church of Christ's biennial gathering, and it will conclude it. Drawing on the General Synod theme "Make Glad," every aspect of those life-affirming worship services will marry the work for justice and peace, emphasizing the role of the UCC in creating a just world for all.
"There's a lot of stuff that has to happen, and a lot of business that goes on. This is a church, though, and I think that thread should go through everything, and nothing says 'church' more clearly than worship," said Thomas Moore Scott, musical director for Synod, and music director of First Congregational UCC in Hudson, Ohio.
Worship services are considered one of the most significant components of General Synod. A post-event survey of the participants of the last General Synod in 2015 revealed that nearly half (48.5 percent) of all respondents felt that worship was the most important experience.
"We want everything to be uplifting and exuberant as we can possibly make it," said the Rev. Sue Blain, UCC minister for faith formation and part of the Synod worship planning team.
There are four preachers, each leading a worship service on four different days. The Rev. Amy K. Butler, Senior Minister of The Riverside Church in the City of New York will preach first, and challenge the church to live out its call to joy and justice.
"The Friday afternoon service celebrates Baltimore. We try to use local talent and local ideas as much as we can to honor the place we are celebrating," Scott said. "This one is especially joyful given the theme and location. Given our current political climate, it seems this is a really good time to infuse joy into people, and for us to be known as a church that isn't sad, but a church that is uplifting. This couldn't come, in my opinion, at a better time, in a city that has had its issues with racial and social justice, so we want to provide everyone to be glad in the city of God with the people of God."
The Rev. John Dorhauer, UCC general minister and president, will lead the community-wide Sunday worship on July 2. He has invited seven friends to create a multi-voice, multi-media sermon that explores the UCC's mission. The service will also feature a choir of about 100 people.
Blain and Scott expect about 5,000 people in attendance for the Sunday worship, which is open to the public and includes communion.
The Rev. David Vasquez-Levy, president of Pacific School of Religion in Berkeley, Calif., will tell the story of Namaan at the Jordan's edge on Monday, July 3. He will call the church to — like Namaan — to take the plunge into the work of justice, wholeness and solidarity.
The Rev. Kim Kendrick, senior co-pastor of Living Water UCC in Philadelphia, is the preacher for closing worship on July 4. She will lead a Gospel-style celebration of word, music and art to send Synod guests out of the gathering and back to their homes to "make glad" their world.
There will also be three offerings taken during General Synod. The first offering (June 30) will benefit the host conference, the Central Atlantic Conference. Sunday's offering (July 2) will support the national and global ministries of the United Church of Christ, and Tuesday's offering (July 4) will support the Antoinette Brown Society, formed in 2015 to multiply women's innovative leadership in church and society.
"We will do our best to make glad the city and the people of God in celebrating the justice, hope, mission our good God calls us to as the United Church of Christ," Blain said.
General Synod 31 will be held June 30 through July 4 at the Baltimore Convention Center, located right in the heart of city's historic Inner Harbor seaport. Information is available on the General Synod website, which will be continuously updated with emerging details. Registration for the gathering is open. The cost of registration is $247.50. There is also a special rate for seminarians of $150.
---
Related News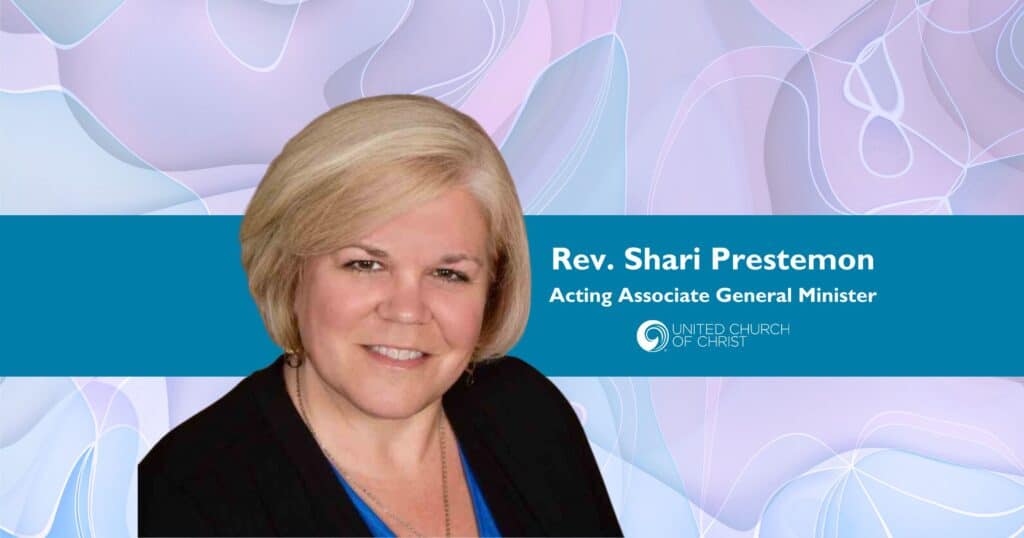 A new United Church of Christ national leader has been called. The UCC Board voted in a...
Read More