Dorhauer Chicago installation: 'God is still calling'
One cannot bless until they have been blessed. The Rev. John C. Dorhauer spoke those words before calling two influential women in his life, his mother Judy and the Rev. Yvonne Delk, to join him on the pulpit of Trinity United Church of Christ in Chicago.
"I know that I am deeply blessed by both these women, and it is only having blessed by them that I can stand before you and offer my own blessing," Dorhauer said Saturday, April 16, during the second of three progressive worship services to install him as the ninth general minister and president of the UCC.
"Momma Dorhauer is the person most responsible for shaping me into the person I am, and Momma Delk is the person I want to become," Dorhauer said.
"My mother made it known to her children that her only purpose as a mother is for her children to know that the door to the house is always open. And Yvonne Delk embodies the spirit of a United Church of Christ that says to all people, there is no place from which you cannot turn back and come home," Dorhauer said. "I hope that you gathered here in God's grace know both that you are loved and that there is no place to which you cannot come back to this love."
The installation service, seen as a covenant between Dorhauer and members of the denomination, with his promise as general minister and president to move the church from where it is today toward a future envisioned by the Holy Spirit, and to serve the church and it's people faithfully.
Trinity UCC's senior pastor, the Rev. Otis Moss III, offered an extravagant welcome at the opening of the service. The predominantly black congregation on Chicago's South Side is the largest church in the UCC with 8,500 members whose mission now includes national and international social programs on behalf of the disadvantaged.
"We welcome you to this wonderful tapestry that is the United Church of Christ," said Moss. "It does not matter where you come from, because our God leans over the bannister of heaven and says, 'Shh. I want to hear my children sing.'"
Raven Clarissa Rowe, a seminarian at Chicago Theological Seminary, offered the first of three vision sermons of what a renewed and vital mission for the UCC looks like.
"The church matters, and ministry in the church matters," said Rowe, whose sermon reflected on her conversation with Dorhauer in 2009. "Because people are already hurting, desperate with despair, we need a church that heals us and lifts us up and invites us in."
Fellow vision speakers the Rev. Marilyn Pagan-Banks, director of the Chicago food bank A Just Harvest, and the Rev. Heather Arcovitch, pastor of First Congregational Church in St. Louis, followed Rowe and spoke about the UCC accepting God's call to a new moment in its denominational life.
"We are not a denomination to be forgotten. We are a denomination of firsts," Arcovtich said. "We do 'firsts' well. But that is not our superpower… Our superpower is giving way to birth something new. Let us begin to do that now."
According to Pagan-Banks, "God is still calling the United Church of Christ  — on this day and in these times — to be a church that revolutionizes the world with a resounding 'yes' that fully embodies love," she said. "God is still calling us to work daily for the liberation of all God's people, disrupting business as usual, demanding that the scales of justice be balanced, and all -isms be eradicated."
"On this day of new beginning, God is still calling," she proclaimed.
The progressive service also includes a family moment at each location. On Saturday, it was Dorhauer's younger brother, Jeff, introducing him, with his eldest son, John Jacob, performing his father's favorite hymn, "Be Thou My Vision."
"The United Church of Christ has not only gained a driven and dedicated leader, you have gained a big brother," Jeff said. "John has brought nothing but pride to the name Dorhauer, as he will bring nothing but pride to the family of the United Church of Christ."
The progressive service, which began at The Riverside Church in New York City on Friday, concludes at Plymouth United Church of Christ in Seattle (3 p.m. PST on Sunday) for final portion of Dorhauer's installation.
---
Related News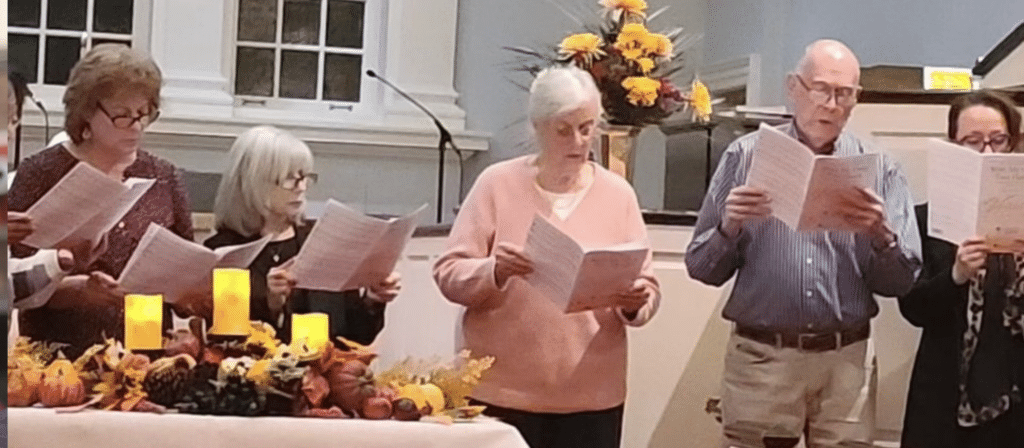 Many United Church of Christ congregations across the country participated in interfaith...
Read More