'Don't be silent about this': UCC general minister takes on Christian nationalism
In the wake of the 2022 midterm elections, several religious leaders are calling on people of faith to push back against Christian nationalism.
Faithful America, an ecumenical Christian organization dedicated to social justice, hosted a post-vote webinar on Nov. 9, "Countering Christian Nationalism: What Comes After the Ballots Are Cast," to discuss election results.
United Church of Christ General Minister and President John Dorhauer spoke frankly about the need to confront this "perverse re-branding of Christianity." He pointed to a coinciding rise in power between Christian nationalists and former President Donald Trump.
"I seek to engage progressive Christianity in a deep conversation about just what is needed to send these bigots and homophobes and misogynists back under the rocks out from which they crawled when the 45th president took office and brought their brand of Christian nationalism back to the center and put them back in power," he said. "The complacency and the decorum characteristic of white Christian liberalism is not going to bring back the justice we seek, nor mitigate the damage being done by those whose brand of Christianity calls them to engage in holy war."
In response to a question about what advice he'd give to UCC congregations, Dorhauer replied, "Don't be silent about this."
"When we're talking about the preservation of democracy, the upholding of human rights, we can't be silent," he continued. "I would really strongly encourage clergy, especially, not to use the pulpit to promote a political ideology — or even worse a candidate — but to talk openly about Christian nationalism."
He added, however, that churches should promote that "all voices will be heard and respected," not demonized. Treating different points of view as legitimate, he stressed, is critical.
Black grief, white rage
The Rev. Jacqui Lewis, senior minister of Middle Church in New York City, warned about the rise of fascist movements, such as Christian nationalism, across the country.
"I've been so alarmed at my fellow Americans who fell into what I'm going to call a fascist trance these last years, following Mr. Trump like a messiah anointed to heal the nation," she said. "… It smells of Mussolini and of Hitler. It smells of fascism and holocaust and apartheid. …
"Fascism is on the rise, my friends. But all the people of ferocious courage and rule-breaking kindness know this also to be true: it just ain't right. … Yes, our nation is browning. Yes, it is more liberal. Women and queer people are gaining power. Black lives actually do matter, and good old white boys' clubs just are not as sexy as they used to be."
Lewis — an author, activist and public theologian — highlighted the role that white supremacy plays in the Christian nationalist movement.
"Sitting in the midst of all this … with a foul, rotting stench is white rage and the Black grief that results from it," she said. "White rage: the January 6th insurrection. Black grief: the protests in the wake of the murder of George Floyd. I'm so sick of living in a nation that treats Black grief like a threat and white rage like a sacrament."
Like Dorhauer, she implored congregations to address Christian nationalism directly.
"I'm disappointed in the church; I'm disappointed that we're not more courageous," Lewis said. "I'm disappointed that preachers don't stand up and decry more often that this movement is not about love, but it is about fascism and white supremacy. … I think what we have to do is make Black grief centered in our discourse. Yes, this movement is anti-trans and, yes, it's anti-women and, yes, it's anti-abortion and it's anti-freedom. But the core wound is white supremacy."
Count every vote
Many of the nine panelists expressed concerns about threats posed by Christian nationalism, white supremacy and fascism. They also consistently underscored another common theme: the importance of counting every vote.
"We've got to count every vote, y'all, we've got to county every vote," said Lewis.
Likewise, Dorhauer highlighted the connection between the Christian nationalist movement and attempts to deny election results.
"It was reported last night that at least 75 newly elected representatives to Congress, many of them identifying as Christian nationalists, are election deniers," he said before the panel discussion. "So we bear deep responsibility for repeating over and over again that every vote matters, and that we're to count every vote."
Other participants included:
Watch the full webinar here.
---
Content on ucc.org is copyrighted by the National Setting of the United Church of Christ and may be only shared according to the guidelines outlined here.
---
Related News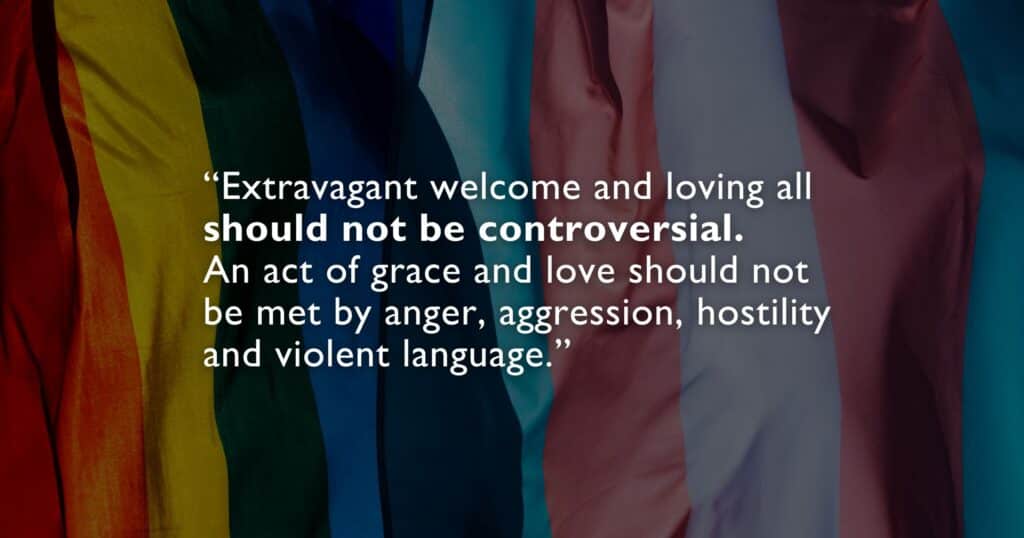 The United Church of Christ National Officers and the Conference Minister of the South Central...
Read More