UCC, other W.Va. voluntary agencies celebrate 50th bridge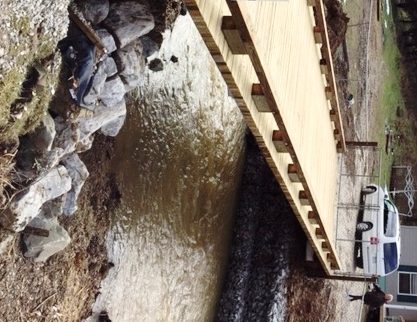 One of more than 50 bridges completed by the UCC and other voluntary agencies in West Virginia.
Ever since severe floods in 2016 washed away their small bridge across the creek in front of their home, an older West Virginia couple used an extension ladder to get out to the grocery store and doctor's office. 
Their bridge was one of 300 private bridges washed out in three separate flooding events in nine counties of southern West Virginia since April 2015.
Today, the couple can cross the creek safely on a simple, sturdy new bridge – the 50th completed in nine flood-damaged counties of West Virginia in just over two years in an innovative project of West Virginia Voluntary Organizations Active in Disaster. 
The United Church of Christ is a West Virginia VOAD member and an active member of the Bridge Project. The project was established to help fill a gap in disaster assistance: While federal and state funding is available for repair of disaster-affected homes, those funds do not extend to bridges on private land.
That said, the Bridge Project has succeeded thanks to collaboration among faith groups, county and state government and local private individuals," said Jim Ditzler, Disaster Coordinator for the UCC's Ohio Conference, which includes West Virginia. "The success is contagious."
The UCC's National Disaster Ministries and Ohio Conference were involved in the origin of the Bridge Project and provided some funding.
Ditzler, who serves on the Bridge Project Committee, said, "Hundreds of small creeks thread through the hills and valleys of West Virginia. The steepness of the adjoining mountains leads to sudden severe flash flooding in these creeks.
"People establish their homes in the only available spaces, frequently on the other side of the creek from the road. Many of their private bridges are homemade and not strong enough to withstand the sudden rush of water."
Residents rely on these small bridges to get from home to work, school and essential errands. The bridges also give emergency services access to residents' homes.
"The loss of a bridge is a devastating loss in maintaining their way of life," Ditzler said. "To restore them means restoring a lifeline to residents and eliminating the necessity of long detours or dangerous crossings."
The 50 bridges completed so far range from 12' to 90' long. The 50th bridge, dedicated April 19, was built by a team of volunteers from Mennonite Disaster Service. The couple began using it last month.
Funds for the construction came from a number of organizations including the West Virginia Conference of the United Methodist Church, the Ohio Conference of the United Church of Christ, the Episcopal Diocese of West Virginia and Presbytery Disaster Assistance.
"I lack the words to describe the spiritual energy that I felt during this dedication," Ditzler said. "Starting from 'can't be done' to number 50 in less than two years is quite an achievement. Just shows what can happen when we all work together. Actually, 56 bridges have been completed to date. I am very proud to be the UCC representative."
West Virginia VOAD's Executive Director Jenny Gannaway said the goal is to build another 140 bridges from mostly the 2016 flood and another dozen or so from last summer's flooding in the Northern Panhandle.
"The Ohio Conference will continue to support the Bridge Project by funding when possible and recruiting volunteers for hands-on help. There is a genuine need here," Ditzler said. "The Bridge Project represents opportunities to serve in different ways such as committee membership, recruiting additional volunteers, possible material resources and funding."
Additional bridge projects are going on this spring, and many more projects are in the engineering phase and construction will continue throughout the year.
See also Feb. 10, 2016 – UCC a partner in innovative West Virginia bridge project
Support UCC Disaster Ministries
---
Related News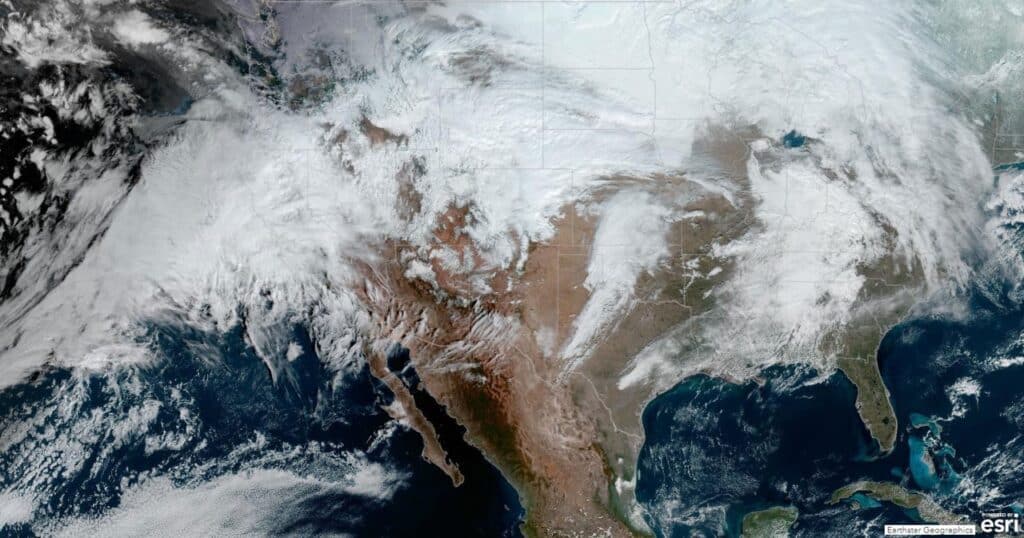 United Church of Christ Disaster Ministries is tracking a series of deadly storms surging up...
Read More