Deadline Now May 31 for Disaster Recovery Support Initiative Applicants
The disaster ministries of the Church of the Brethren, United Church of Christ, and the Christian Church (Disciples of Christ) have partnered to develop the Disaster Response Support Initiative (DRSI) and are seeking applicants for the following positions: a Case Management Specialist and a Long-Term Recovery Group Formation Specialist.  The application deadline is now May 31.
In the wake of disasters, especially natural disasters of medium-to-large scope, communities must organize to ensure effective, widespread recovery takes place. Often this involves the formation of a Long-Term Recovery Group (LTRG), tasked with facilitating case management, construction management, volunteer coordination, and other needs.
The current landscape of disaster response has a detrimental gap in resources for supporting Long-Term Recovery Group development. In light of this, the Disaster Response Support Initiative (DRSI) was formed to assist local communities in holistic recovery through the deployment of a Disaster Recovery Support Team (DRST) consisting of a Case Management Specialist, a Volunteer Construction Specialist, and an LTRG Formation Specialist that will model, support, mentor, and encourage the development of local LTRGs through a sustained on-site presence.
Team members will deploy rapidly and remain with the community for a period of 2 to 12 months as a resource to the local recovery effort, offering training, teaching, mentoring, and assistance to the LTRG staff and partners. All DRST efforts will be in cooperation with the LTRG, giving ownership of the recovery to the local community and its leaders.
Through the links below, please find position descriptions providing a list of responsibilities, qualifications, knowledge, skills, and abilities required. Along with a resume or curriculum vita, the self-disclosure form (also linked to below), and three letters of reference, candidates should also submit their salary expectations and a letter of interest. Benefits will include vacation as well as access to medical coverage. Successful candidates will be flexible, self-motivated team players with exceptional interpersonal skills and problem solving abilities who can communicate effectively in a way that builds consensus and enhances the work of the DRST in LTRG development.
Individuals will be employed by Disciples Home Missions and will serve under the direction of Disaster Recovery Support Initiative leadership.  All applications, including supporting documents, must be submitted via email to DRSI@dhm.disciples.org and will be accepted up until 12:00 midnight (EST), May 31.
Grace and peace,
Jennifer Dorsch, Brethren Disaster Ministries
Caroline Hamilton-Arnold, Week of Compassion
Zach Wolgemuth, United Church of Christ Disaster Ministries
Josh Baird, Disciples Volunteering
Position Description – LTRG Formation Specialist
Position Description – Case Management Specialist
---
Related News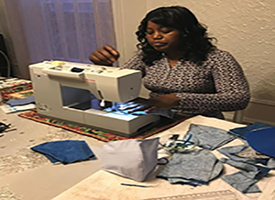 "It's so good making masks because it helps the community," said Sandra, a Congolese refugee...
Read More