Disaster Ministries addresses UCC churches in Micronesia
This month – as they do only once every two years – delegates from United Church of Christ congregations and conferences scattered across multiple islands of Micronesia traveled to Majuro, capital of the Marshall Islands, for their General Assembly.
It was an opportunity to share their common faith and fellowship with one another and, this year, to take steps toward increased disaster preparedness and response in this Western Pacific region highly prone to disasters such as typhoons, earthquakes and even drought.
What's more, Micronesia's thousands of small islands are experiencing rising sea levels up to four times the global average due to climate change, according to the United Nations.
The Micronesia Council of the UCC invited UCC Disaster Ministries Executive Wolgemuth to present a workshop on churches' role when disaster strikes. "It was an important start in relationship building, the first step toward increased resiliency and capacity," he said.
"I shared how UCC Disaster Ministries supports partners and encouraged the Micronesia Council of the UCC to consider how it might work with local congregations on issues of preparedness and recovery following an event."
Kosrae physician and hospital director Dr. Livinson Taulung was among participants in the Majuro assembly and commented, "I had been to numerous meetings in the region and I found this one of most rewarding and gratifying in my line of work. I am thankful to God for that opportunity in making it happen and with utmost humbleness in the stewardship of our fellow believers …. So much love and compassion of others evidence …
"I thank God for meeting you and to start a partnership of friendship as we move forward our collective interest in doing God's work, hence this brief message is to let you know how appreciative I am in listening to your work and how to start connecting in getting our mindset in emergency preparedness in our church communities."
Wolgemuth combined the stop in Majuro with time in the Philippines reviewing progress in the UCC's support for Typhoon Haiyan recovery, including the construction of new storm-resistant homes and livelihoods training. He also stopped in Hawaii to conduct a workshop for the UCC's Hawaii Conference.
"That workshop was with the conference staff and was focused on informing them about what UCC Disaster Ministries does, including where, when and how we engage after a disaster occurs," he said. "It included some of the conference staff, the FEMA regional voluntary agency liaison (VAL), a representative from Hawaii Emergency Management, UCC clergy, pastors and lay members.
"The workshop focused on helping provide the foundation for understanding basic disaster response and recovery, what organizations engage at different stages and how organizations work together. We then discussed the role of UCC Disaster Ministries with our focus being on preparedness and long-term recovery and concluded with information about how UCC congregations can become involved in appropriate ways.
 
"The workshop helped generate some good discussion and energy around becoming more prepared and organized to respond to long-term needs when the next disaster occurs," Wolgemuth said. "This workshop was just the beginning of some more work; in depth training and collaboration and planning will occur in upcoming months within the conference."
---
Related News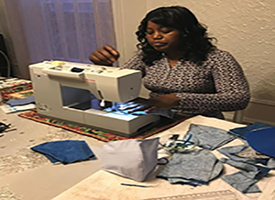 "It's so good making masks because it helps the community," said Sandra, a Congolese refugee...
Read More