DC-area churches open arms, homes to travelers attending Women's March
Scores of United Church of Christ members from all across the country will descend on Washington, D.C., this weekend to speak up for equal treatment of all people at the Women's March on Washington. With more than 300 participants in need of a place to stay the night before the march, a handful of Central Atlantic Conference congregations are stepping up to offer them the hospitality of a roof over their heads and warm meal.
For Emmaus UCC, in Vienna, Va., there was immediate interest in being part of the Women's March on Washington, explained the Rev. Kristen McBrayer, church pastor. "One of the goals of our church is to have a wider connection with the UCC," said McBrayer. "This is a great opportunity to build bridges within our denomination. It didn't take much persuasion for anyone."
Emmaus is one of about seven area congregations in the Washington, D.C.-Virginia-Maryland area that are hosting 337 UCC members and clergy from different parts of the country. That number doesn't include local participants in the Women's March, or other UCC members coming down just for the day, said the Rev. Amber Henry Neuroth, pastor of Hope UCC in Alexandria, Va. "I know two churches from New England who are coming down here and going back at the end of the day, so that's at least 100 from those churches," she said.
All told, more than 1,000 UCC members could take part in the Women's March.
"It's a chance for churches to step out of their walls for a bit and see each other, see they're on the same page, and see we are part of a community," said Neuroth, who believes that the collective effort of D.C.-area churches to connect with out-of-state members and congregations counteracts the divisiveness that was so prevalent during the election cycle.
The march, a day after president-elect Donald Trump is sworn into office, was first organized in response to the sharp political rhetoric that reverberated during the recent campaign and as a demand for equal rights for women. With about 270,000 participants expected, it has grown to encompass a host of values at the heart of the UCC. Though the denomination isn't officially endorsing the Women's March, church leaders believe that it marks a time of great challenge and importance for local communities, for the nation and for the world.
Emmaus UCC is hosting 56 people from the Wisconsin Conference and a small group of six others from the Presbyterian-New England Congregational Church in Saratoga Springs, N.Y. 
McBrayer and the Rev. Nick Hatch, pastor of First Congregational UCC in Appleton, Wis., are colleagues in the Next Generation Leadership Institute, a program of the Pension Boards, Inc., that trains young clergy to lead the church. McBrayer said Hatch called her after the election and inquired about overnight accommodations for members who wanted to travel to D.C. "I talked with my church about it and the congregation was excited. While most congregants have some people or families already staying over, we couldn't guarantee availability for everyone, but he said they found a little hotel down the street to stay," McBrayer said.
McBrayer said that on the Sunday after Election Day, the congregation spent about 35 minutes voicing its concerns about the outcomes. "It's a diverse area we live in, and the fear is palpable for people with disabilities, for LGBT folks in our church who just celebrated weddings, for Muslim families and for those who feared what this could mean for our lives," she said. "Our congregation is filled with federal employees who will be working for these cabinet nominees. It took a couple of weeks to move out of that grief."
The organizing effort started as far back as late November, according to Neuroth. "I think this is one of the great joys and challenges of our polity — the way the UCC is structured — where a congregation or individual says I want to do this, and we don't have to wait for anyone to bless it," she said. "But it has to be a lot of grassroots and connection on the bottom to make this happen. We started organizing when we heard congregations were coming, getting people in a mode of connection and unity in this effort."
Hope UCC is hosting 66 guests from Plymouth Congregational in Lawrence, Kan., who are all staying with members of the Hope congregation. They leave Kansas Thursday evening for a 20 hour drive and are expected to arrive on Friday afternoon. With little time to spare, Plymouth and Hope UCC members will make signs for the march, and then join a local Episcopal church for dinner and a prayer service to bless the marchers.
Both McBrayer and Neuroth believe that the UCC needs to be an important voice for progressive Christianity with the incoming presidential administration.
"This raises awareness of the church of being engaged in what people care about," McBrayer said. "That is essential to the future to the church."
The UCC is offering an extravagant welcome in additional ways: First Congregational UCC in downtown Washington, D.C., is open the day of the march to offer hospitality to those participating in the rally. There are also numerous "Sister Marches" taking place in different regions of the country — solidarity events in various cities — with UCC clergy and congregants ready to line up to put their faith in action in events nationwide.
With so many logistical pieces around Saturday's march, the Rev. Marvin Silver, a Central Atlantic Conference associate conference minister (East Region), said that sorting through the basic details and coordinating how so many people from across the country can come together as one church has been an immense challenge. But, he and his colleagues are prepared to be "unified in our collective strategy to be present at this march, unified in our collective concern," Silver said, "not just for women's rights, but for all issues of justice as people of faith as we live out the Gospel."
Share your experience of the Women's March on Washington for use on UCC social media, or with UCNews.
Email photos to socialmedia@ucc.org. Please include who is pictured in the photo, what is happening in the photo, and if applicable, your affiliation with the UCC. Message us photographs or video footage (one minute or less) on our Facebook account. Tag us in your posts on Twitter using @unitedchurch and and on Instagram using @unitedchurchofchrist. For other ways to share, or to print a sign to carry with you, check out the Women's March page for information.

---
Related News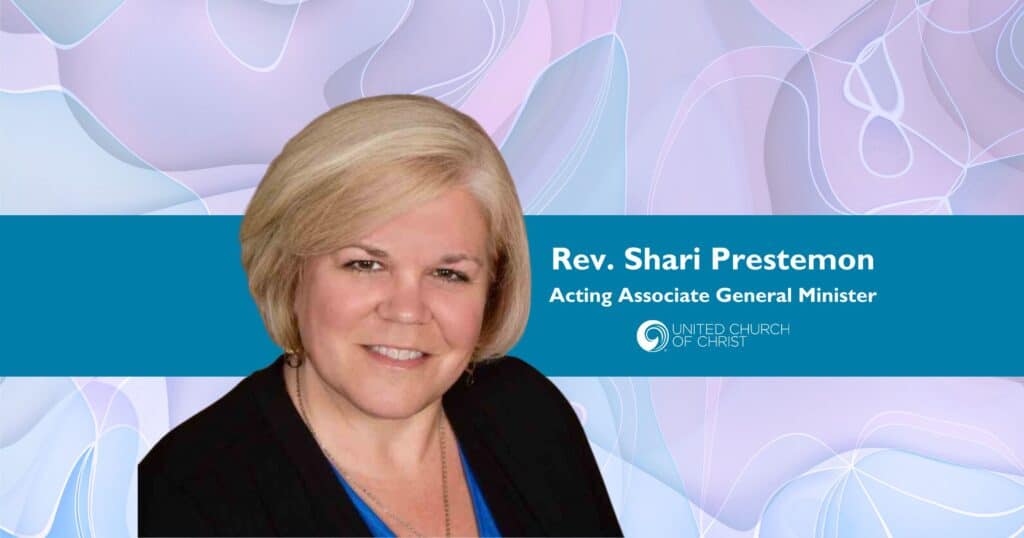 A new United Church of Christ national leader has been called. The UCC Board voted in a...
Read More