Finding hope and unity in a weekend call for action
As tens of thousands lined up and marched the streets in Washington, D.C. this weekend—the latest witness by people of faith following the deaths of African Americans at the hands of white police officers—United Church of Christ minister the Rev. Sid Fowler recognized something powerful was happening.
It was a reminder that even in moments of grief, light finds a way to shine through.
"The people in the march were people of all kinds of color, and we were observing on how there was incredible hope," said Fowler, pastor of First Congregational UCC in Washington, D.C. "In spite of the pain and people holding up signs, 'Black Lives Matter,' there is hope.
"Something is breaking through."
The nation's capital has been the center of public demonstrations about police shootings, school shootings and calls to address racism and gun violence in the last few days. Tens of thousands rallied during several events this weekend, beginning on Friday, Dec. 12, with the "Not a Protest, But a Promise" candlelight vigil that stretched 6.5 miles along 16th Street. The vigil was a response to recent grand jury decisions in New York City and Ferguson, Mo., where police officers killed Eric Garner and Michael Brown, but were not indicted.
"It was an amazing weekend in terms of clarity and commitment of our congregation," said Fowler. About 30 members of First Church took part Friday in the candlelight vigil.
"We were all along 16th Street and it was powerful, in terms of talking to people along the street and in traffic, in a call to work against racism," Fowler said. "An incredible moment."
A day later, on Dec. 13, crowds of people from across the country gathered for Saturday's "Justice for All March," where thousands stood with the families of Brown, Garner, Tamir Rice of Cleveland and Akai Gurley, four black males—ranging in age from 12 to 43—killed by police in the past half-year. Buses brought participants to the District, including a group of almost 60 people from the Michigan Conference of the UCC, and a busload from Cleveland, on hand to protest Rice's death. The 12-year old was shot by a police officer who saw the child carrying a pellet gun in public.
"We're hoping this energizes and motivates us to go home and make changes in our own neighborhoods," said the Rev. Michele Humphrey, pastor of Imani UCC in Cleveland, who attended with members of her church.
On Sunday, some of the attention focused on the second anniversary of the shooting at Sandy Hook Elementary as faith communities took on the issue of violence from a different angle.
The National Gun Violence Prevention Sabbath weekend has been a cornerstone in the national conversation about gun violence, and, in particular, what people of faith can do to prevent it. The interfaith event is usually observed in March, but was moved to December to commemorate the anniversary of the Newtown, Conn., elementary school shooting on Dec. 14, 2012.
"After Newtown, many across our nation—politicians as well as average citizens—said that things must change, that it is no longer tolerable to live in a nation that averages 3 to 10 times the number of gun deaths per capita than every other developed country in the world," said the Rev. Matt Crebbin, pastor of Newtown Congregational UCC in Newtown, Conn. "And yet, many mass shootings and thousands of gun deaths later, not one significant piece of gun safety legislation has passed Congress."
"We can quickly and effectively reduce the plague of gun violence in our midst," Crebbin said. "The collective health of all our people requires more from our leaders and from us. May all of us find the compassion, wisdom and courage to take the steps needed to bring healing to our nation."
Fowler believes that the faith community as a whole must lead the way in ending issues of race and violence, and pointed to the rallies this weekend as examples.
"Look at the vigil. To plan it was very fast, but there was agreement from all faith communities to come together," he said. "The next steps, whatever they are, are pulling communities of faith together for partnership and action."
---
Related News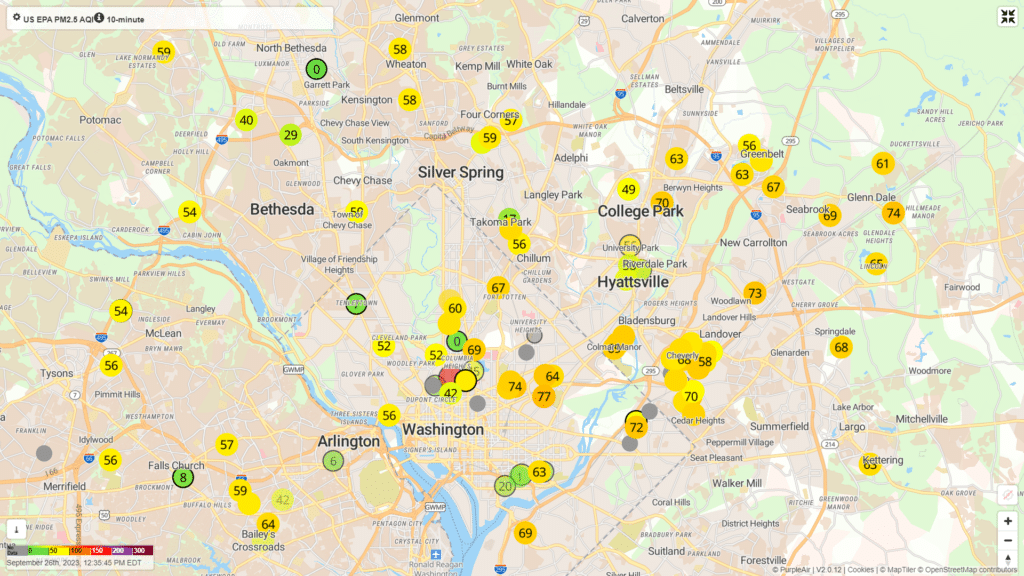 This summer, the United States experienced some of the worst days for wildfire pollution in...
Read More