Southern Asia and COVID-19
United Church of Christ – Wider Church Ministries
Humanitarian Development Team
Coronavirus (COVID-19) Daily Briefing
Barbara T. Baylor, MPH – Temporary Health Liaison
Southern Asia and COVID-19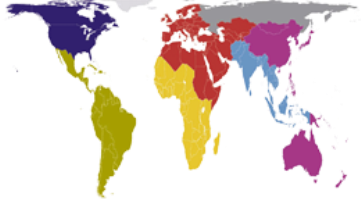 Across the vast Southern Asia region, differing factors are affecting the spread of COVID-19. Following are snapshots from the three countries with the most infections:
INDIA, population 1.353 billion.
The World Health Organization reports 216,919 confirmed COVID-19 cases in India as of June 4, with 6,052 resulting in death. A Coronavirus Tracker in India puts the numbers somewhat higher – reporting 226,770 total cases as of today (June 5).
India's government imposed a strict lockdown weeks ago, but some question whether the restrictions had the desired effect. In any event, the number of people infected with the virus is growing across India, with Kerala State among the hardest hit.
This as India takes steps to end its lockdown, beginning with some malls, restaurants and religious places. Explains Gautam Menon, a professor and researcher on models of infectious diseases, "Beyond a point, it's hard to sustain a lockdown that has gone on for so long – economically, socially and psychologically."
See the BBC's India Coronavirus: Why is India Reopening Despite a Spike in Cases?

BANGLADESH, population 161.4 million.
The WHO reports that, as of June 4, Bangladesh had counted 55,140 COVID-19 cases, with 746 deaths.
Complicating the situation in Bangladesh and part of India: Super-Cyclone Amphan, which hit a few days ago, forcing people to make the difficult choice of whether to stay home or move to crowded shelters and risk contracting the virus.
Another issue affecting the control of COVID-19 in India, Bangladesh and other parts of Southeast Asia is migrant labor. When economies across the region and around the world shut down, Reuters reported, India, Bangladesh, Nepal, Pakistan, Sri Lanka and Afghanistan rushed to establish quarantine centers and allocate emergency funds for their many suddenly jobless migrant workers returning home, some potentially COVID-19 positive and in need of care from fragile health systems.
INDONESIA, population 267.7 million.
The WHO reported 28,233 COVID-19 cases, with 1,698 deaths, as of June 4, in sprawling Indonesia, the world's fourth most populous country. Here, there's fear of runaway transmission, The New York Times reports. In early May, Indonesia had recorded fewer than 12,000 cases of the coronavirus, with around 865 deaths.
By May 28, the number had increased to 24,538 confirmed cases and 1,496 deaths. Health experts say even this doubling of cases reflects the limits of testing rather than the true caseload.
Health experts hold responsible a central government loath to provide a national lockdown, and a denial of vulnerability given that Indonesia's population is young and its many islands distant.
Now, even as the country's caseload accelerates, the Indonesian government has said that national coronavirus restrictions, already a scattershot effort, must be relaxed to save the economy.
Following is a backgrounder from Global Ministries, a common missional witness of the Christian Church (Disciples of Christ) and the United Church of Christ.
The Southern Asia region – comprising Afghanistan, Bangladesh, Bhutan, Brunei, Cambodia, East Timor, India, Indonesia, Laos, Malaysia, Myanmar, Nepal, Pakistan, Singapore, Sri Lanka, Thailand, and Vietnam – is one of the most populous regions in the world.
The majority of people living there eke out their living on daily wages, working mostly in agriculture, industry, small business, and tourism sectors. Even though this region is much sought-after by multinational corporations for the availability of cheap labor, it is widely acknowledged that over 400 million people live below the poverty level.
It is also known for inadequate healthcare delivery systems. Some countries in the region, like India and Pakistan, spend billions of dollars to purchase weapons from the West, and very little on basic healthcare for their teeming millions. The region is also known for distinct social distances among people and communities based on religion, ethnicity, language, and caste, which determine all social, economic, and political dynamics.
Although some of these countries have reported fewer deaths and confirmed cases of COVID-19, the robust trade, industry, labor movement, and tourism industries make the whole region vulnerable to the spread of the virus.
With the indefinite nature of lockdowns, most services and industries shut, and, with hardly any economic activity, millions of people have lost their sources of employment. They are now exposed to hunger and homelessness.
Many of these countries will also face severe economic crises and social unrest during the coming months and years. Besides the impracticality of the solutions of physical distancing (stay and work from home, washing hands, using sanitizers, etc.) for many of those on the margins, the inhuman attitudes and practices of discrimination and deprivation based on language, ethnicity, religion, class, and caste, are also depriving them of health care and the distribution of relief supplies.
What further worsens their plight is the current pervasive trend of supremacist politics that thrive on hatred and division. The scapegoating of Muslim minorities and the police brutality against fleeing migrant workers in India are some examples. Activists who raise their voices against the treatment of migrant workers and their rights amidst the lockdowns are being harassed or arrested.
To ensure that the virus is contained, governments are also turning more authoritarian and repressive. With the prolonged exercise of such power, the struggle for life with justice and dignity is likely to be set aside for the broader interests, as is being done now.
COVID-19 Daily Briefing Archives

---
Related News
One hundred and twenty-five years ago, the United States was in the throes of a most vibrant...
Read More