The Fearful Listener
"I will listen to what God the Lord says;
she promises peace to her people, her faithful servants—
but let them not turn to folly." – Psalm 85:8
I'm a great listener. 
At least that's what I'm told. 
If a friend or family member needs a comforter, I'm there. Advice? Even better. Then I can tell them the latest wisdom I heard on NPR.
I'm not a great listener, however, when it comes to listening to myself. 
When my body is tired, I work past midnight. When it's time to chase another dream, I come up with one hundred reasons why reaching my last goal was good enough.
Lately, I'm trying to find rare moments where I can have an inner dialogue debrief.
In fact, as I write this devotion, I'm sitting in a quiet car, waiting for a friend in a parking lot because I realize I've been running from silence (and writing this devotion) all week.
Usually when we're running, we're running from a fear and not to a solution.
I don't like listening because I don't like the chance that my subconscious, or the Holy Spirit, will speak clearly and tell me I need to do something I don't feel ready to do. 
What if God says go and I want to stay? What if God says to end that habit I didn't even realize was bad?
I'm afraid to know what I don't know—especially because the God I worship is so revolutionary in the quiet. 
Perhaps it's time to turn to God and turn off the NPR—there might be a blessing in the quiet I didn't know I needed.

Prayer
God, if I'm running, let it be from the stress of this hectic world and to your saving grace.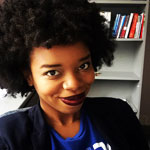 About the Author
Marchaé Grair is the Director of Public Relations and Outreach for the Unitarian Universalist Association and a member of South Euclid United Church of Christ, South Euclid, Ohio.