Make Me a Living Blessing
"When Jesus saw the crowds, he went up the mountain; and after he sat down, his disciples came to him. Then he began to speak, and taught them, saying…" – Matthew 5:1-2
May this blessing remind you today of your original belovedness, your original blessing from the God of justice and love:
Blessed are those who resist.
Blessed are the women, cis- and transgender.
Blessed are the LGBTQ.
Blessed are the sacred choices of women about their sacred bodies.
Blessed are the babies and children.
Blessed are the aging and elders.
Blessed are the poor and those who work too many jobs to make ends meet and those who cannot find a job.
Blessed are the refugees and immigrants, no matter their legal status.
Blessed are the uninsured and those who fear they will lose their insurance.
Blessed are those who weep and mourn and live with mental illness.
Blessed are those who hunger and thirst for righteousness.
Blessed are those who have survived sexual violence and abuse.
Blessed are those who speak their truth.
Blessed are those who proclaim, "Black Lives Matter."
Blessed are the indigenous and blessed are their sovereign, sacred lands.
Blessed is the Earth under the siege of climate change.
Blessed are those who are differently abled.
Blessed are the Muslim and threatened with a registry.
Blessed are the Jews who are threatened with bombs.
Blessed are all those who are persecuted.
Blessed are those who stand in solidarity.
Blessed are the merciful.
Blessed are the peacemakers.
Prayer
Holy One, help me remember I am blessed so that I might be a living blessing.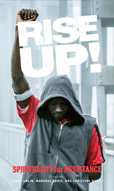 About the Author
Ashley Harness contributed this devotional to
Rise Up! Spirituality for Resistance,
a collection of devotionals to keep you burning bright without burning out, whether you're leading a justice effort at church or heading out to join a local protest. You can
order Rise Up!
from UCC Resources.