Crisis in Central, Latin America requires inclusive agendas, not aid cuts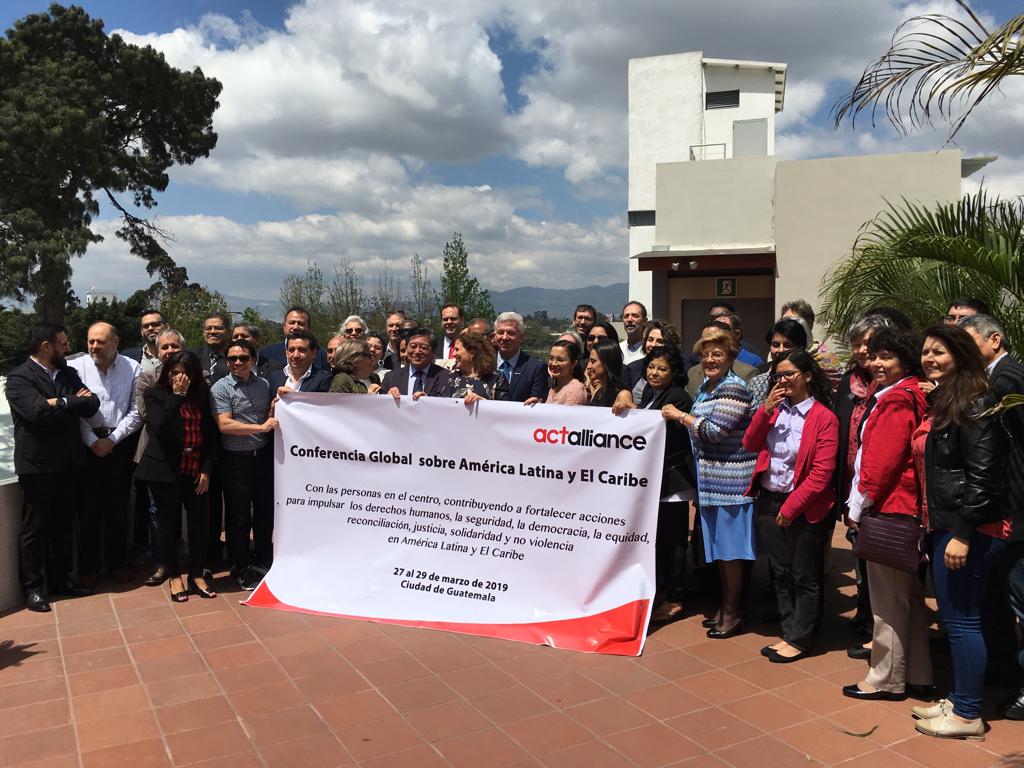 As a global conference of church leaders and ecumenical organizations gathered in Guatemala to combat the root causes of migration, the U.S. State Department announced it was planning to end humanitarian aid to the poorest countries in Central America, cutting off hundreds of millions of dollars in assistance to Guatemala, Honduras and El Salvador in retaliation to a surge in the migration of families seeking asylum.
The administration's decision was based on the assertion that the governments of those countries are not doing enough to end the flood of people trying to come into the United States at the southern border.
"Cutting aid to the poorest countries will no doubt have the effect of increasing, not decreasing, the number of people forced to flee their countries of origin and forced to migrate," said the Rev. Mary Schaller Blaufuss, team leader of the UCC Humanitarian and Development Ministries. Noting that economic and environmental injustice are root causes of migration, Blaufuss said cutting aid to organizations in Central America working to assist people make a better life so they can stay in their home countries, is counterproductive.
Blaufuss represented the UCC at the ACT Alliance Global Conference on Latin American and the Caribbean, March 27-29. The gathering in Guatemala City, which brought together 50 people from 21 countries, was about empowering members to work together to address critical issues in the region. Both the UCC and the Christian Church (Disciples of Christ) are members of the ACT Alliance, and through Global Ministries' church to church partnerships, the denominations interact with partners offering humanitarian assistance.
"This conference enabled members from all parts of Latin America and the Caribbean to see where there are places of convergence in the situations they are facing," Blaufuss said. "One of the prompts for the conference at this particular time is the increased flow of forced migration back and forth from different countries within Latin America and the increased stress that puts on already fragile infrastructure and systems."
Countries in the region — Venezuela, Brazil, Nicaragua, Guatemala, Honduras, Colombia and Haiti —are experiencing an increase in social, political and economic crises. Political violence and violence aimed indigenous peoples, afro-descendants, women and LGBTI people is on the rise.
"One of the outcomes of the conference is the realization of how strong the combination of religious fundamentalisms and political fundamentalisms is. Democracies and participation in those democracies is threatened and human rights defenders are being criminalized. With a common voice from Latin America these concerns can be more strongly voiced into the public discourse, with more possibility to influence global approaches and efforts toward just peace."
Blaufuss was able to talk with church leaders about how conflicts that drive people to flee their home countries are being addressed through the ACT Alliance. One that she noted involved a three-year training program, offering assistance to clergy, shared by a minister from El Salvador.
"Having lived with local conflict and violence for generations, people in Central America have so little stability that they are unable to make plans for their future. This continuing education component for local church pastors equips them to utilize psychosocial tools in all their interactions with the community," Blaufuss said. "The programs then have people with even further training who can address acute PTSD in people."
She also noted that the UCC, through Global Ministries, is putting gifts to the One Great Hour of Sharing (OGHS) special mission offering to work in the region.
"Through the OGHS Offering, the UCC is active in sustainable development for the long-term and with long-term mutual partners in areas of grassroots education, economic empowerment, agricultural sustainability and water, community health, human rights monitoring, just peace projects and jobs training," Blaufuss said.
"The OGHS offering is also at work in specific crisis situations in Central America, South America and the Caribbean. Membership in the ACT Alliance gives the UCC even greater reach to be active in these emergency situations — in the right place at the right time," she continued. "Funds are supporting churches throughout Mexico, Honduras, Guatemala, and El Salvador that are sheltering people who are fleeing their countries of violence and for those who are being deported from the United States while the danger in their communities of origin continues even stronger."
As the U.S State Department plans to cut millions in aid, the Department of Homeland Security is implementing a new agreement with Central American leaders aimed at increasing efforts to deter migration and crack down on smuggling operations. However, until the governments in the region address issues of economic and environmental injustice, Blaufuss said, people will be forced to flee.
"We have to be prophetic and have the courage to promote inclusive policies and agendas," said Rudelmar Bueno de Faria, General Secretary of the ACT Alliance. "The challenges we are facing in the region require adequate strategies and concerted actions to uphold human rights and the rule of law."
---
Related News
On a recent trip to Palestine and Israel, the Rev. Allie Perry was part of a delegation that...
Read More