Cornerstone's 2 new programs put money to work for creation care, racial justice
The United Church of Christ Cornerstone Fund is offering two new ways for people to invest — and borrow — for social good.
As announced at General Synod, Cornerstone is now inviting people to consider:
Earth-conscious investing, building
The Creation Care program "will invest in projects that aim to reduce our carbon footprint and provide an opportunity for environmentally conscious investors to make an impact investment," said Cornerstone President and CEO Maria Coyne. She spoke by video during the UCC's all-online Synod in July.
"Investors will agree to a 1-percent rate of return on their investment, giving up some short-term gain, for an investment that will yield a long-term gain for our planet," said a flier at the Cornerstone website. "These investment funds then will be loaned at 3.5-percent to churches and other faith-based organizations to fund projects specifically aimed at improving their properties' impact on the environment and reducing their carbon footprints."
The Creation Care investment and loan details include these:
The minimum amount to invest in the program is $500.
The 1-percent interest rate lasts for the first three years. After that, the then-prevailing rate applies.
The program typically offers loan amounts between $10,000 and $100,000.
The loans carry three-year, adjustable-rate terms: fixed for three years, then adjusted to the prevailing rate.
Three-year "balloon" notes are also available.
Making solar panels affordable
Christ UCC in Dupo, Ill., is one place where the program is already at work. Here's how, as explained by Coyne at Cornerstone's website:
Christ UCC received a $79,000 loan to install solar panels on its church and parsonage using the Illinois Solar For All renewable-energy credit program.
That state program, "especially as applied to nonprofits like churches, is very complex, with a series of timing requirements for payments, making it very onerous"for many borrowers.
"Cornerstone worked with Christ UCC to create a loan structure where the church could comply with the Illinois requirements, pay for the solar installation, wait for the [energy credits] to be reimbursed, and come out with a very manageable permanent loan of less than $20,000."
The Illinois program "is designed to produce systems that zero out electric usage, so Christ UCC will completely eliminate its $5,000 annual electric bill. The savings will offset debt service until the loan is paid off, and then the church will use the annual savings to increase ministry."
Cornerstone's Creation Care program has received initial investments from the UCC's "national setting" ministries, the Wisconsin Conference, United Church Funds and the Council for Health and Human Service Ministries. "We aim to raise $3 million initially, but we will not stop there," Cornerstone's website says. "Investors will receive reports on progress and the impact that the loans are having on caring for creation."
Racial-equity gifts
Coyne said the Racial Equity Giving Bonus "will allow investors to designate a 'give-back gift' to a nonprofit organization addressing racial inequity."
Participants in that program must invest at least $2,500 for five years. The investor designates a charitable gift of at least 10 percent of the amount invested. Cornerstone then sends a gift in that amount to the charity chosen by the investor.
Coyne gave these examples: "If it's the minimum investment of $2,500, the gift must be at least $250. If you invest at the next level of $10,000 where you get a higher rate of return, the minimum gift is 10 percent, or $1,000. It's always 10 percent of the amount invested. Whatever the amount of the gift, it is 100-percent tax deductible and we will send a letter stating such.
"So, if in the first example you invest $2,500 and want 10 percent to go to one of the identified organizations, you would either send a check or do an electronic transfer of $2,500 to Cornerstone. We would then send $250 to the charitable organization with a letter acknowledging it was a gift from you. Then the remaining $2,250 would be in a five-year term note at Cornerstone earning the designated Giving Bonus rate."
Choosing gift recipients
The Racial Equity Giving Bonus flier says investors can designate "either a pre-identified and vetted national organization working for racial equity or a self-identified local or regional nonprofit organization doing this work." It lists just a few such organizations as examples, ranging from UCC Conferences and historically related Black colleges to secular programs such as Color of Change and the Equal Justice Initiative.
"Racial and environmental justice are two of the most pressing issues facing us today and have always been important to us," Coyne said. "We are committed to helping our clients in their efforts to empower their communities."
---
Related News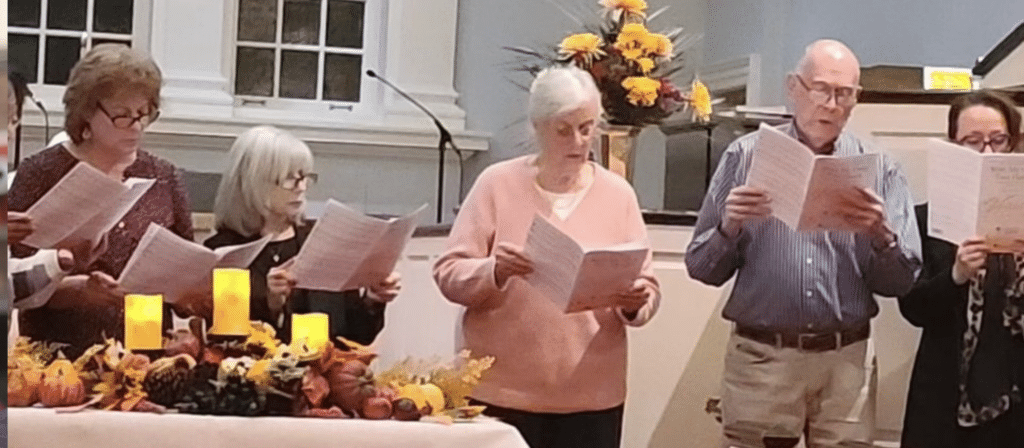 Many United Church of Christ congregations across the country participated in interfaith...
Read More