Indiana congregation honored as sacred stewards of God's creation
It started as an idea, a way to avoid having to mow the lawn. But the end result caused Interfaith Power and Light (IPL) to sit up and take notice, awarding St. Peter's United Church of Christ in Carmel, Ind., one of five top prizes in its annual Cool Congregations Challenge.
Congregations are invited annually to submit projects they've completed in response to climate change. This year, out of more than 60 entries, St. Peter's was named the Sacred Grounds Steward award winner for dreaming up a Native Habitat project that, in essence, recreated a prairie on 2.5 acres of land.
"Our project began with two questions," said the Rev. Lori Bievenour, pastor of St. Peter's UCC. "One was glaringly practical: 'Is there any way that we can save money mowing our lawn this year?' The second question was rooted in our theology: 'How can we care for creation in a way that honors our commitment to diversity, benefits our community, and reflects our belief that God asks us to care for the earth?' With these two questions circling in a variety of people's minds, we dreamed up the Native Habitat. It quickly inspired the majority of our congregation, and we have been overwhelmed with the journey that we've taken together."
A Native Habitat project team developed a comprehensive plan to replace the grass on the lawn with native plants to help reduce the church's carbon footprint and fight water runoff and land erosion.
"The three of us who started this project have been eager to see St. Peter's develop a more educated and knowledgeable approach to the land owned by the church, as well as to promote and advocate for more responsible energy use and care of the land in our community," said Ginger Bievenour, the Native Habitat team member who submitted the church's entry to the contest. "I have been following both the national and state Interfaith Power and Light for several years and felt that our efforts were very much in line with the goals and commitment of the IPL. We have gone from underused acreage to areas that now function in multiple ways and will serve the church and broader community as a sustainable and native environment."
The congregation created two rain gardens and a bioswale (a storm sewer alternative that can absorb low water flows or carry runoff from heavy rains to storm sewer inlets or surface water like ponds or streams), along with a watershed area planted with trees and shrubs. Volunteers from the church and community spent more than 300 hours planting and caring for more than 6,000 plants, 2 acres of prairie and wetland seed mix, and 60 native trees and shrubs as part of the new ecosystem. The native sedges, grasses and wildflowers are helping to reduce contaminated water from reaching the White River by filtering the water as it passes through the church property.
"This was a really innovative project," said Andrée Duggan, IPL national campaigns manager. "You don't have to mow it, and it acts as a buffer for runoff. Native plants and prairie will pull carbon pollution out of the air. Water will be reclaimed, captured and filtered by the land, and not wasted."
"They had a well-defined project with a measurable objective for climate benefit," Duggan continued. "We were attracted to this project for converting a regular standard lawn into a prairie, a good example of doing more with lawns."
Along with the 2015 award and bragging rights as a Cool Congregation, there is a $1,000 prize for each of the IPL's top-five winners. But members of the Native Habitat project team say the church is reaping much greater rewards.
"Look what happened! We put in native plants and now we see dragonflies and many other insects, as well as birds and mammals," said Betsy Ingle, another Native Habitat team member. "Hawks patrol the area and the diversity of living things continues to increase. Now being outdoors is fun and interesting. Individuals can bring about this change in their own surroundings and provide habitats for those who share the earth with us."
"The Native Habitat project is one of our first steps in becoming what we have coined 'un-invisible' in our community," said Lori. "For too long, St. Peter's has been comfortable being relatively unknown as a congregation in our town. This project has intentionally let our community know that we are present, engaged in issues that matter to people of various faith traditions, and not afraid to do something that requires a significant investment of time, money, and personal commitment if it betters the environment around us. We used to be known as 'the church across from McDonald's.' Now we are 'the church with the Native Habitat.'" 
Based on the community's curiosity and desire to learn more and replicate the model, the church has become a leader in educating others about the benefits of creating and developing more sustainable landscapes to replace lawns.
"I'm just excited about the possibility that this might begin a trend among UCC and other congregations," said Dave Benson, a university professor and church member who developed the plan for the prairie. "Many churches own property that is used for nothing more than mowing once a week. If all those church properties could be converted to native habitats, how great would that be for biodiversity, clean air, clean water, flood control, and our own mental and spiritual health?"
"We see great UCC participation in all of our programs consistently," said Duggan, noting that eight other UCC churches in California, Connecticut, Massachusetts and Oregon made the IPL Honorable Mention list. The organization's judging panel included experts from the U.S. Green Building Council, the EPA's Energy Star program, IPL, and Nature's Friends.
"The Native Habitat project is an expression and extension of our Covenant of Welcome and our Open & Affirming stance," said Lori. "All are welcome and affirmed at St. Peter's – from bugs and birds, to mosses and sedges. We affirm the biodiversity of our property and seek to be inspired by what develops in our midst."
"Our committee, along with other members of the church will be meeting this week to discuss various needs for this summer to further the literal growth of our native habitat," said Ginger. "At that time we will also consider how best to use this wonderful award!"
---
Related News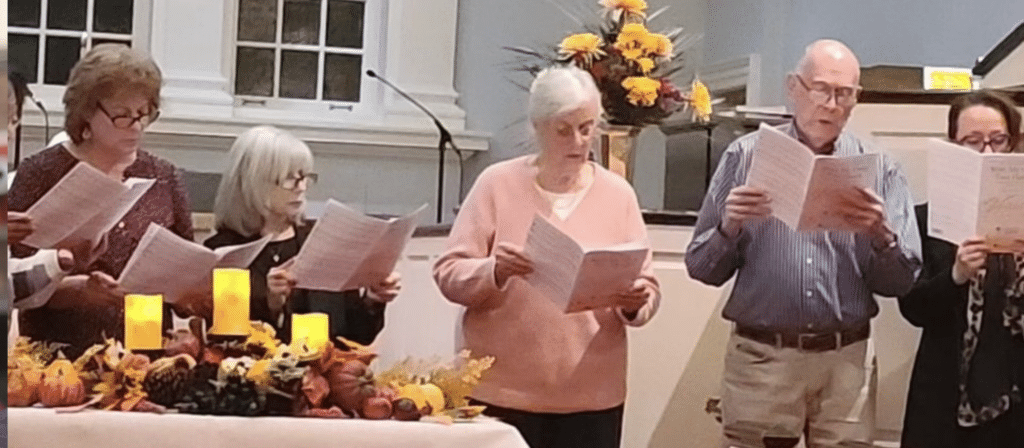 Many United Church of Christ congregations across the country participated in interfaith...
Read More