Conference Ministers Mobilizing
UCC Leaders Advocating for Change in Washington D.C.
Conference Ministers Mobilizing is an event that offers an opportunity for UCC leadership to build relationships with Members of Congress and their staffs to advocate on a particular issue towards living out our hope for a more Just World for All. Having Conference Ministers show up as leaders in the UCC and as constituents works to complement the efforts of the Washington D.C. office. It is critical for legislators to see the priorities and concerns of their constituents and the United Church of Christ.
The UCC Washington D.C. Office does the work of advocacy from our office on Capitol Hill. Advocacy isn't about memorizing facts and figures, it's about sharing the stories of how UCC congregations and conferences have responded to critical issues, and stood alongside those pushed to the margins. It is about simply sitting down, discussing the reason we do faith-based advocacy, and about leaving room for the Holy Spirit to move in people's hearts.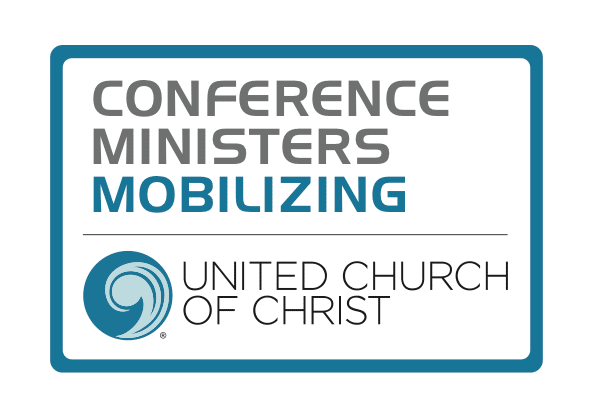 UCC Conference Ministers Mobilizing on Immigration – September 2019
On Sept. 24 to 26, the UCC Washington D.C. Office was thrilled to welcome 22 Conference Ministers from across the United Church of Christ for days of advocacy and action on the topic of immigration. Conference Ministers attended over 40 visits to lawmakers on Capitol Hill. The United Church of Christ is an Immigrant Welcoming Church, honoring the profound struggles migrants who come to the United States face in search of security and opportunity, and celebrating the myriad contributions migrants offer to our communities. Conference Ministers meeting with legislators have asked them to cease funding for detention, deportation, and border militarization.
We asked our congregations to send us stories of how they have personally felt the impact of changes in legislation around immigration. Read the powerful stories that have been shared with us so far.
The Rev. Bill Lyons, Southwest Conference Minister, shared this powerful message during the Wednesday morning press conference at the Capitol, speaking of ways SWC congregations are welcoming asylum seekers, creating sanctuary spaces and advocating for community programs to keep families together.
The Rev. Ginny Brown Daniel, Missouri Mid-South Conference Minister, shared testimonies from pastors of congregations immersed in immigrant justice.
Edith Guffey, Kansas-Oklahoma Conference Minister, spoke out against marginalizing our migrant neighbors during the Wednesday morning press conference at the Capitol, calling for an end to immigration policies that support white supremacy.
News Coverage from Conference Ministers Mobilizing

Get Involved. Answer the Call to Action.
Questions? Contact UCC.
Jessica Quinn
Online Communications Specialist
quinnj@ucc.org