Concert benefits Hurricane Matthew, Louisiana flood recovery
EDITOR'S NOTE 11/01/2016: The concert raised more than $2,700! Kudos and thanks to all who contributed for your caring action to help survivors of these two massive natural disasters.
Musicians originally from the Philippines and France will present a concert of Brazilian music next weekend in Massachusetts to raise money to support recovery from Hurricane Matthew in the Caribbean earlier this month and from flooding in Louisiana in August.
Organizers of this internationally flavored project have chosen United Church of Christ Disaster Ministries as the designated recipient for contributions "because they are well situated to respond robustly to people impacted by such disasters," said lead organizer Marlene del Rosario.
Del Rosario (vocals/percussion), originally from the Philippines, and Richard Viard (guitar), originally from France (pictured at left), will debut their brand-new "Brazilian Project" in the October 22 concert. Special guest musicians will include Willie Sordillo, music director of jazz worship at the UCC's Old South Church in Boston and member of Edwards Church UCC in Framingham. Buddy V and Michael Greatzer also will perform.
The concert will be held in a private home, so space is limited, but anyone is invited to contribute to UCC Disaster Ministries through the One Great Hour of Sharing Fund. Designate "Brazilian Project" for the funds to be split between recovery work in the Caribbean, especially Haiti, and Louisiana.
Del Rosario said she and her colleagues "have been doing benefit concerts for several years now: for Katrina, Haiti earthquake, Japan tsunami, Philippines Haiyan, landmine removal, and so forth. This month's event started as a benefit for Louisiana flood recovery, inspired by del Rosario's niece Ellory, who lives in Baton Rouge.
Ellory's house was one of only four in her neighborhood spared by the floods. "Her tales of neighbors and friends losing everything, and of how she and a few other neighbors temporarily sheltered and fed those who were affected, were pretty inspiring," del Rosario said.
"Then with the news of Hurricane Matthew's death toll and destruction, we just had to expand our beneficiaries to include Haiti and the Caribbean as well."
Del Rosario noted that neither she nor Viard is a member of a UCC congregation, but "we have a deep respect for its openness, tolerance and generosity. We also chose UCC because they have people on the ground ready to be deployed in disaster and emergency situations."
Also, del Rosario said, Sordillo is "my good friend and frequent benefit concert collaborator." She frequently shares her music at UCC church services and concerts.
More about Marlene del Rosario: www.MarleneJazzEnsemble.com
More about UCC Disaster Ministries: www.ucc.org/disaster
---
Related News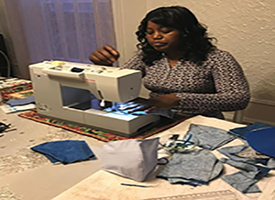 "It's so good making masks because it helps the community," said Sandra, a Congolese refugee...
Read More