Commentary: Love, reconciliation among enemies
The shooting in Alexandria, Virginia is a sobering event. As a person of faith it leads me to pray for those individuals affected. First, for those wounded in the shooting, Representative Scalise, as well as the Capitol Police. Second, I am led to pray for those who, though not physically hurt, will nevertheless carry psychological wounds. It seems the gunfire went on for some minutes, a time which must have seemed nearly unending for those lying on the grass of a baseball diamond wondering if they were about to die. Perhaps tonight they will hold their children for a bit too long, hug their spouses a bit too tight, cry tears a bit too wild. Third, we should pray for the gunman, that before he died he might have recognized that what he had done was an act of evil. Prayer is always the very first thing that I ought to do as a Christian. It grounds my actions in hope based on God's power rather than my own. In a world so wracked with trouble and strife, faith in the surpassing power of God keeps me from despair.
Prayer is not, however, the only thing that I ought to do as a Christian. There are ways that I am called to behave in the world as a result of holding firmly to the faith. There are things that I am supposed to do and things that I am not supposed to do. As a Christian I utterly reject violence as a means of dealing with my enemies. Instead the counter-rational teaching of Jesus is to love my enemies. It is possible to do this based on the dignity and worth that is present in every person as a child of God.
The political moment that I live in is one which denies the gospel hope of reconciliation among enemies. I am often tempted to go along with a general sense that the country is divided up into two camps, to listen to the many amplified voices saying that those in the other camp are dangerous and fundamentally wicked. But as much as I do not like to admit it, the man who spent several minutes shooting at Republicans with a rifle has political beliefs that are not so very different from people in my own camp. As a Christian, I hold ever more tightly to the gospel today. Those with whom I disagree are beloved children of God, full of dignity and worthy of care.
The Rev. John Edgerton an Associate Minister at Old South Church in Boston, Massachusetts.
---
Related News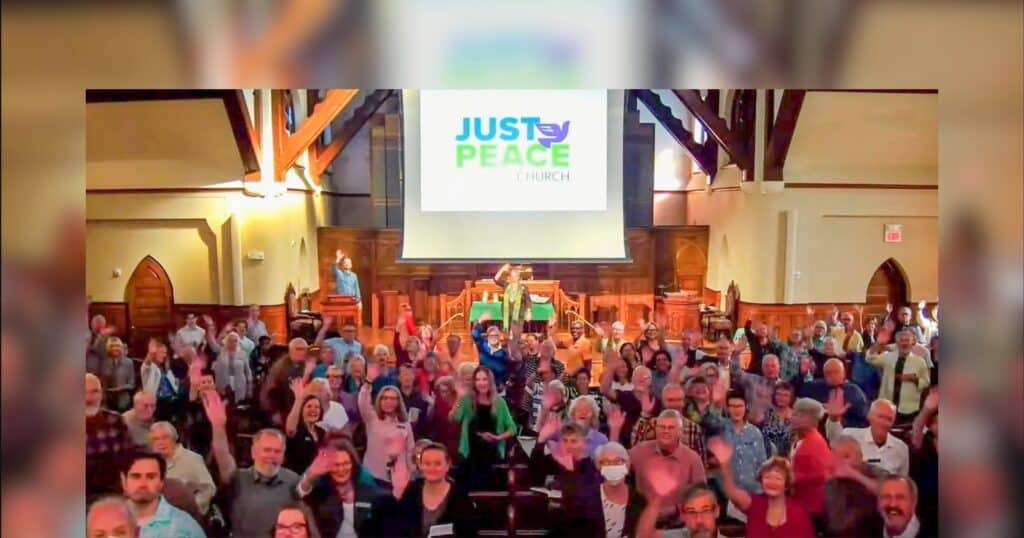 Churches across the United Church of Christ marked Just Peace Sunday as they gathered for...
Read More