Collaborating against racism, Northern California churches 'Pray Their Names'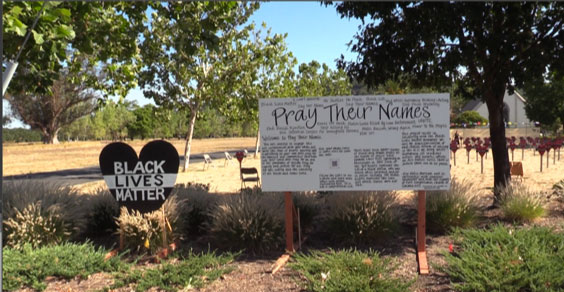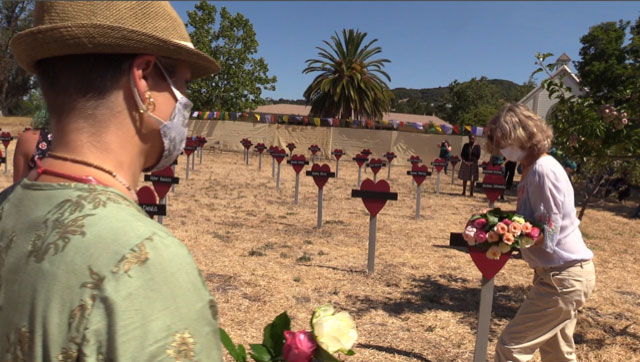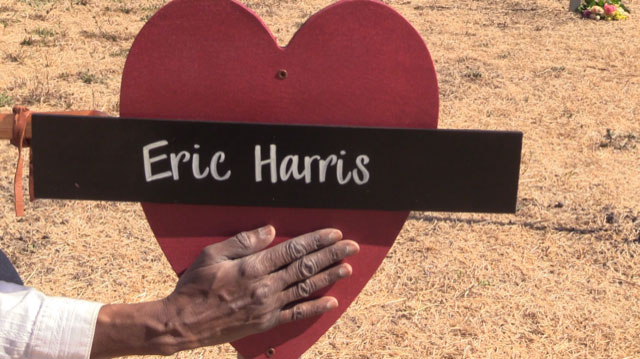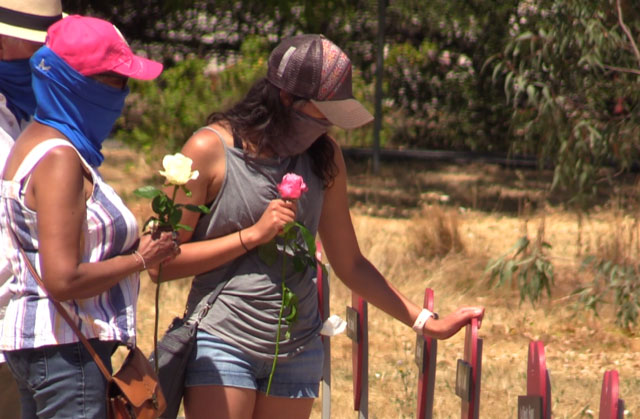 The United Church of Christ community in the San Francisco Bay Area is sharing a compelling, tangible reminder of the Black lives lost to violence at the hands of police. "Pray Their Names," an outdoor art exhibit with 160 hearts emerging from the ground, serves as a large visual memorial showing solidarity with Black Lives Matter.

The field of hearts, each painted with a single name, was created and installed at First Congregational Church UCC, Sonoma, on Saturday, July 18, where it will remain for almost a month. From there, the outdoor sculpture will become a traveling exhibit, to be displayed at Northern California churches including Santa Rosa, Mill Valley and Foster City.
"What's in a name? A whole life is in a name," said the Rev. Curran Reichert, pastor of the Sonoma congregation. "From conception to death our names speak of the hopes and dreams of our parents, our own aspirations and accomplishments, our bruises and our blessings, all in that universally shared possession — a name."
'Acknowledge and face the wrong'
The artwork, Reichert said, was created in memory of 160 of the more than 7,000 Black lives lost since the 1955 lynching of Emmett Till. Imprinted on the hearts is a barcode readable by smart phones. Holding a phone to the barcode will link to a website where viewers can read the stories and see photos of those people named in the installation.
"Religious communities around the world stand with those on the margins, the poor and the disenfranchised. First Congregational Church Sonoma, United Church of Christ, is proud to host this interactive opportunity to experience the cumulative and visceral loss that these hearts represent," Reichert said. "As progressive people of faith we believe that there can be no peace until there is justice for all God's children, no exceptions."
The Rev. Katie Morrison, artist, special education teacher, and wife of Reichert, created the installation "out of a lifelong sense of solidarity with the pain and suffering endured by black and brown bodies." Morrison hopes the work will be a source of healing for all bodies, a unifying force to bring people together to wrestle with the implications of institutionalized racism. "Once we acknowledge and face the wrong, we can begin to do what is right," she said.
Exhibit will travel 

"Pray Their Names" was produced in collaboration with a number of other clergy in the UCC Northern California Nevada Conference to address issues of racism. The Rev. Anne Hoffman, interim minister of First Congregational UCC, Santa Rosa, authored the dedication litany. Rev. Jim Mitulski, interim pastor at Island United Church, Foster City, will be hosting the project in honor of a particular person who was murdered in their community.
"I always say that our churches are the hands and feet of Christ in their communities and as the Conference we have an opportunity to support one another in that work and to work together to be the hands and feet of Christ in the world," said the Rev. Diane Weible, Conference minister. "I am grateful for the way our Conference is coming together to offer gifts and skills in such a time as this. The witness of our faith in our communities throughout this Conference can transform lives — beginning with our own life."

The Conference is supporting the traveling exhibit with comprehensive programming — an Abolition Calendar, resources to engage congregations around the "Pray their Names" installation and a kit for churches that want to create a similar exhibit of hearts and flowers on their property. Weible and other facilitators are now leading online racial justice training. The Conference also plans to hold small group conversations on race beginning in August. (Read related story here.)
'Brought me to tears'
"There are not maps or templates that guide us with certainty toward the pathways to justice. Often, we move by instinct and with confidence that the next thing we do will matter," said the Rev. John Dorhauer, UCC general minister and president, who praised the "Pray Their Names"  partners, "for both the creativity in it and the courage of conviction it took to not only dream it but do it."
"This is a very concrete and creative approach to lifting up the cause of the Black Lives Matter movement," Dorhauer said. "That it involves art and collaboration between covenant partners really moves me. May it inspire many to grow in courage and work even harder to build the just world for all we know can come when hearts unite in love."
Moving the exhibit to the next locations will be daunting, as Reichert said, "much like a funeral procession, there is a lot to coordinate." But she and the others are determined to raise attention to "the pain inflicted by state–sanctioned, militarized policing that has robbed families and communities of people they loved. We will see this project through no matter how difficult it is, because Jesus never said discipleship would be blister free."
"This expression of love and solidarity has brought me to tears. There is no greater act of solidarity than to fully hear and see the other," said the Rev. Traci Blackmon, associate general minister, Justice and Local Church Ministries. "Art is a balm in a broken world. Thank you for this healing act."
Photos by Kathy Aanestad
---
Related News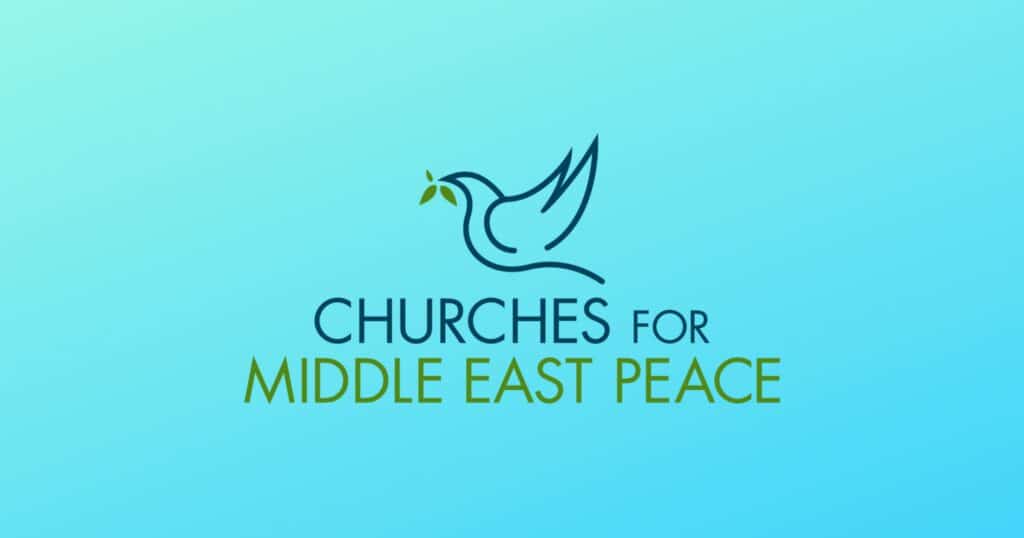 The following statement was issued Dec. 2 by Churches for Middle East Peace (CMEP), of which...
Read More