'The little church fundraiser that could' expands mission outreach to the whole community
An idea developed in 2002 by eight determined churchwomen to help a family in their congregation with extraordinary medical expenses today is a community-wide annual fundraiser that in 2015 raised more than $88,000 to assist five local Lehigh County (Pa.) families in need.
The women, members of St. John's UCC in Coopersburg, Pa. (whose motto is "the little church with the BIG heart"), successfully raised $8,400 for the family that first year.
"We felt so overwhelmed with the love shown –– not in words, but in deeds," said Rob Graves on behalf of his late wife, Michelle, the recipients of the first benefit. "All the people that worked so hard and did so much just for us left us staggered and numb. It wasn't about the money raised, but the fact that people cared enough to labor under the hot sun for hours in our benefit."
COB volunteers at the block party. 
Based on that first experience, a new tradition at St. John's was born. Today, Community Outreach Benefit (COB) is an annual block party fundraiser held on the last Sunday of July in the church's parking lot and grounds. The annual fundraiser offers food (including an open grill barbeque), games, auctions, raffles, bingo, juried artist displays, plus shuttle service to the party, and it involves the entire community.
More than 250 volunteers –– many from St. John's –– help make each year's event a success. COB also relies on help from other area churches, including Chestnut Hill UCC in Coopersburg, three Lutheran churches, a Moravian church, two Roman Catholic parishes, and a Christian and Missionary Alliance church in the area.
"I am a big believer in helping the COB organization," said Barb Lieberman, liaison to partner church St. James Lutheran Church in Coopersburg. "I have seen three personal friends get back on their feet again –– these are people who had little hope of living much longer."
"I love to put my faith to work in this way, and I mean there are many creative ways to put your faith to work," Lieberman said. "There is something for many talents in this group, and the culmination in the summer of each year is a blast! We all have such fun ducking the rain showers, playing games, dancing to live music, and eating scrumptious food! Can this be work?"
Since 2002, the COB block party has raised $639,000 that has assisted 46 families in Coopersburg and surrounding areas –– families like the Luvenders, recipients in 2009. In a letter to COB, Sherry Luvender wrote, on behalf of her late husband, Jack, "You have helped us during a most difficult time to supply the money needed to pay the many hospital bills and other household expenses that were piling up while Jack was ill. God worked through you to help us through these rough waters."
2015 COB Planning Committee.
The Rev. Richard Guhl, former pastor of St. John's, headed up the COB planning committee after long-time founding chair Nancy Carr stepped down. He said that about half of the committee members are from St. John's, and that the event continues to grow.
"The process of growth has largely fed upon itself as the event gains community exposure," Guhl said. "Now, the effort is pretty much year round, beginning with the process of identifying potential candidates."
Guhl said the candidates are generally in a six-mile radius of Coopersburg, or are members of a local church, who have a chronic condition that causes financial hardship –– such as medical expenses not covered by insurance or loss of income. The $88,000 raised this year is helping five families touched by disease and injuries pay their bills and, in one case, fund the purchase of a motorized wheelchair for a teen with cerebral palsy.
Debbie Loew, who took over the reigns of COB leadership after Guhl retired from St. John's last March, said that the people are one of the main reasons she stays involved with the block party fundraiser, "the wonderful team of people that are at the helm of making it all happen with, of course, the help of countless other businesses and individuals who volunteer time, talents, and generous donations."
"I continue to stay involved because of the honor of helping our neighbors in need who struggle with courage and determination each and every day," said Loew, who joined St. John's about 10 years ago. "This is the best thing about COB –– keeping our dollars local to help ease some financial strains for individuals and families who appreciate it so much."
St. John's UCC.
Loew's husband, Mike, ran the raffle in 2015. "Close to 95 percent of the funds we raise (and 100 percent of donated funds) goes to benefit our local recipients, something very few, if any, charitable organizations can claim," he said.
St. John's website says that the church believes "that faith is meant to be lived out in the world." COB is one way the church is doing that. The congregation also supports Phoebe Home (for senior citizens) in Allentown, Pa., and Bethany Children's Home in Womelsdorf, Pa., both UCC Council for Health and Human Service Ministries institutions, among other local outreach ministries.
"One of the hardest things I've had to do since my illness is to let myself ask for help," said 2014 COB recipient Donna Caswell. "Community Outreach program never made me feel embarrassed or needy."
In 2016, Community Outreach Benefit celebrates its 15th anniversary, and the planning team is already gearing up for the July 31 block party –– just one more example of the church living out its faith within its community.
"Community Outreach Benefit does so much more than allocate assistance after medical hardship," said Jackie Scheidel, whose family was among the 2012 recipients. "It is a witness from the community in Christ that we are not alone."
Photos courtesy of St. John's UCC, Coopersburg, Pa., and the Community Outreach Benefit.
---
Related News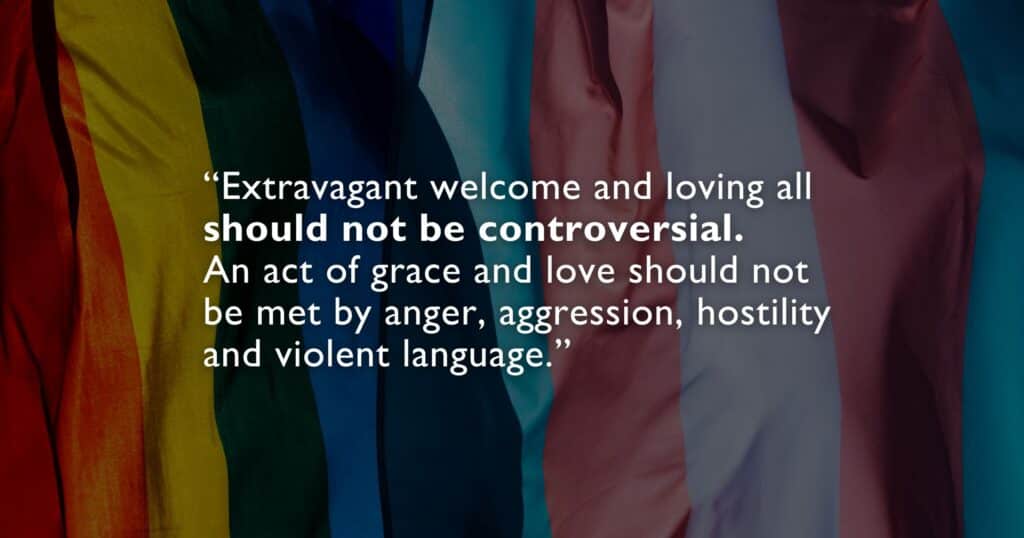 The United Church of Christ National Officers and the Conference Minister of the South Central...
Read More