Clergy, church workers get student loan relief; activists seek it for others, too
Clergy and lay church workers became eligible this summer to have student loans forgiven in a way new to them. Now activists want to keep that momentum going.
They want the government to forgive even more student loans.
They're asking people to speak up now.
Student loan stories sought
More than 300 faith leaders signed an Aug. 16 letter to President Joe Biden and Vice President Kamala Harris. They asked Biden to use his executive authority to "cancel a substantial amount of student debt for all borrowers."
And anyone can join a broader campaign to relieve the $1.7 trillion in student debt held by 43 million Americans, said the Rev. Sekinah Hamlin. All you need, she said, is a story about student debt. As the United Church of Christ's minister for economic justice, she is urging people to:
Use this UCC action alert before Sept. 24 and enter a formal public comment about student loans.
Watch for a similar opportunity later this fall, during a U.S. Department of Education "rule-making" period.
On Aug. 19, the Biden administration announced it will be erasing student loan debt for more than 300,000 Americans who are disabled with limited incomes. That begins next month. On Aug. 20, the adminstration said it will retroactively waive student loan interest for thousands of current and former active-duty military service members.
Hamlin said the Biden administration is focused on "targeted student loan forgiveness" because the government can only relieve the debt on federal loans, not private loans. Forbes magazine notes the difference in this article.
Change for church workers
Some of this news — and the push for change — has to do with the federal Public Student Loan Forgiveness program.
For years, that program excluded clergy and lay employees of religious organizations. That changed on July 1. Now they're eligible for that federal debt relief program. Employees of the UCC's local churches, associations, conferences and national ministries are included.
As Forbes magazine noted, getting loan forgiveness through PSLF isn't simple. Among other things, it first requires proof of at least 120 on-time loan payments — 10 years' worth of them. These must have been made since 2007. Only payments made while a full-time employee are eligible. And there's more. People can use this "help tool" to get started.
"Of those qualified who submitted applications for PSLF in the last 18 months, only 2 percent were granted loan forgiveness," Hamlin cautioned. She said she and the UCC's secular and religious partners consider that 98-percent denial rate "utterly unacceptable." "We must use this comment period to change this system," she said.
As faith leaders said in their letter to Biden and Harris, clergy debt is serious indeed.
"For many of us, the pursuit of our calling and the desire to best serve our flock has required graduate studies resulting in student debt," they wrote. "On average, students now enter seminary with about $20,000 in debt, and in 2018, Master of Divinity recipients graduated with an average of $54,600 in student debt. Despite our calling and belief in the work that we do, 57 percent of clergy do not believe they make a livable wage."
'Burden' on all borrowers
But they also said it's just part of a much larger problem. "Many of our congregants struggle under the weight of this heavy burden," they wrote. They cited these and many other statistics:
2 in 5 student borrowers "are in default or delinquent."
23 percent still owe over half their original loan balance after eight years.
About 7.3 million were in default as of March 2019
Almost 10 percent of outstanding student debt — $145 billion — was in default at that time.
Half of all families with Black heads of household, ages 25 to 40, have student debt.
85 percent of Black graduates in 2016 had used student debt to finance their degrees
"It is crucial that substantial, broad-based student debt cancellation be ordered immediately by the Biden-Harris administration," they wrote. "With millions in default or delinquent and the COVID-19 pandemic and recession showing little sign of letting up, it is essential that we address this issue without delay."

More ways to take action
That plea is timely and important, Hamlin said. "President Biden has extended the student loan payment pause until January 31, 2022. It would be great to have substantial student loan debt cancellation before that time."
But there is yet more work to do to make debt relief last, Hamlin said.
One piece of that work, she said, is to make comments during the Department of Education's current "request for information" process — the one that runs through Sept. 24. Those could result in "small tweaks that can be done quickly to the PSLF program."
Hamlin said we are already seeing those "tweaks" with the changes last week in loan repayments for disabled people and veterans.
That's why she is encouraging more debt-holders to make comments now.
If this comment period is seen as the semi-finals, she said, "the big game will be the rule-making," which the department is likely to announce in October. Comments people make then could result in changes that would be harder for future administrations to undo.
Those interested in learning more about the stages of loan forgiveness are invited to become advocates. Register here to join an Economic Justice Champions meeting focused on student loan debt strategy. It takes place on Friday, Aug. 27 at noon ET. 
Law could 'transform how we think'
Hamlin said she also sees a fresh opportunity ahead in an old law — the Higher Education Act of 1965. That act, she said, "is supposed to be reauthorized every five years. It has not been reauthorized since 2008. Congress instead has passed extensions for the reauthorization.
"The COVID-19 pandemic provides us with an opportunity to reimagine a just higher education system for all and push to make sure the vision is realized." Pushing Congress to renew that law with an eye toward student loan justice is among the ideas that the Center for Responsible Lending suggests here. The College Affordability Act, one such attempt to amend and strengthen the 1965 law, was introduced in 2019 but has not yet made its way through Congress.
Hamlin said a successful reauthorization of the Higher Education Act could "transform how we think about and fund higher education and professional training."
---
Related News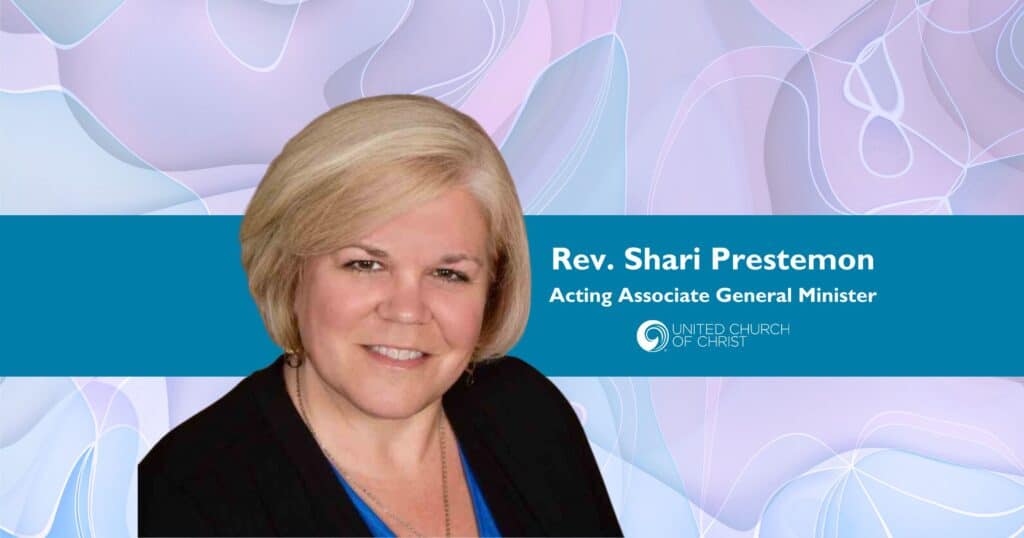 A new United Church of Christ national leader has been called. The UCC Board voted in a...
Read More