UPDATE: Churches for Middle East Peace joins United Nations in call not to ignore Gazans 'dying at the world's watch' 
UPDATED OCT. 13: The following statement was issued Friday, Oct. 13 by Churches for Middle East Peace (CMEP) — of which the United Church of Christ and Christian Church (Disciples of Christ) are members — regarding the ongoing conflict and violence in Israel and Palestine. Earlier statements can be found below.
CMEP and our member communions call for the world not to ignore the catastrophic crisis happening in Gaza, where people are "dying at the world's watch." As of Friday morning, October 13, more than 400,000 people in Gaza have already been displaced as a result of Israel's bombing campaign and military offensive, which Israel's war cabinet has said will "wipe Hamas off the earth" and Netanyahu has promised will "reverberate for generations." CMEP condemned the October 7 attacks by Hamas and all violence targeting civilians and supports the United Nations in asserting that the world must intervene not to allow the consequences of displacement, starvation, and death to be placed upon the millions of Palestinian civilians in Gaza who must be differentiated from the actions of Hamas. 
At this critical juncture, Congress and the Biden Administration must not sit idly by as ethnic cleansing unfolds. The United States government must immediately press Israel to abide by the Geneva Conventions and rules of war and to allow for the delivery of critical humanitarian assistance to civilians in Gaza. CMEP calls for the establishment of humanitarian corridors in Gaza to allow for needed humanitarian aid to flow to populations in critical need. All efforts must be made to protect civilian life and to pursue an immediate ceasefire.
On October 13, the Israeli government announced that the 1.1 million Gazans living in the northern part of the enclave had 24 hours to relocate to the south. CMEP strongly denounces this move — not only would it force people from their homes and communities, it is impossible to move more than one million people logistically and safely in such a short period of time. The southern area also remains under the threat of bombing. As the United Nations notes, such a move is not possible "without devastating humanitarian consequences." 
People of faith and goodwill can not turn a blind eye to the devastation in Gaza — thousands, if not tens of thousands, or more will die if Israel's siege of Gaza and the continued bombing campaign continues. We cannot be silent in the face of ongoing collective punishment against the more than 2.2 million citizens of Gaza — of whom more than half are children. Already, more than 500 children have been killed. As the UN reminds us, "The time for humanity to prevail is now."
CMEP calls on all to stand in the G.A.P. – Give. Act. Pray. To give to organizations who are addressing systemic issues and responding to the humanitarian crisis. To act by calling on the U.S. government and elected officials to call for an end to violence, war, and the devastation of human life. And to pray. Join us in our constant prayers on our Prayers4Peace blog, our corporate weekly prayers, and our weekly briefings to keep informed. CMEP affirms today's statement from the Patriarchs and Heads of Churches of Jerusalem on the Escalating Humanitarian Crisis in Gaza and calls on all Christians and people of faith to join in the Day of Prayer and Fasting on Tuesday, October 17.
Monday, Oct. 9 statement
Churches for Middle East Peace calls for de-escalation, humanitarian access and addressing systemic issues after war breaks out in Israel/Palestine
UPDATED OCT. 10: The following statement was issued Monday, Oct. 9 by Churches for Middle East Peace (CMEP) — of which the United Church of Christ and Christian Church (Disciples of Christ) are members — after issuing an initial statement Saturday, Oct. 7 (see below) regarding the ongoing conflict and violence in Israel and Palestine. CMEP held a Pray for Peace online event the morning of Oct. 9 and will continue to hold them on Wednesdays at 12:30 p.m. ET.
Churches for Middle East Peace (CMEP) continues to grieve the devastating loss of life in Israel/Palestine. As the numbers of those killed and injured climb, we ask people of faith to remain committed to praying and working toward an immediate end to the violence. Yet, cessation of conflict will not automatically bring justice. Without attention to the core systemic issues of the war and the ongoing occupation of Palestinian territory, there will be no real peace. At a time when the rush by governments will be for more military responses, CMEP prays for the de-escalation of violence to prevail. We urge an escalation of diplomatic efforts by the United States, through the United Nations, and other regional bodies. Too many people are already grieving the loss of loved ones.
CMEP calls for an immediate end to all violence and calls for restraint from all parties. CMEP is deeply concerned by the prospect of an Israeli protracted military offensive and possible ground invasion into Gaza that could result in considerably more deaths and destruction and a broader regional war. Half of the 2.2 million people of Gaza are children.
CMEP abhors reports from the Israeli government that they have shut off power, water, and fuel to the people of Gaza. These actions constitute collective punishment, and international law designates such actions as illegal and unconscionable. The lack of water, electricity, fuel, and access to medical supplies will have a disastrous impact on millions of civilians in Gaza, especially those who need immediate medical attention. We urge the resumption of power, water, and gas for the people of Gaza. CMEP calls for the protection of access to humanitarian aid and the cessation of conflict so that emergency medical care can be offered.
The call from Israeli Prime Minister Netanyahu telling Gazan residents "to leave" is completely unrealistic given that all border crossings in and out of Gaza are closed, and leaving is not an option for the more than two million people living there. CMEP calls on Hamas to do no harm and to release all hostages held in captivity. CMEP continues to hold in prayer the families of those held hostage and the families of all who have been wounded or lost their lives already in the violence of the past few days. CMEP calls on the international community and the United States to stop supporting further militarization and pursue every alternative means to protect all Israeli and Palestinian civilians.
The United States has long failed to serve as a constructive partner in helping to secure a just and lasting peace in Israel/Palestine. During heightened tension, CMEP implores the U.S. government to refrain from steps that only exacerbate the violence and increase the risk of expanding war into the broader region. Core issues of the conflict must be addressed, including but not limited to: ceasing the expansion of settlements in the occupied Palestinian territories; ending impunity given to settlers when they attack Palestinians, their homes, their lands, and religious sites; reversing de facto annexation of Palestinian land; ending the blockade of Gaza while ensuring the legitimate security needs of Israelis; ensuring freedom of access and movement for Palestinians. These are among numerous other issues that the United States and many in the international community have not held Israel accountable for decades.
While mourning the tragic events happening in Gaza and Israel, CMEP remains committed to prayer and the belief that peace is possible even in these devastating times.
Saturday, Oct. 7 statement
CMEP Condemns All Acts of Violence, Calls for Prayer, and Implores Global Leaders to Address Core Issues of the War between Hamas and Israel
The following statement was issued Saturday, Oct. 7 by CMEP after war broke out between Hamas and Israel.
Churches for Middle East Peace (CMEP) is deeply grieved by the news coming out of Israel and Gaza today. CMEP condemns all acts of violence against civilians that have occurred in the past 24 hours, as fighting has escalated between Hamas and Israel. As of late Saturday, reports indicated that hundreds have been killed and thousands wounded, both Israelis and Palestinians. CMEP mourns with the victims of the violence and their families.
The actions of Hamas and the Israeli response in Gaza in no way advance peace, but rather cause loss of life and harm, grief, and devastation, not only to the individuals affected, but also to the legitimate cause of the Palestinian people in seeking an end to the decades long occupation and the blockade of the Gaza Strip.
Throughout this year, CMEP and allies have urgently been calling attention to the evolving context, characterized by escalating levels of violence between settlers, soldiers, and Palestinians. The increased nationalism and radicalization within Israeli society have led to more frequent and numerous incidents of hatred, racialized tensions, settler attacks, and incursions onto Muslim and Christian holy sites such as Stella Maris Monastery in Haifa and the Temple Mount in Jerusalem. These realities are not justifications but have long been ignored by the international community, including the longstanding frustration and desperation of the Palestinian people who seek an end to the oppression of the occupation and Israeli desires for lack of fear and for security. It is time for the United States and the international community to strengthen efforts to de-escalate the systemic violence that has gone on for decades.
CMEP reiterates its consistent call for a negotiated, just, and peaceful resolution to the conflict that advances security and self-determination for Israelis and Palestinians. A just peace will only be realized when all parties respect and protect the full human rights of all. In light of the current war, we make the following desperate pleas:
CMEP calls on all parties to end all acts of violence and aggression and to pursue peaceful and diplomatic resolutions to accomplish their desired outcomes.
CMEP is concerned that Israel's response is disproportionate and urges it not to engage in military actions that devastate Palestinian civilian populations. CMEP opposes Israel's practice of collective punishment of all people in Gaza, including the turning off of electricity and water.
CMEP calls on Hamas to stop all acts of aggression, the targeting of Israeli civilians, and the taking of civilian hostages.
CMEP calls on the United States government, including the Biden Administration and Congress, not to act rashly but to prioritize immediate diplomatic measures to bring an end to the violence, including through the United Nations.
CMEP urges the U.S. government to refrain from providing further unrestricted material and political support for further militarization of the conflict but rather focus on the protection of all civilians, especially the most vulnerable. The United States must not prioritize the support of one side of the conflict over another but support the safety and dignity of all people in the Holy Land, including Israelis and Palestinians. While the United States empathizes with Israeli suffering, so should it empathize with Palestinian suffering. Furthermore, the United States should not exacerbate the problem by ignoring the legitimate struggle of the Palestinian people for their rights.
Churches for Middle East Peace (CMEP) calls upon all Christians and people of faith to pray for peace — not an empty peace devoid of justice, equality, and hope for all people, but a deep, lasting, and just peace that addresses core systemic issues of the conflict, from Palestinian needs for self-determination and freedom to Israel's needs for safety and security.
To register for CMEP's Pray for Peace events, visit the link here.
---
Content on ucc.org is copyrighted by the National Setting of the United Church of Christ and may be only shared according to the guidelines outlined here.
---
Related News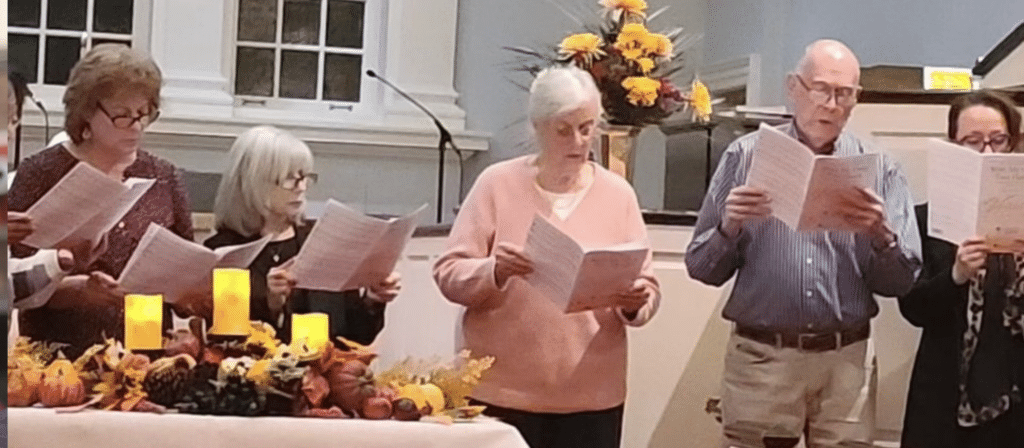 Many United Church of Christ congregations across the country participated in interfaith...
Read More