Chicago seminary offers a visible statement of solidarity with Muslim sisters
Prompted by the current climate of bigotry directed toward Muslims in America, members of the Chicago Theological Seminary community are inviting Christian women around the country to "live into a Christ-like Christmas" and stand in solidarity with their Muslim neighbors by wearing a hijab for the remainder of Advent as a visible sign of support.
The headscarf worn by Muslim women readily identifies them as such and often subjects them to anti-Muslim hate crimes. In a statement released Dec. 19, CTS President Alice Hunt writes, "The current climate of anti-Muslim bigotry and the resulting violence perpetrated by those inspired by such rhetoric is yet another way in which violence against women is condoned in our world."
The statement of invitation to don a hijab was spurred by a conversation on campus last week about the hate-full climate in Chicago and across the country and what could be done about it. "Our Visiting Professor in Muslim Studies and Sociology of Religion, Dr. Rami Nashashibi, thought such an action from Christian women might make a visible difference in many areas," said Hunt. "In conversation with some of our Muslim and Christian students and faculty and staff, we decided to move forward with the invitation.​"
"As people of faith, we embrace love instead of hate, community instead of alienation, and respect instead of fear-mongering," the CTS statement continues. "As we strive to be Christ-like by rejecting words and acts that demonize others, we faithfully celebrate the birth of the One by whose name we are called. In spite of these difficult times, we believe this is both a moment of solidarity and a moment of learning and love for us all."
Hunt said that while the statement inviting others to be visible advocates for their Muslim neighbors came out after many students and faculty were already gone for the winter break,  "we have heard from a good number of alumnae and students who are participating — and sharing with their churches."
CTS has published a video demonstrating how to wear the head scarf and posted it on YouTube. In the video, two CTS students Faatimah Knight and Leenah Safi are teaching some CTS staff and faculty one way to wear the hijab.
The seminary president is also wearing the headscarf.
"Wow! What a learning experience for me," Hunt said. "I have been somewhat aware of my own Christian privilege but wearing the hijab has brought new understanding to me about just how much Christian privilege operates in our country. I would think that any Christian woman wearing the hijab between now and Christmas would have much to be in conversation about with her family. We are a people of love. We are called by God to live beyond our own limitations and experiences. I am transformed by this experience."
The seminary has also created a "Solidarity Shirt" voicing support for Muslim neighbors, which is for sale in the T-shirt section of the CTS store.
---
Related News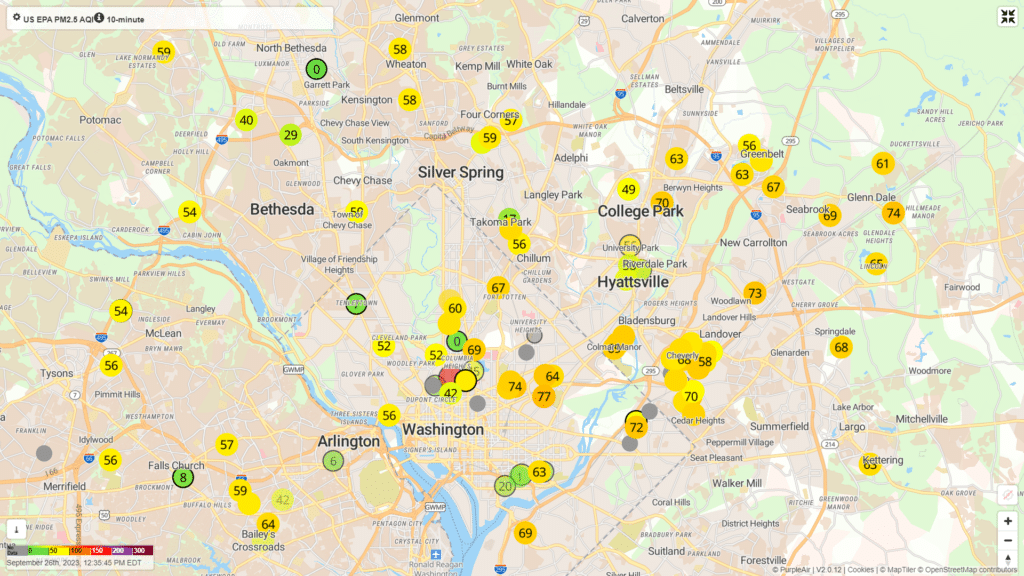 This summer, the United States experienced some of the worst days for wildfire pollution in...
Read More