Chicago area convoy taking winter gear to Standing Rock water protectors
A convoy of church folk from the west suburbs of Chicago and the city metro area is heading up to North Dakota Nov. 17, with a cargo van loaded with supplies to help the water protectors at the Standing Rock Sioux Indian Reservation brave the upcoming winter.
A group of six people from several UCC congregations is making the 12 hour trip on Thursday, taking food, blankets, sleeping bags and warm clothing donated by the members of the churches in Batavia, Algonquin, Naperville, Downers Grove, Palos Park and Barrington, Ill.  Once they arrive, the Fox Valley Association team will be loading up donated firewood in North Dakota on Friday, partnering and staying with a local congregation, and going to stand with the water protectors at the reservation before returning to the Chicago area on Saturday.
"We decided to work with Bismarck United Church of Christ," said the Rev. Scott Oberle, pastor of the First Congregational UCC in Downers Grove, Ill.," after we got feedback that the outside groups are helpful, but are putting some strain on the Native people." The group will be dropping off the donated goods at the tribal administrative center in Fort Yates and joining the water protectors in the camps near the Dakota Access Pipeline construction site on Friday.
"We're staying offsite and will bring our own meals – we don't want to burden them. It's important to be sensitive to being sojourners in their land," Oberle continued. "How we go and work with the Native peoples united there says a lot about what we hope this relationship looks like in the future, not what it's been in the past."
Oberle, the trip organizer, and his colleagues believe allying themselves with the citizens of hundreds of Tribal Nations who are putting their bodies on the line to protect sacred lands and the water of the Missouri River, the drinking supply of more than 17 million Americans, is the right thing to do.
"When I learned more about what was happening with the Sioux and their grassroots pipeline protest I needed to get involved because the Sioux and Lakota have gotten the raw end from our government for all of our U.S. history and now are being manipulated again," Oberle said.  "And because the future of our energy resources from a sustainability perspective cannot be things like building new oil lines and fracking."
"Being in solidarity with our brothers and sisters at Standing Rock fits right in with our call to Be the Church," said the Rev. Kirk Moore, who pastors St. Paul's United Church of Christ in Downers Grove, the church that acted as the drop off site for donations. "As we have worked as a congregation to be the church, we have experienced the beauty of people coming together from the community and from our association and conference partners. I believe it is important to be in solidarity with those who work for justice. Jesus spent his time on Earth in solidarity with those who were oppressed and forgotten.  It is our call to do the same."
"Missionaries often go with a place of privilege to 'help the less fortunate,'" Oberle added. "Sometimes in genuine but misguided or ignorant efforts to help, one can strip away the dignity of a people and make them feel because their condition is in a state of material need and that they may 'have less' that they somehow then 'are less.' We have imposed our western culture on the Sioux long enough.  They still have not recovered.  Our hope is to learn from the Sioux, perhaps before it is too late, better our relationship with one another and with the planet we all share."
Oberle and Moore are urging everyone they can reach to write their legislators, the Army Corps of Engineers, and President Barack Obama to stop construction, or at least reroute the DAPL. The Fox Valley Association representatives also hope, through conversations with the people on site, to bring information back from Standing Rock to their local communities and congregations.
"Nothing about us without us," said Moore. "The wise words I have lived by as part of the UCC Mental Health Network and UCC Disabilities holds true in all advocacy work.  Our desire is to help — and who better than the citizens of Standing Rock to know what is needed."
Moore also said that if other UCC congregations want to help they can "donate, or purchase items on Water Protectors Camp wish lists on Amazon. Be allies and advocates.  And keep listening to the wind."
"I hope we bring with us ongoing healing energy and an ongoing witness of solidarity," Moore continued.  "You are not alone.  We are together.  Let us attend to one another.  I also hope we continue to build relationships one with another as we recognize each other as important and sacred."
Oberle added, "To stand with the Sioux as they fight for their basic rights, on one hand fills me with courage and strength to simply do what is right for these folks, but it also grieves me deeply that we have eyes but cannot see the true costs of 'progress' that hurts people, threatens clean water, and risks the future for generations to come."
---
Related News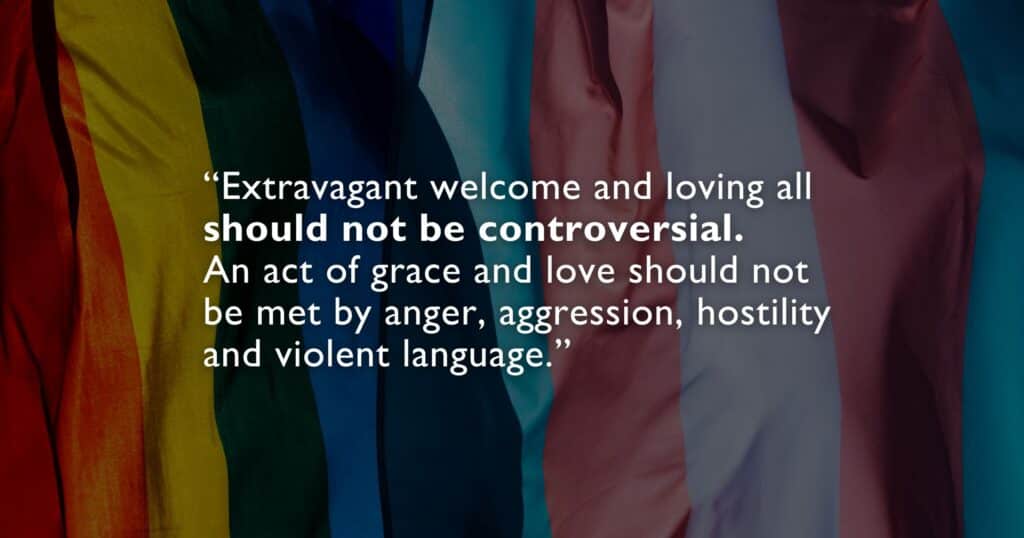 The United Church of Christ National Officers and the Conference Minister of the South Central...
Read More