CHHSM accepting applications for 2023-24 Nollau Leadership Institute
The United Church of Christ's Council for Health and Human Service Ministries (CHHSM) has opened applications for enrollment for the 2023-24 class of its Nollau Leadership Institute.
The institute's year-long leadership formation program helps class members discern their call as Diakonal Ministers. A special vocation for serving leaders within CHHSM members and the wider UCC, Diakonal Ministers advance the church's health and service ministry. Since 1996, about 250 CHHSM leaders have been consecrated as Diakonal Ministers, part of the more than 300 consecrated from all denominations.
"The Nollau experience really is a journey — one that takes you deeply inward to yourself and widely outward to the world," said the Rev. Elyse Berry, CHHSM's associate for advocacy and leadership development. "In the Christian tradition, a sacred journey is called a pilgrimage, and you not only have your destination, but your companions, your fellow pilgrims, that make it such a spiritual practice. The community building that Nollau offers is consistently noted by the alumni as one of the key takeaways. And isn't that the lifeblood of leadership? As we continue to journey through this pandemic and other national and global crises, finding such a community for cultivating leadership is a powerful force indeed."
Grounded in the health and human service organizations of the UCC, Nollau offers a unique space in which to experience leadership formation. Each year, Nollau brings together a community of leaders committed to creating a just, equitable, caring and compassionate world. Such values deepen during the year-long class, said Berry, as participants grow in their leadership skills from a place of belonging.
New opportunities
Each year, the Nollau faculty updates the program content based on feedback from participants. This year's class will be no exception. In addition to incorporating the input from the 2022-23 class, the program also includes a focus on race, diversity, equity and inclusion. Leadership will be examined and practiced through the lenses of anti-oppression and social justice.
During the program, participants are invited to reflect deeply not only on who they are as leaders, but on their role — and the role of their communities — in the ecosystem of the Spirit. The institute is structured in a retreat format, with rituals, contemplative practices and small-group sharing as part of the program, alongside the interactive didactic sessions.
The 2023-24 program will consist of two in-person retreats — May 22-26 and Oct. 2-6 — at Bellwether Farm in Wakeman, Ohio, online interactions between retreats and an additional day of programming during CHHSM's 86th Annual Gathering, which will take place March 7-9, 2024. The annual gathering will conclude with a closing worship service in which 2023-24 Nollau class members will be consecrated and commissioned as Diakonal Ministers.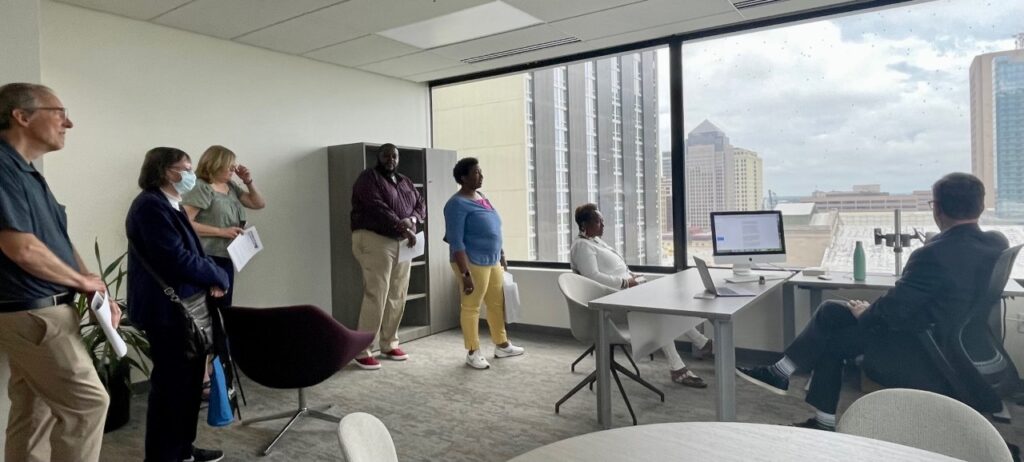 This class also will have the opportunity to tour the new UCC national setting offices in downtown Cleveland, Berry said. "I hope our visit will allow the participants to more deeply feel that welcome and connection with the UCC."
CHHSM will continue to follow all CDC guidelines for travel and social gatherings.
'Building bridges'
Named after Louis Edward Nollau — a 19th-century missionary, preacher and founder of several St. Louis-area CHHSM ministries — the Nollau Leadership Institute emphasizes the kind of integrated leadership that its namesake modeled: professional excellence rooted in faith-based purpose. Graduates leave the program with a better understanding of how their faith calls them to lead.
The Rev. Joanna D'Agostino, senior pastor of Lakewood Congregational Church in Lakewood, Ohio, was a graduate of the 2015-16 class.
"Participating as a pastor helped me to see how important it is to work in partnership with nonprofits and agencies in our communities," she said. "The future of the church is in building bridges. In a time when the mainline church is in decline, we are stronger when we build relationships across society — religious, secular and everything in between — so that the work of the church is enriched by our neighbors.
"I feel in my heart that the future of our denomination requires this stronger bridge with our health and human service agencies."
Nollau faculty members take great care in making sure the program is interactive, with participants helping to design their own program, to assist in facilitating sessions and to mentor each other.
"The Nollau Leadership Institute helps participants focus on spiritual formation and preparation for leadership," said Jamar Doyle, CHHSM president and CEO. "As CHHSM's signature program, the Nollau Institute is now more than 20 years old. We are blessed to be able to offer it to our UCC colleagues, partners and friends."
Space is limited, and fills up quickly, so early applications are strongly encouraged. The application is available online.
---
Maic D'Agostino contributed to this story.
---
Content on ucc.org is copyrighted by the National Setting of the United Church of Christ and may be only shared according to the guidelines outlined here.
---
Related News
On a recent trip to Palestine and Israel, the Rev. Allie Perry was part of a delegation that...
Read More