'Cease,' says city; Cleveland church appeals, still welcomes the unsheltered
Buoyed by public support, a United Church of Christ congregation in Cleveland has appealed a city "cease use" order and is still providing overnight hospitality to unsheltered neighbors, saying that it is a religious activity.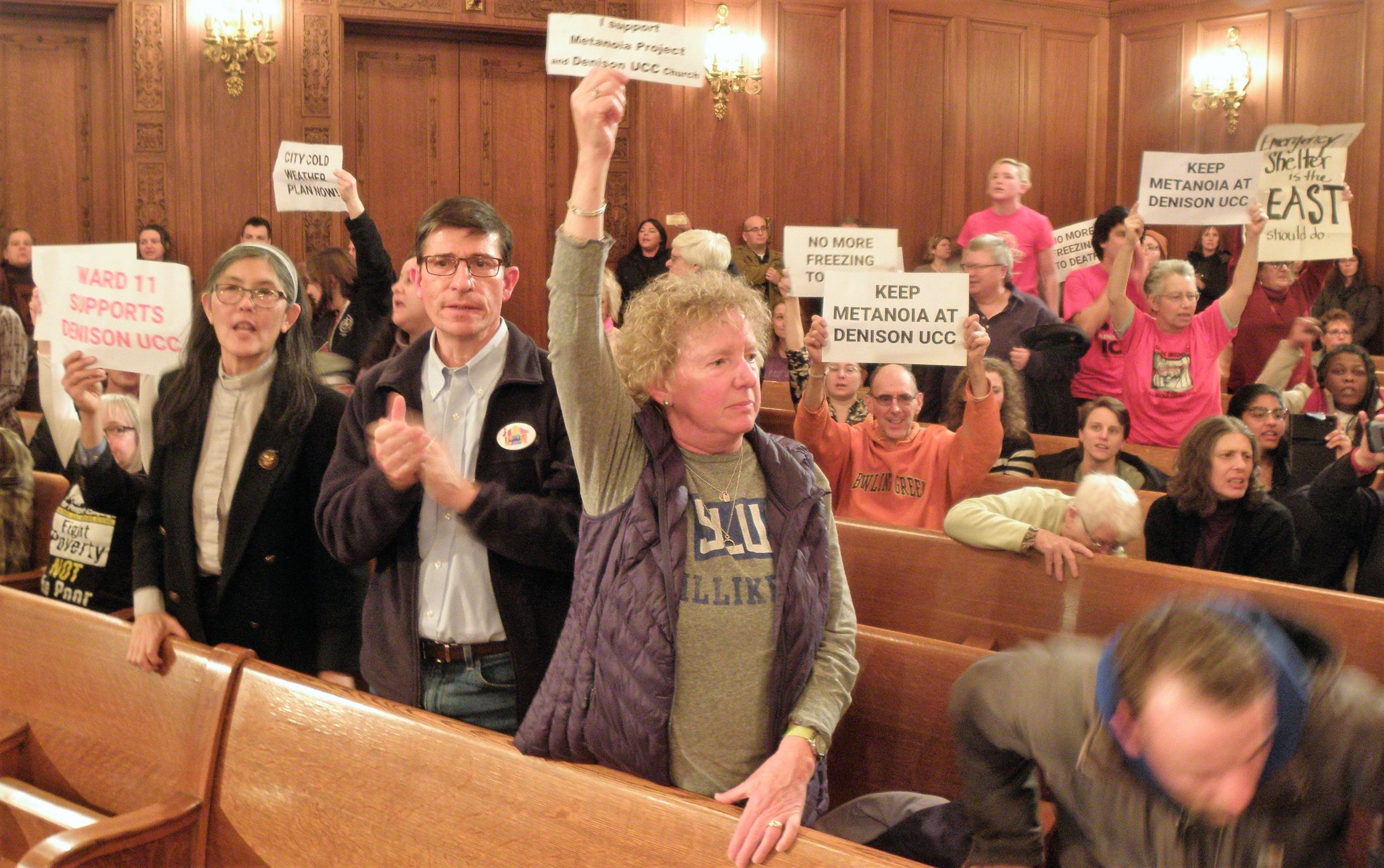 In December, despite objections from its city council representative, Denison Avenue UCC started welcoming winter guests in cooperation with Cleveland's Metanoia Project, which gives homeless people food, assistance and cots to sleep on, one night at a time.
A series of actions ensued over the holidays:
On Christmas Eve, city officials taped a "cease use" order to the church door. It demanded the church upgrade emergency lighting, exit signs, fire-extinguishing equipment and other details – and, more broadly, "change the use of its facility" to permit "transient lodging and housing."
On New Year's Eve, the church and Metanoia appealed on religious-use grounds and noted that it was working to comply with fire-related requests.
On Epiphany, Jan. 6, more than 100 supporters filled the rotunda and council chambers at Cleveland City Hall – at one point, chanting and holding signs with such messages as "keep Metanoia at Denison UCC" and "no more neighbors frozen to death" – a reference to six cold-weather deaths in the city over the past two winters.
Around midnight on Jan. 6, fire and police officers staged a surprise inspection at the church and were satisfied by the all-night "fire watch" regimen being followed by Metanoia staff members and volunteers.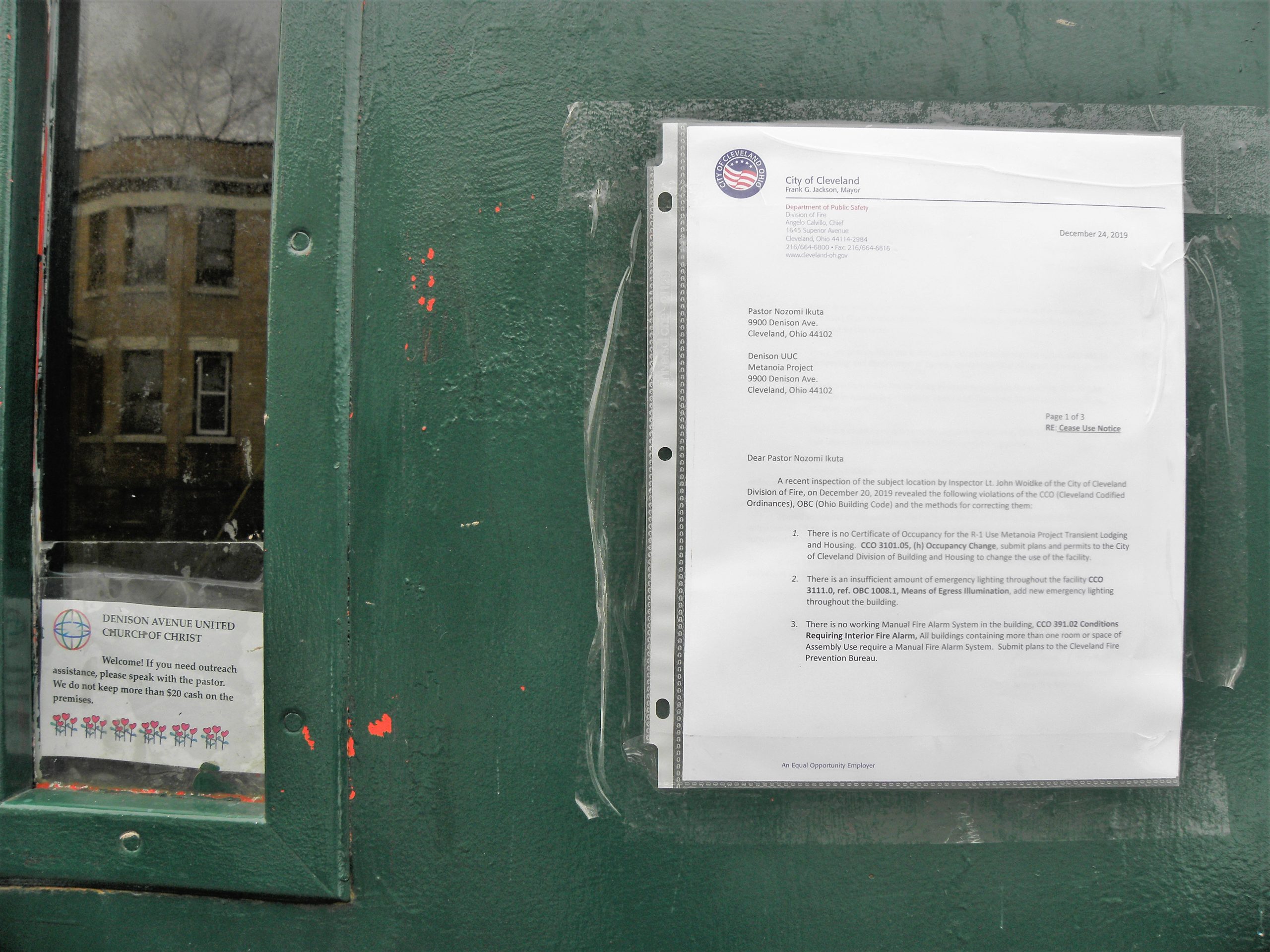 'Obligation to do what Jesus tells us'
The church's written appeal, filed by a Cleveland law firm providing pro-bono help, describes several fire-safety measures the church has implemented since the city's order, adding to measures it already had in place. It notes the church is working with an architect to assess any further compliance actions needed.
But religious freedom is the appeal's first argument, in response to the demand that the church "submit plans and permits to the City of Cleveland Division and Housing to change the use of its facility" from a house of worship. The appeal objects "on the basis that providing temporary overnight occupancy to the unsheltered homeless population of the city of Cleveland is a use consistent with the exercise of the Denison UCC congregation's religious doctrines, and accordingly is not a change in occupancy requiring a new certificate of occupancy."
The appeal mentions the U.S. Constitution and the federal Religious Land Use and Institutionalized Persons Act. That law, passed in 2000, protects "individuals, houses of worship, and other religious institutions from discrimination in zoning and landmarking laws," according to the U.S. Department of Justice website.
"We are asserting our right and obligation to do what Jesus tells us to do, which is take care of the poor and people who are in a tough spot," said the Rev. Nozomi Ikuta, Denison Avenue pastor, in a television interview with Cleveland station WJW.
'Apathy is the enemy of democracy'
Broad news coverage of the dispute has resulted in an uptick of help for the church, and not only for Metanoia's overnight work.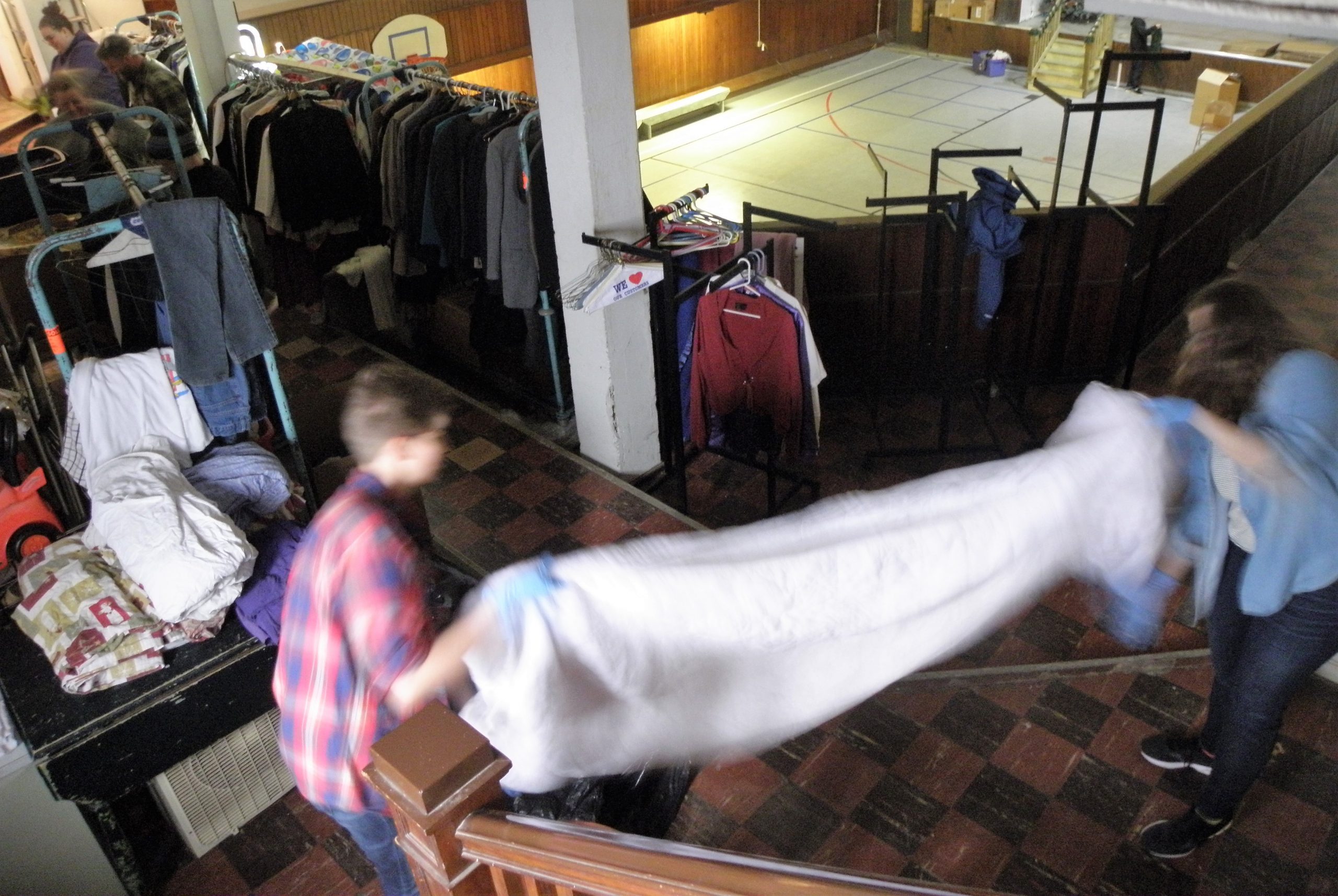 A Saturday work session on Jan. 11 drew dozens of volunteers from nearby UCC congregations such as Archwood, Pilgrim and Avon Lake, as well as individuals who just wanted to lend a hand. Some came from the surrounding neighborhood and nearby suburbs. Others were from more distant communities, including Lodi and Wellington, each some 40 miles away. They sorted through an overabundance of donated clothing and other items, some of which will be sent to earthquake-stricken Puerto Rico. They also freed up more space by clearing an old classroom of furniture and other unneeded items.
Besides enlisting volunteers, the church's website encourages the public to contact city leaders "to support our protected right to exercise our ministry."
Several Cleveland officials, including Ward 15 Councilman Matt Zone, who chairs the city's Safety Committee, met Jan. 9 with representatives of Cuyahoga County, Metanoia and the Northeast Ohio Coalition for the Homeless to discuss cold-weather safety plans for Greater Cleveland. It is not yet clear whether the Denison Avenue site will be a part of those plans, nor how the city will respond to the church's appeal. Ward 11 Councilwoman Dona Brady, who told Ikuta last fall that she opposed the church's overnight use, has made no public comment.
But three other Council members rose at the Jan. 6 meeting to say they had no objection to the turnout of citizens supporting the church as a Metanoia site. "This is the people's house," said Ward 3 Councilman Kerry McCormack, welcoming citizens in the gallery. "Apathy is the enemy of democracy. Thank you for being here."
---
Related News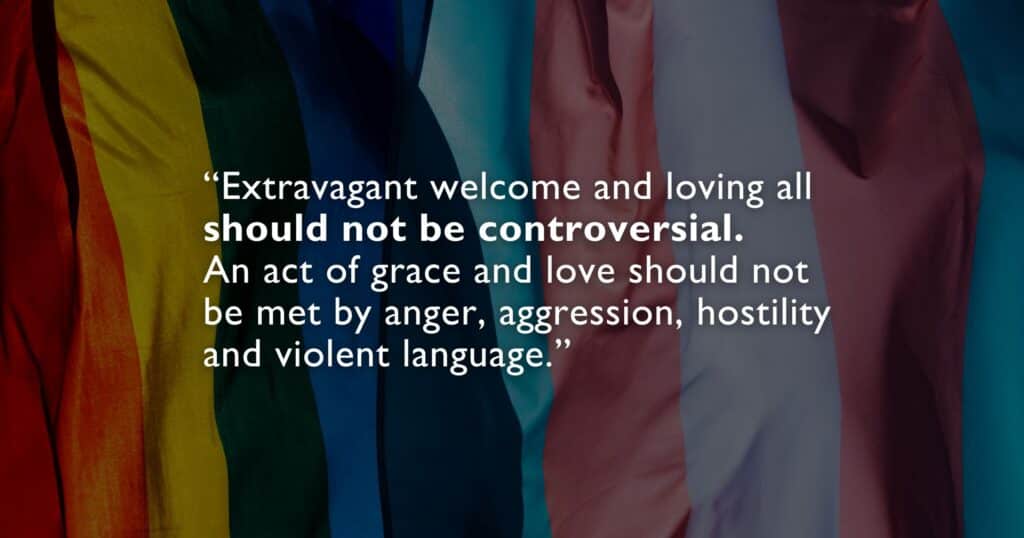 The United Church of Christ National Officers and the Conference Minister of the South Central...
Read More