Buffalo Sanctuary Church 'Showers Love' on global guests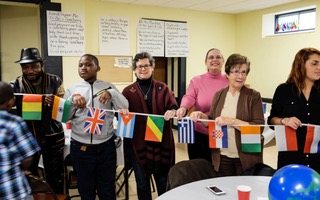 A Buffalo, New York congregation celebrated the completion of a construction project on Sunday that, as a sanctuary church, allows them to 'Shower Love' on their global guests.
Pilgrim-St. Luke's/El Nuevo Camino United Church of Christ formally dedicated new showers and laundry facilities, added to their basement of their building to better serve people seeking sanctuary. A crowd of almost 100 people showed up at the Nov. 18 "Showering Love" ceremonies to mark the occasion.
"The most appropriate thing I could think of to say by way of welcome today is something we share every Sunday in worship," Suzy Shallowhorn, moderator of Pilgrim-St. Luke's/El Nuevo Camino UCC told those gathered. "'No matter who you are or where you are on life's journey, you are welcome here.' This facility is a bricks, mortar, and plumbing expression of this statement."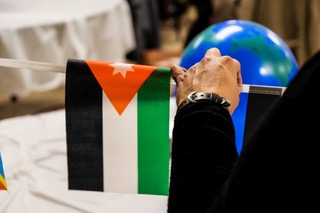 The congregation immersed themselves in the current sanctuary movement two years ago under the leadership of then-pastor, the Rev. Justo Gonzalez II. Their call to action came in October 2016, when Immigration and Customs Enforcement detained 25 individuals who became known as the Buffalo 25.
"Pilgrim-St. Luke's has a long history of standing for justice dating back, at least, to offering sanctuary to conscientious objectors during WWII. We are an open and affirming church as well as being multi-cultural and multilingual. We take seriously Jesus' command to love God and our neighbor," said the Rev. Linda Harle-Mould, a member who has been leading many of church's worship services. "When the 'Buffalo 25' were taken in by ICE, PSL examined our resources and found that space was one of those that we had available. The vote of the congregation was unanimous to become a sanctuary church. We prepared to receive the stranger."
In January 2017, after the vote and a public declaration of sanctuary, the church, through a partner agency, began welcoming and housing migrants coming through Buffalo to seek asylum in Canada.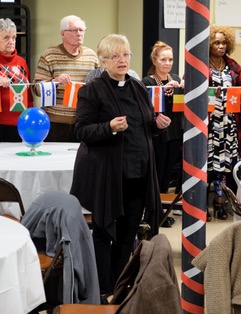 And though Gonzalez left the Buffalo congregation in August 2017, the members remained committed to their sanctuary ministry, and the commitment to better organize and improve their facilities. After doing some fundraising, they took a leap of faith in January of this year and signed a construction contract to pour $67,500 into church improvements.
"When we realized that our hospitality was incomplete, we began to raise the money to add showers and laundry facilities to our basement, modernizing the ancient ritual of offering water to the traveler to wash their feet," Harle-Mould said. "When we dedicated those facilities on Sunday, we sang 'Lord, Prepare Me to Be a Sanctuary', an acknowledgement that the sanctuary for our guests is not just in our building, but in our hearts."
"I am so deeply proud of your continued commitment to working towards justice for a global sisters and brothers," Gonzalez, now interim minister of the Illinois Conference UCC, wrote in a letter of congratulations. "When we conceptualized this idea together little did I know that God would use PSL to be a bright shining star in the midst of the desert of oppression, discrimination, and the forced separation of parents from their children. Your ability to focus on ministry and not dollars has not only met the needs of people we did not know but also created a pathway for deep trust in the Spirit."
Over the last year, many migrants — both individuals and families — have found their way to Pilgrim-St. Luke's/ El Nuevo Camino UCC.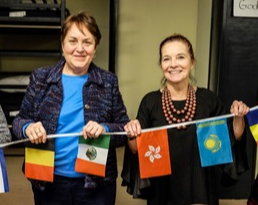 "To date we have housed 41 adults and 21 children from the eleven countries represented by the flags that we displayed at the celebration," said Kate Ward, leader of the church's Sanctuary Ministry Team, listing the countries of Colombia, Syria, Mexico, Venezuela, Nicaragua, El Salvador, Guatemala, Honduras, Nigeria, Congo, and Angola. She offered thanks to benefactors, donors from 11 organizations and hundreds of individuals from California to Maine who gave not just money, but their time and their talents to make this project and this ministry possible. To date, the church has raised more than $58,600 to cover the cost of construction.
Gonzalez, who has offered to match donations collected over the next month, dollar for dollar, up to $1,000, said he was heartened that this "new extravagant welcome center creates a holy and sacred space for our global sisters and brothers, siblings to know that they are loved, to be protected against ICE and anyone who would dare to try to violate their dignity and worth."
The PSL congregants are living into their ministry, Gonzalez said, to be Christ personified for their guests. 
"The family that is currently in sanctuary with us — a mother, father, grandmother and two children from Latin America — say they are very happy to be in our newly dedicated sanctuary space," said Robbie Farkas-Huezo, a member who interacts closely with the people who come to the church for aid. "They came to us from another shelter and they feel very much at home here. The opportunity to have new, clean showers and laundry facilities make them more comfortable. But mostly they say they are grateful for the opportunity to be part of our community, part of the Pilgrim-St. Luke's family."
---
Related News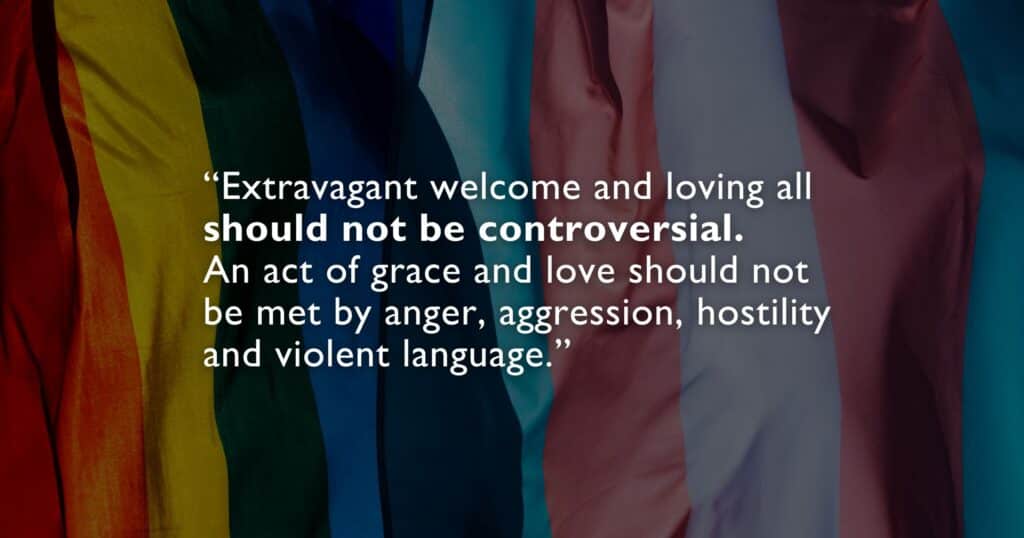 The United Church of Christ National Officers and the Conference Minister of the South Central...
Read More