"Black Lives Matter" banners evoke hostility in New York communities
Hateful voicemails. Hostile messages on social media. Defacement of personal property.
That is what two New York congregations have experienced since publicly declaring that "Black Lives Matter." Banners bearing the bold proclamation hang outside of Sayville Congregational UCC near Long Island and Greenpoint Reformed Church in Brooklyn, and have sparked unexpected controversy among some people in those communities who think the churches are anti-police. The leadership in both churches say that couldn't be further from the truth, but stand by their decision – and their right – to declare their support for all people in the aftermath of racially-charged incidents involving African Americans and white police officers.
"Just because we are saying black lives matter doesn't mean all lives don't matter," said Gail Keiser, moderator and president of Sayville Congregational. "You can be for something and not against something else, but people don't understand that."
Sayville Congregational hung its banner after Christmas and almost immediately started receiving hateful voicemails in the church office and hostile messages on its Facebook page accusing the church of not supporting the police. Despite the reaction, the church's deacons unanimously voted to keep the banner up, citing the congregation's roots in social justice and the desire to start a dialogue about what the sign really means to them.
"Political extremists have hijacked this and reframed the narrative so that any criticism of any cop at any time is anti-cop, that all cops are good cops and all shoots are good shoots – that is a false narrative," said the Rev. Gary Brinn, pastor of Sayville Congregational. "There are tens of thousands of good police officers who get up every day and risk their lives protecting and serving the public, and we honor and value that. But a tiny number of cops turn out to be bad, violent or racist. All we want is for those officers to be held accountable and for the good cops to stop covering for them."
Greenpoint Reformed Church hung its first "Black Lives Matter" banner after a grand jury in Ferguson, Mo., decided not to indict the officer who shot unarmed teenager Michael Brown, and hung a more permanent version of the banner in early December following the death of Eric Garner at the hands of a white officer in New York City. Since then, the sign was defaced to read, "Black Lives Matter – So Support Cops." The church took that banner down, but has a replacement on the way, says the Rev. C.B. Stewart, a co-pastor of the church, and it will continue to hang outside the building regardless of the community's opinion.
"When the banner was defaced, I felt sad that there are people in our community who feel the need to make publicly clear that some lives matter more than others," Stewart said. "If another banner is defaced, we will have full support of our congregation to continue hanging them."
The Rev. David Gaewski, conference minister of the New York Conference of the UCC, believes this controversy is a jumping-off point for dialogue between churches and local law enforcement to discuss concerns over continued racial profiling in cities and communities throughout the country. Gaewski also wants to engage government leaders in conversation to support oversight strategies, investigation standards, and disciplinary mechanisms for situations when police officers use excessive force.
"I am disappointed that community members are interpreting the 'Black Lives Matter' [banners] as an anti-law-enforcement message – that could not be further from the truth," Gaewski said. "The vast majority of law enforcement are outstanding citizens who have the same goals as the 'Black Lives Matter' movement— a just and fair system for all.
"I believe the angry, and sometimes hateful, messages that have been aimed at the 'Black Lives Matter' banners are an indication of just how far we have not come in overcoming systemic racism in our communities," Gaewski added. "We need to engage in conversation with local law enforcement, not as adversaries, but as partners who all want safe communities where everyone shares the same rights and receives the same respect."
---
Related News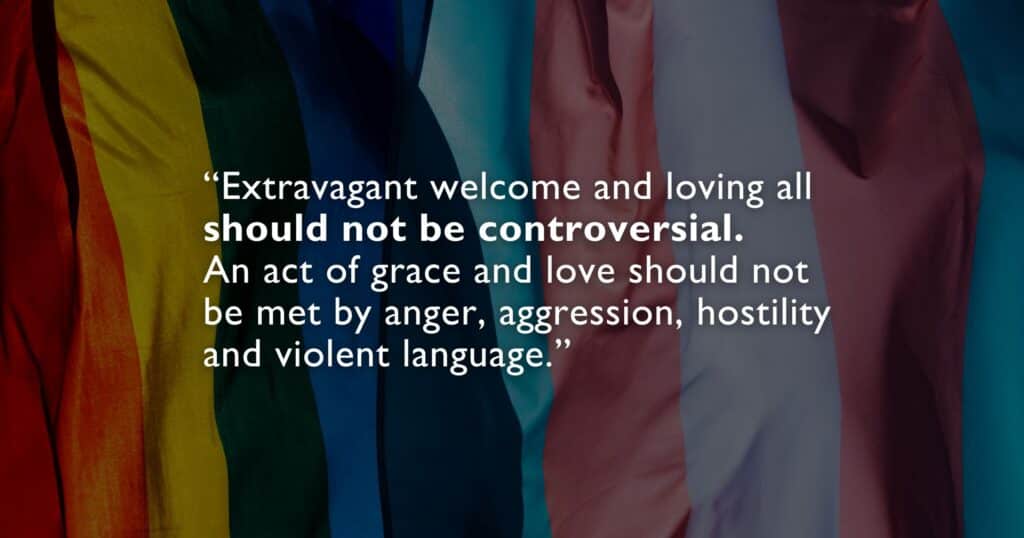 The United Church of Christ National Officers and the Conference Minister of the South Central...
Read More