As ever, UCC ministers among those responding to mass shootings
United Church of Christ ministers were among those giving public voice to grief and a desire to end violence in the aftermath of mass shootings Aug. 3 and 4 in El Paso, Tex., and Dayton, Ohio.
In El Paso, at least 1,000 people turned out for a vigil Sunday evening, Aug. 4, organized by the Rev. Deborah Clugy-Soto and the Interfaith Alliance of the Southwest, of which she is president and co-founder. Residents of this predominantly Latinx community filled an entire baseball field and the grandstands to mourn the deaths of 20 people killed and 26 injured at a Walmart the day before.
Such gatherings play multiple roles at once in a grieving community. "I think all of us are going to find out that we knew somebody affected by that shooting," Clugy-Soto said. "Even though it's a city of 800,000, it's a very connected community. The vigil helped people feel that sense of unity."
'Uptick in conversations and organizing'
Having leaders of many faiths visible together can help. "Catholicism is definitely the largest religious component here, but I think it was good last night to see people from other faiths standing with them, too – that we're all a community," Clugy-Soto said. "I've lived here 13 years. One thing you realize is that El Paso is very diverse. Even though 80 percent are Hispanic Americans, you have a lot that come in from the military, people who retire here, businesses and corporations that bring in people from other places. Here people respect each other. Overall the city tends to be very tolerant and welcoming.
"I think the whole community is fairly united in trying to get out a message that this is a city that welcomes everyone, that traditionally is of the safest cities in the U.S. – and that this is not going to define us. I felt like last night was an opportunity to begin some of the healing process to begin community together."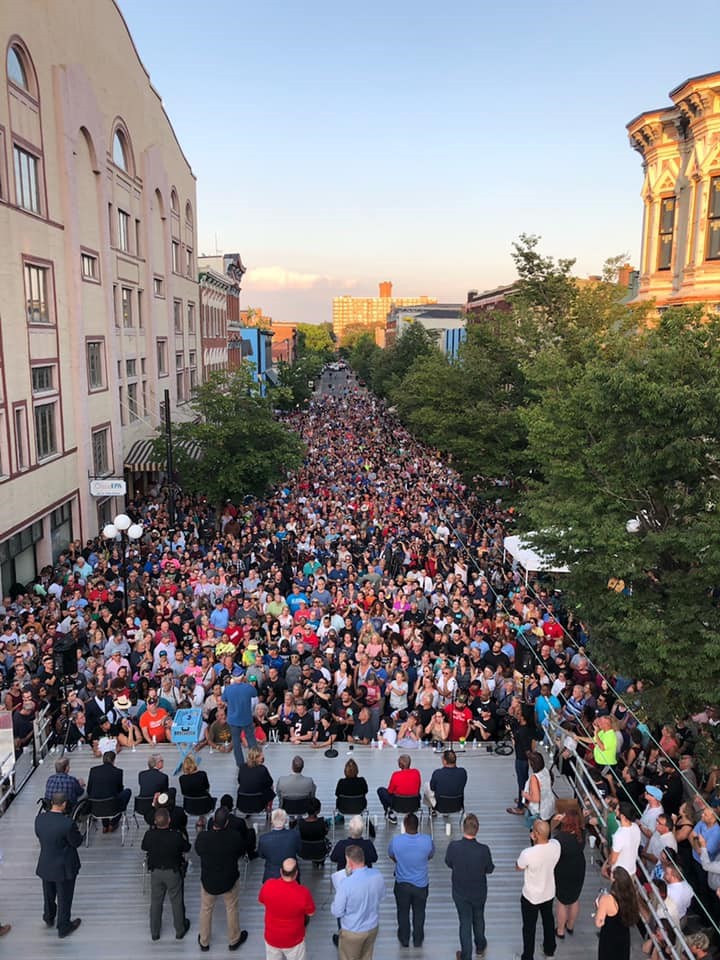 Among those offering prayers and remarks at the El Paso vigil were the Rev. Barbara Doerrer-Peacock from the UCC Southwest Conference staff in Phoenix, the Rev. Andy Mangum from Fort Worth, regional minister of the Christian Church (Disciples of Christ) in the Southwest, and Clugy-Soto, who has both UCC and Disciples standing. Catholic and Episcopalian clergy and representatives of other faiths also took part.
Clugy-Soto said that, in addition to the pastoral and spiritual nurture it provided, the vigil will strengthen citizens' resolve to act on gun violence. The Interfaith Alliance is discussing how to increase conversations among people with different views. And throughout the community, she said, "I think there will be an uptick in conversations and organizing to try to get some laws changed."
'Help us do the work that is needed'
In Dayton, no UCC churches are known to have members or families among the victims of Aug. 4 shootings, said the Rev. Carl Robinson, Designated Association Minister of the Southwest Ohio Northern Kentucky Association of the UCC. But a "ripple effect" will be felt in churches and throughout a community whose ability to respond has already been tested this year by a Ku Klux Klan march in May and tornadoes over Memorial Day weekend.
One of the faith leaders who helped lead a vigil Sunday evening at the site of the shootings in Dayton's Oregon District was the Rev. Brian Eastman, a 10-year resident of that neighborhood. He is pastor of Beaver United Church of Christ in suburban Beavercreek, Ohio.
At the time of the shootings, Eastman and his wife, Amelia O'Dowd, were home less than a 5-minute walk away, in the residential section of the district. O'Dowd's hat and accessory store is right in the business area where the violence occurred. Among her customers are families of some of the shooting victims.
"Dayton's a very open and welcoming community," Eastman said. "It's one of the things we're known for. Something like this is just very out of character for this area." In the immediate aftermath, he said, people were coming together at events like the vigil with a sense of strength and mutual support despite their shock – and with hope that something can be done to keep violence like this from happening again. There, as in El Paso, the vigil was an interfaith event, with a rabbi, an imam and two Christian ministers sharing the stage with Dayton's mayor, Ohio's governor and many local dignitaries.
Eastman called out the names of the nine victims, and, later, offered a closing prayer, which concluded: "Lord, we pray that you are with us, helping us, and not only to help us with our grief, not only to help us with our sorrow, with our loss, with our mourning that will never go away, but to help us be stronger, to help us do the work that is needed, to help us turn away from the idols of hate and violence and toward the salvation that is love, love, love. For all that is good in this word comes from love. May we remember that this night. God, may you bless us forward and may we always be Dayton strong."
---
Related News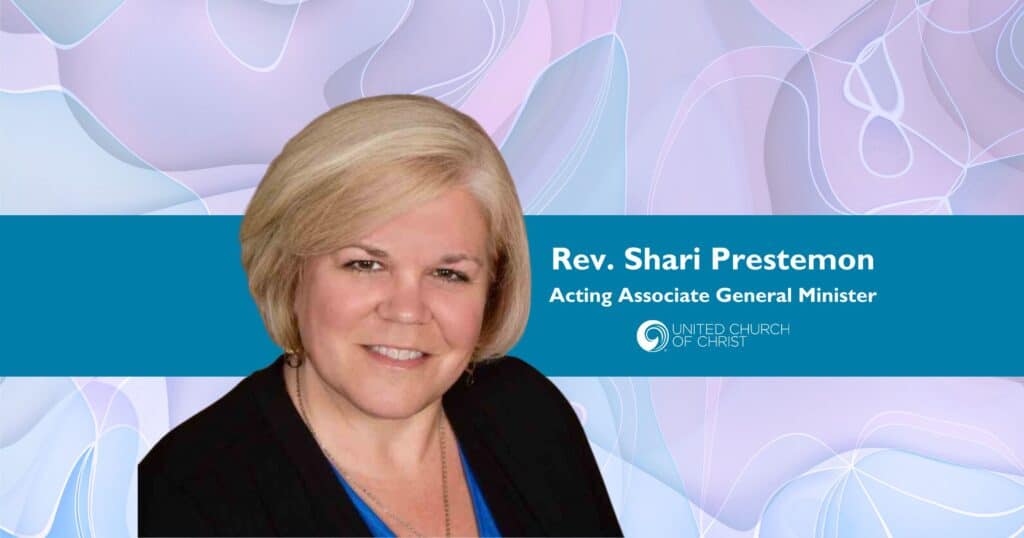 A new United Church of Christ national leader has been called. The UCC Board voted in a...
Read More