Antoinette Brown Society offering limited-time free ticket to award ceremony with $25 donation
As Women's History Month wraps up, the Antoinette Brown Society is offering a limited-time deal for its supporters.
Those who contribute $25 or more to the society before April 15 will receive a free ticket to the ABS Award Ceremony and reception July 3 at the United Church of Christ's General Synod in Indianapolis.
Contributions go toward honoring awardees at Synod, providing underwriting for the biannual Clergywomen's Leadership event and offering year-round support for UCC clergywomen.
The society, named after the first white woman ordained in mainline Christianity in 1853, seeks to continue and expand her groundbreaking legacy. One way ABS does this is by recognizing trailblazers and catalyst organizations that center the work of basic rights for all, including working towards ending racial and gendered discrimination that exists in communities and churches.
"In the last year, our work has shifted, and we are shining a light on the racialized injustice that our clergywomen colleagues face. We invite you to join us in helping bend this arc toward justice so that we can live into who we say we are and who God is calling us to be as the United Church of Christ," said ABS staff liaison the Rev. Tara Barber, UCC minister for ministerial support and accountability.
"The Antoinette Brown Society needs you to partner in this good and faithful work," she added.
'A light in the UCC'
ABS leaders are also inviting people to become pledging members by contributing $20 or more per month. Members receive early notice of events, discounts and resources that ABS develops. Their names are also listed on the ABS webpage.
"It is important that the Antoinette Brown Society continues to have a light in the UCC because women like me, a women of color in the United Church of Christ, has had opportunity because of the daring voice of Antoinette Brown," said the Rev. Audre Price, who serves as the associate director for the Aspen Institute's Religion and Society Program and as part of ABS leadership.
"At our upcoming General Synod, we will get to vote on and celebrate the appointment of the first women of color as General Minister and President. I believe that Antoinette Brown, in some ways, had a hope and a vision that will manifest itself in the 21st century."
Building on a legacy
In 1975, the UCC began presenting the Antoinette Brown Awards to ordained UCC women who "exemplify the contributions that women can make through ordained ministry, have provided outstanding ministry in a parish or other church-related institutions, including women in specialized ministry, and have a sensitivity concerning the challenges and possibilities of women in ministry and advocacy on behalf of all women in the church."
In 2015, the Antoinette Brown Society was formed, carrying on the tradition of honoring clergywomen pioneers and innovators at General Synod.
Donations to ABS can be made online or by texting ABS to 41444.
"Join us in this work to uplift, encourage and support all women who have endeavored to say yes to God's call, to God's work, to God's ministry to serve God's people," Price said.
---
Content on ucc.org is copyrighted by the National Setting of the United Church of Christ and may be only shared according to the guidelines outlined here.
---
Related News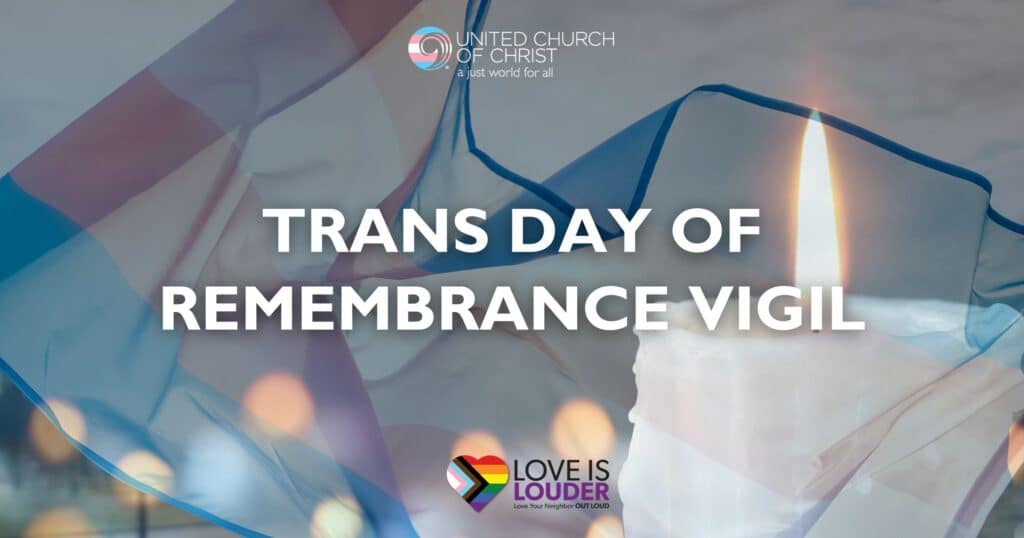 To mark Transgender Day of Remembrance (TDOR), the United Church of Christ hosted a vigil...
Read More