Marking history for the UCC and women in ministry
In the tiny town of Oberlin, Ohio, a few hundred feet from the entrance to First Church of Oberlin United Church of Christ, there now stands a historic plaque commemorating the life and work of the Rev. Antoinette Brown—the first woman ordained as a Christian minister since the times of the New Testament.
But the plaque is significant to countless others beyond the Ohio town. It marks part of the history of the United Church of Christ, the church of firsts, which ordained Brown in 1853, and preserves a source of pride and inspiration for women in ministry who have since followed Brown's trailblazing path.
Inside First Church on Sunday, Nov. 9, about 150 people gathered inside to lift up Brown's legacy through song, to hear the stories of her perseverance on her path to ordination, and to dedicate the Ohio Historical Marker that bears her name.
The ceremony was complete, with an 'appearance' by Antoinette Brown, in a re-enactment by the Rev. Beth Marshall of First Unitarian Church of Toledo, dressed from head to toe in clothing from that era.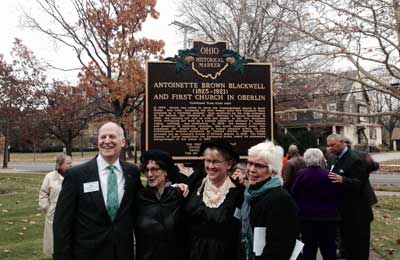 "While I may have been the first woman ordained into the Christian ministry, this day of celebration honors much more than my life and work," Marshall said in her portrayal of Brown. "This day honors the countless women who have faced similar struggles, overcome comparable obstacles and have found ways to minister to a world that is inn such need of healing and comfort."
"If the Rev. Antoinette Brown were here today, she would no doubt be pleased with the advances that her life and ministry made possible for others, including myself," said the Rev. Elizabeth Dilley, UCC minister for ministers in local churches. "But like our best leaders, she would steadfastly point us beyond this present moment toward a vision of what yet could be—a world where the gifts and contributions of women are recognized and valued as equal to those of men."
The Ohio historical marker at First Church is one of 1,480 throughout the state, each preserving a unique chapter in history, reflecting the people and events of Ohio's history. It is the 30th historical marker in Lorain County.
The Rev. David Hill, pastor at First Church, and the Oberlin Heritage Center spent 11 years to find a place for the marker, initially hoping to place it on the Oberlin College campus before finding a spot at First Church.  "[The paperwork] languished on my desk for far too long," Hill joked.
"As we dedicate this plaque today, let us look both to the visionary Antoinette Brown, and, giving her thanks for where she has led us, let us also fix our gaze firmly on leaders being named and shaped today, and to the vision of unity and equality for which Antoinette Brown taught and lived," Dilley said.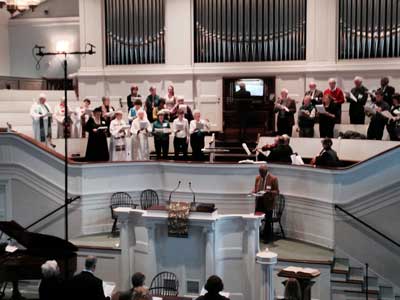 As she worked to become a minister, Brown encountered resistance, but persevered as she found her voice in a male-dominated world. First Church sits adjacent to Oberlin College, the college from which Brown graduated in 1847. She studied theology for three years—in an all-male department—under the Rev. Charles Finney, who was First Church's first pastor. Brown led prayer meetings at First Church, but the college denied her theology certificate. Eventually, she was called to serve the Congregational Church in South Butler, N.Y., and was ordained there in 1853.
After marrying Samuel Blackwell and raising five daughters, Brown joined the Unitarian Church in 1878 and preached in churches. Her last sermon, at age 90, was delivered on Easter Sunday.
In her lifetime, Brown fought for, and saw, three significant social justice movements: the acceptance of women in the church, suffrage of women and the abolition of slavery.
"My dream is that each of us will have ample opportunities to be passionate about our work, our loves, our children and our vision of how to heal the world," Marshall said, continuing her portrayal. "It is a different world now. Many of the same problems exist. They have been renamed, but the inequality between men and women is still daunting—even with dramatic improvements in educational and employment standards… The situation has improved ever so much, through the hard work of visionaries, but the work still needs to be done—every day."
When Marshall, a native of Oberlin, first saw the plaque before its unveiling, she said it moved her to tears, though she didn't know why.
"If she can do this, I can deal with what I'm facing," Marshall said. "She had much more to deal with being the first, having everyone against her except for a handful of people. So I draw on her periodically."
Dilley said the UCC will launch the Antoinette Brown Society during General Synod 2015 in June. Made up of women and men, it will support female clergy in the denomination to cultivate the next generation of powerful, innovative women clergy "cut from the same cloth as Rev. Antoinette Brown," Dilley said. "This society hopes to be part of a more integrated strategy to lift up the pastoral leadership of women in the church."
---
Related News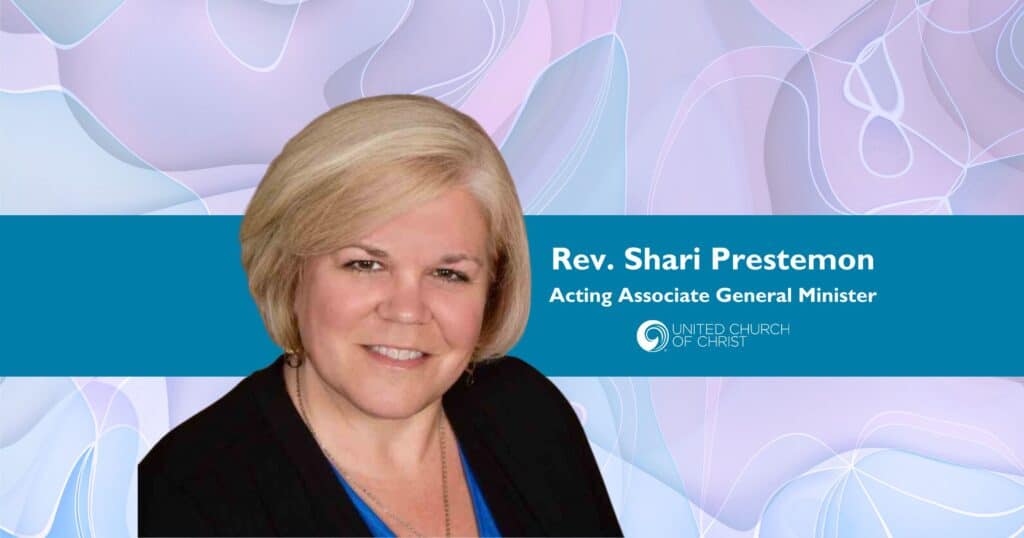 A new United Church of Christ national leader has been called. The UCC Board voted in a...
Read More