Albuquerque faith-based collaborative steps up to support Afghan refugees
Twelve churches from eight different faith traditions are welcoming refugees from Afghanistan to Albuquerque, N.M. And they're doing it together.

Through what they call the ABQ FaithWorks Collaborative, they have been aiding refugees and other homeless people since 2019. The effort has positioned them well to help the latest newcomers, said a pastor who helped start the project.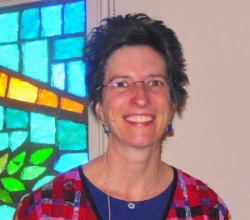 "I highly recommend collaborating," said the Rev. Sue Joiner, pastor of First Congregational United Church of Christ Albuquerque. "That's how FaithWorks began. We asked, 'Why are we doing this by ourselves?' We can do so much better work together — pooling financial resources and people."
She said working together may be the only way to meet the needs of the thousands of refugees evacuated from Kabul in the final days of America's 20-year war in Afghanistan. Growing numbers of UCC churches around the U.S. are involved in that work. See related story.
How it started
The Albuquerque project started as a response to homelessness and other needs faced by all kinds of people.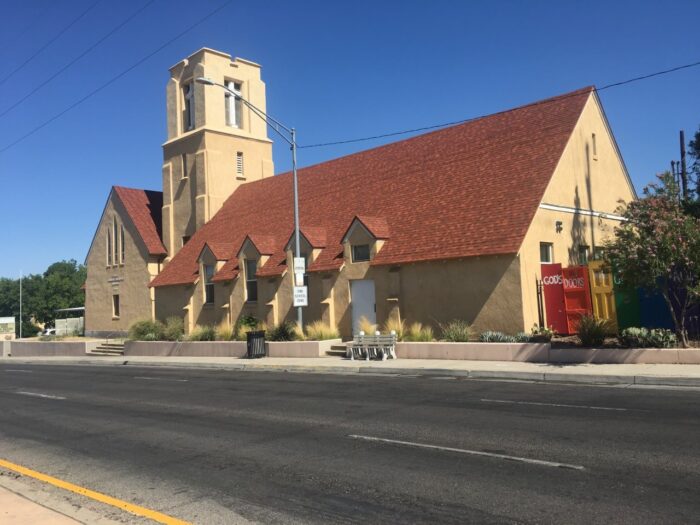 "ABQ FaithWorks began after an ecumenical group of churches dreamed of a way to respond to those on the margins," Joiner said. "We all experienced people coming to our doors for assistance and each responded in some way, but all felt inadequate in our responses."
The organization initially set up shop at First Congregational. The church had already used its empty basement classrooms to house an Iraqi man accepted into sanctuary in July 2017. After his release in 2019, Joiner said, "we were deeply committed to housing immigrants and realized we needed to turn those old classrooms into an actual living space."
An expanding ministry
As a first step, FaithWorks hired a social worker to help homeless people "move from out of the systems that kept them stuck," Joiner said. A year later, the organization brought Jessica Corley on board and added asylum seekers to the mix. The number of participating congregations doubled, from six to 12. Besides the UCC, they come from Christian Church (Disciples of Christ), Episcopalian, Lutheran, Mennonite, Methodist, Presbyterian and Unitarian traditions.
Corley, now Executive Director, organized the asylum program and set up the framework that helped it succeed. "Jessica is an amazing administrator with strong organizational experience," Joiner said. "We grew so fast, having her coordination is making all the difference. The structure set up for asylum seekers structure is so strong. We can move people through the system."
Southwest Conference Minister the Rev. William Lyons said FaithWorks' "comprehensive services provide an extravagant welcome to migrating neighbors."
"The FaithWorks asylum program has assisted dozens of families with both direct and referral services, addressing needs such as food insecurity, housing insecurity, employment, daily living, transportation, legal referrals, medical and dental needs, mental health, ESL classes and integration into communities of their choice," Corley said.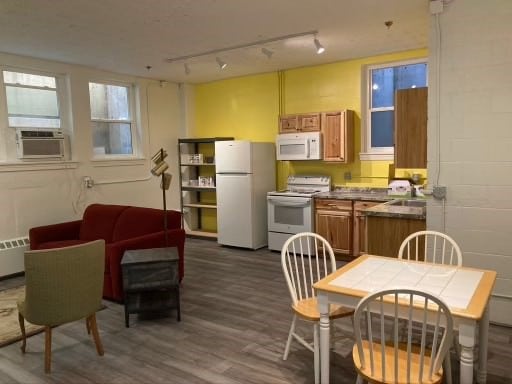 Currently, in its renovated two-bedroom apartment, First Congregational is hosting a 20-something same-gender-loving Honduran couple seeking asylum. "We anticipate these young men living in our basement for 18-24 months as they get established," Joiner said.
Hundreds coming
Now FaithWorks will use that same system to support Afghan refugees.
"Recently we partnered with Lutheran Family Services of the Rocky Mountains to accept referrals of families and individuals from Afghanistan," Corley said. She said there are currently 30 Afghans in Albuquerque, and 24 of them are in FaithWorks' program. "We are working with two very large families of 10 and 13 members as well as one individual male who is waiting for the rest of his family members to join him."
And that's just the beginning. Corley said LFSRM is contracted to receive 300 people, 200 in Albuquerque and 100 in Las Cruces, in southern New Mexico.
More than housing
While the government defines "resettling" as finding housing for the refugees, FaithWorks, through volunteers from the member churches, hopes to help them get established in their new hometown, using grants and donations from the congregations and local community.
"We have only been working with them for two weeks," addressing immediate needs like food and clothing, Corley said. "Because they do not speak English, people in the community who speak their language generally communicate with them for us. Coordinating services is difficult due to the language issues."
Joiner said FaithWorks partnered with the Islamic Center of New Mexico to do a cultural training for volunteers.
"There were so many things we didn't know and understand," Joiner said. "It is easier when you have some systems in place or you are connected with people with some know how. Pooling resources is key. It's such a big job."
A model for others
In addition to support from its 12 local churches, FaithWorks and First Congregational are consulting with wider ministries of the UCC for support — including the Southwest Conference and the Global H.O.P.E. team in the national setting.
As part of its Refugee and Migration Ministries, Global H.O.P.E. has prepared a toolkit to help churches and members everywhere consider what they might do.
Corley encouraged churches to consider working together. "We strongly believe that our program model can be shared and replicated in other communities," Corley said, "and that UCC can take a lead role in developing a faith-based response in their respective communities."
The Rev. Irene Willis Hassan, UCC minister for refugee and migration services, said that churches working in collaboration with others are more likely to do well obtaining financial assistance. "Grant applications that demonstrate churches have long term committed support from community partners and sister churches are likely to get greater funding than that of individual churches."
"None of us can do this by ourselves," Joiner said. "… We didn't know how involved it was going to be."
---
Related News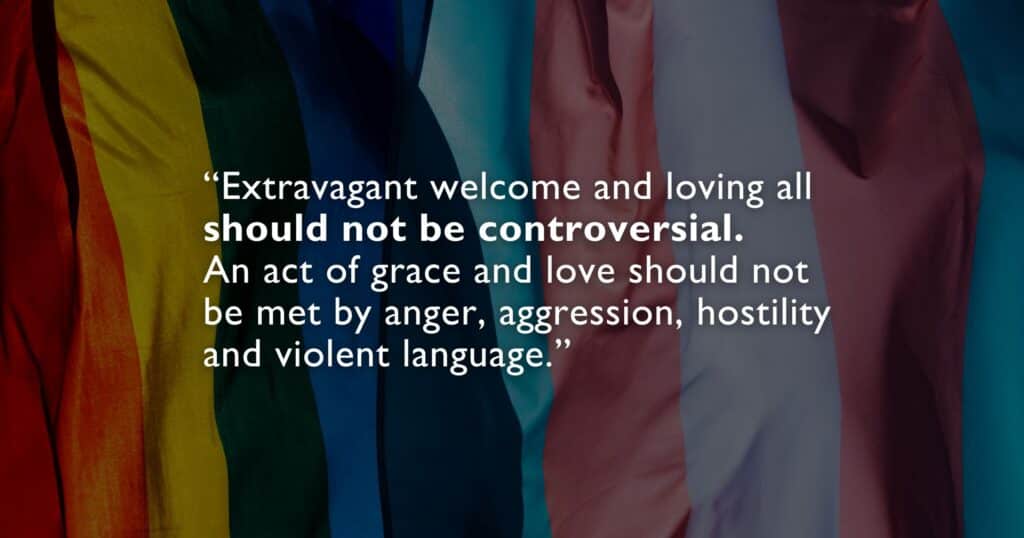 The United Church of Christ National Officers and the Conference Minister of the South Central...
Read More