'49 Bells' vigils remember lives lost at Orlando's Pulse nightclub
Forty-nine bells rang out in communities across the country at noon on Monday, one for each life lost in the worst mass shooting in this country's history. Forty-nine people died when a murderer gunned down revelers in the midst of a PRIDE celebration at the Pulse nightclub in Orlando on June 12, 2016. Fifty-eight others were injured. In services and vigils of remembrance, part of a day of unity for the victims and their families, over 100 UCC churches in 30 states publicly declared their love of neighbor, registering to participate in '49 Bells', an act of solidarity and love, to build a just world for all.
From California to Connecticut and in scores of Florida communities, people stopped to pray, reflect and remember.
At Douglas Congregational UCC in Douglas, Mich., almost a dozen people took turns ringing the bells. Outside Sylvania UCC, in Sylvania, Ohio, participants rang a church bell that dates back to 1834.
Hope UCC, in Rockledge, Fla., does not have a bell tower. But that didn't deter congregants. "During our prayers of the people on Sunday we displayed photo images and the names of each victim on three screens," said church pastor the Rev. Celestine Slater-Brooks. "We rang a bell at the back of the sanctuary for each person. During the prayers, a member placed the number '49′ on our signage in front of the church."
 

The Rev. Paul Werner, pastor of St. Andrew UCC, Sarasota, Fla., also used the church sign to publicly declare love for the lives cut short during Latinx night at the LGBTQIA nightclub.
Rev. Elivette Mendez Angulo, project coordinator for the UCC's El Proyecto Encuentros de Gracia y Bienvenida and co-pastor of the Manantial de Gracia UCC congregation in West Hartford, Conn., planned to ring a hand bell outside of the sanctuary, along with a sign that said "49." But she and the church administrator from First Church of West Hartford, her congregation's covenanted partner, rang the bells in the bell tower, and lit candles for those whose lives were taken — and allowed the candles to burn out on their own.
"I was reminded that the bells are how we alert others in the community of our hurts and struggles," said Mendez Angulo. "As I rang the bells, I could hear other church bells in town ringing 49 times. When I reached 17, my heart was breaking and I was holding on to the wall, grateful that the church administrator was with me keeping count. Somewhere in the 30's we were both weeping. And 49 left us both with a need to sit still and reflect."


The Rev. Thea Racelis, pastor of South Congregational UCC in Middletown, Conn., participated in trauma response in Orlando after the massacre. One of a group of UCC clergy from the Connecticut Conference and experienced in chaplaincy, Racelis knew one of the victims, and has friends connected in the community.
She and the Rev. Julia Burkey, pastor of First Church UCC, also in Middletown, held a joint service Monday night to lift up the continuing need for compassion and prayer.
"I prayed that we learn as a culture to de-center whiteness and heterosexuality as normative — and that people are able to have profound transformations to let go of their implicit racist and and homophobic biases," said Burkey, "because we remembered today that discrimination is deadly."
"One of the things to take away a year later is the impact of the tragedy on the entire community," Racelis said. "The connections .. to one of the victims .. to one of the survivors. In communities of color, in the Latino community, the concept of family is really broad. PTSD is a thing. The community still needs our prayer, efforts, solidarity. Better advocacy for more gun control, more acceptance of LGBTQIA communities."
The Rev. Traci Blackmon, a UCC national officer and acting executive minister of Justice and Witness Ministries, was in Orlando the morning after the massacre. In a reflection, she spoke of a prayer vigil that day for the Pulse victims and their families.
"I remember gathering at a small MCC church, Joy MCC, whose pastor opened their doors to hold sacred space to grieve for those who did not want to be alone. I arrived filled with anger. I arrived tired of these types of assaults on humanity. And yet what I encountered in church that night was love. Love as the ultimate weapon against evil. Resilient, Defiant, Relentless, and purposeful LOVE. One of the members said to me, through tears, that she believed this gunman had lost his love and our greatest act of resistance must be to not lose ours. So today, I choose to remember the murdered and wounded victims of Pulse nightclub by continuing to fight for love."
"Don't forget communities of color, the LGBTQIA community," Racelis said. "Don't erase us."
"We talked about the brevity of time that it took to ring the bells," said Mendez Angulo. "49 chimes, 49 names, and just over 2 minutes."
"We will not stop showing up. We will not stop speaking up. We will not stepping up. Until LOVE wins and this is a just world for all," Blackmon said. "Fifty people died in Pulse nightclub in the wee hours of the morning one year ago. Forty-nine of them were murdered. One lost his love."
---
Related News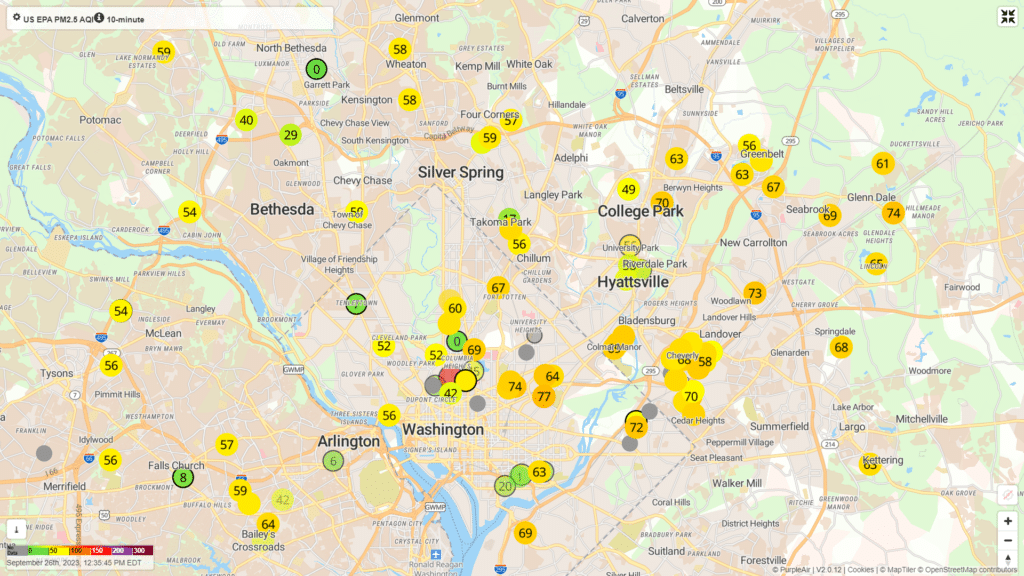 This summer, the United States experienced some of the worst days for wildfire pollution in...
Read More