Koy Hey: 17 Years a Refugee
Koy Hey is 45 years old. He has been living in the Tham Hin Refugee Camp along the borders of Thailand and Burma since 1998. He works hard and says he is proud of what he is doing.
In 2010, Koh became a bamboo worker with The Border Consortium (TBC). He started planting bamboo up in the mountain on 30 acres of land. In 2013, he planted bananas, bamboo, eucalyptus and many other trees on an additional ten acres of land.
Sometimes people laugh at Koh because he is small. When he introduces himself as a bamboo worker people laugh even harder. But nonetheless, he has taken on the management of bamboo planting during the last five years.
Every morning Koh and five co-workers go to the plantation area for cutting grass. One time a bee stung him, another time a snake almost bit him, and he has been bit by plenty of mosquitos. He really commits to his work and does not care about the challenges. Today, Koh Hey is  even more proud of his work because the bamboo is growing well and the area will soon turn into a forest. He believes this will benefit the camp population and is good for the earth.
One Great Hour of Sharing provides essential support to Global Ministries and partners worldwide to help people such as Koy Hey in their desires to become successes in their communities.
---
Related News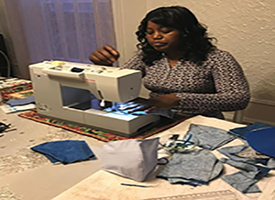 "It's so good making masks because it helps the community," said Sandra, a Congolese refugee...
Read More