Youths invite Synod peers and elders to 'be resilient'
Young people closed out the first day of the United Church of Christ's General Synod July 11 by teaching and preaching to peers and elders alike.
Their 15 minutes of theological reflection ended the opening plenary session of a Synod that will run through July 18. The biennial meeting is entirely online for the first time ever.
Drawing from Joshua, John, Acts, Galatians, Maya Angelou and their own lives, the youths urged their audience to "be resilient."
'Goosebumps'
The video message echoed the style of the day's opening worship. It featured crisply edited young faces and voices from across the UCC, with a musical underscore.
Judging from meet.ucc, the portal for delegates and registered visitors, adult listeners were impressed. Comments like these showed up in the chat column there as the video unfolded:
"I am so blessed right now by listening to these prophets!"
"Love all of this!"
"Young people have wisdom."
"They are the voices of our present! We forget this at the church's peril!"
"They're leading the way!!! We need to listen!"
"Praise God for our courageous youth!"
"Goosebumps."
"I am exhausted…but this is worth it."
'Still standing tall'
The young people's thoughts about resilience came in part from their own lives and cultures.
Jamani Blair of Elmont, N.Y., said a brain tumor isn't the only thing she has overcome. "I have faced multiple challenges in my life, including a house fire, family health, major medical issues and financial crises." Her college even closed during her senior year. And yet she had emerged with two bachelor's degrees and was finishing her master's in social work. "And I am still standing tall today," said Blair, who attends the Congregational Church of North New York in the Bronx and Safe Haven UCC in Queens. "… This tells me that you can achieve what you want to achieve. Be resilient."
Ella Anderson of Kapaa UCC, Kauai, Hawaii, interpreted Galatians 6:9 in terms of her struggles with playing the piano — something she loves. The scripture starts, "And let us not grow weary of doing good" — applicable, she said, to the piano and the life of faith. "I think some of the most meaningful things in life come after a long time of hard work and struggle," she said. "After overcoming that steep slope, it's a gradual incline of self-improvement and addition to what's already been established."
Ivy and Abilee Runsabove introduced themselves as members of the Indigenous Northern Cheyenne, Aani and Nakota tribe. They shared an Ojibwe proverb: "The women emerging are the hearts of the nations."
And there were many more participants.
'You are resilient'
Tying it all together, for example — from the pulpit of UCC of Midland, Mich., — was Sofia Berlanga. The camera came to her three times as she interpreted scriptures read by other young people. She embraced the authority of that pulpit as she took up Joshua 1:9, where God says, "Be strong and courageous; do not be afraid."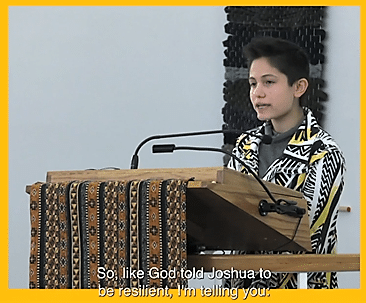 "So, like God told Joshua to be resilient, I'm telling you: You are resilient," she preached. "You are strong. You are courageous. Because God is with you. God is within you."
The last word came from Alexis Bond's dining room in Jamaica, N.Y., where she read Angelou's poem, "Still I Rise," from a smartphone. "I rise," read Bond, who attends St. Albans Congregational UCC. "I'm a black ocean, leaping and wide. Welling and swelling, I bear in the tide, leaving behind nights of terror and fear, I rise. Into a daybreak that's wondrously clear, I rise. Bringing the gifts that my ancestors gave, I am the dream and the hope of the slave. I rise. I rise. I rise."
Over in the chat room, Berlanga acknowledged all the positive comments. She added, "We, the youth, are the future AND the now."
---
Related News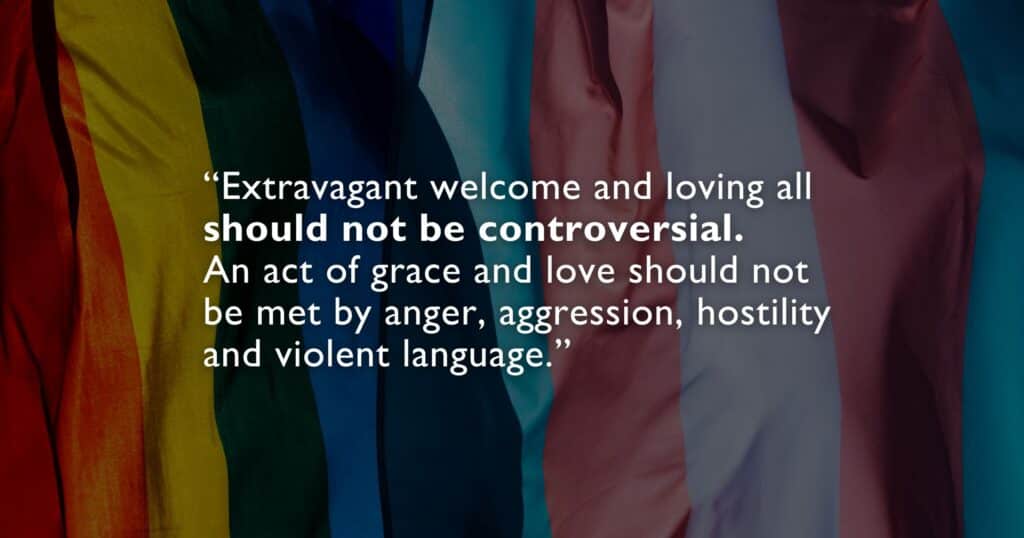 The United Church of Christ National Officers and the Conference Minister of the South Central...
Read More