Pentecost 5–June 27

Belief, not Fear
Service Prayers for the Fifth Sunday after Pentecost
June 27, 2021
Lamentations 3:22-33 Psalm 30 2 Corinthians 8:7-15 Mark 5:21-43
CALL TO WORSHIP adapted from Psalm 30
One: Sing Praises to God, all you faithful ones
Many: God hears us in our fear and our sorrow
One: Where there was no way
Many: God leads us in a new way
One: Where there was no mercy
Many: God surprises us with fresh mercy
One: Where there was weeping
Many: God invites us to step into a new dance.
INVOCATION
O Faithful God
You yearn to be so close to us
that we can know you in every breath,
in every hope, in every relationship.
You long for us to trust in your power
to bring to life new possibilities
where there has been no hope.
Meet us here today and
teach us to recognize
the ways of life and hope into which you are leading us.
So may our desires become your desires,
our work become your work,
and our community
the place where you are sought and found.
In Jesus' name we pray, Amen.
CALL TO CONFESSION
God calls us in our lives to take a risk,
to be like the woman in the gospel
who reaches out to Jesus for healing for herself;
or the father who risks the scorn of others to bring Jesus to his dying daughter.
Let us ponder for a moment the places of our lives where we may resist
turning to God for healing and change. (silence)
LITANY OF CONFESSION
When we resist your call to open our hearts to allow
the freshness of your grace to enter:
God have mercy.
When we close our eyes to your new and unexpected possibilities
of healing and reconciliation.
Christ have mercy.
When we let fear overwhelm us, and cling to the security of what we know
instead of risking new steps toward your freedom and justice:
God have mercy.

ASSURANCE OF GRACE
God's mercies are fresh every morning.
In Christ God offers forgiving grace
and welcome into a community of trust, abundance, and hope.
Let us give thanks for the mercy of God,
and pass the peace of Christ in community among us.
OFFERING INVITATION
The freshness of God's mercy and love,
the continued generosity of God's gifts to us,
call for thanksgiving and generosity on our part.
This church stands because of the faithful generosity
of those who came before us, and its ministry grows today
because of the hopeful, expectant generosity that lives in us.
Let us gather our gifts together, then, and offer them to God
in gratitude, heartfelt commitment, and praise.
BLESSING OVER THE GIFTS
Generous God, take our gifts this day and use them
so that we may be part of your great work in this world.
Through our giving, bring a brighter day of justice and love,
not just in our community but in the world beyond these walls.
Strengthen our church and the whole United Church of Christ
so that we grow together each day
into a powerful voice for healing and peace. Amen.
BENEDICTION
Deep in our hearts, we know that we are children of God.
Remember who you are, then,
and walk in the assurance of God's presence and love with you always,
calling you beyond fear into belief and joy.
And may the grace and peace of God the Creator,
the Redeemer, and the Sustainer
come upon you this day and remain with you.
Belief, not Fear: Service Prayers for the Fifth Sunday after Pentecost was written by the Rev. Susan A. Blain, Minister for Worship and Gospel Arts.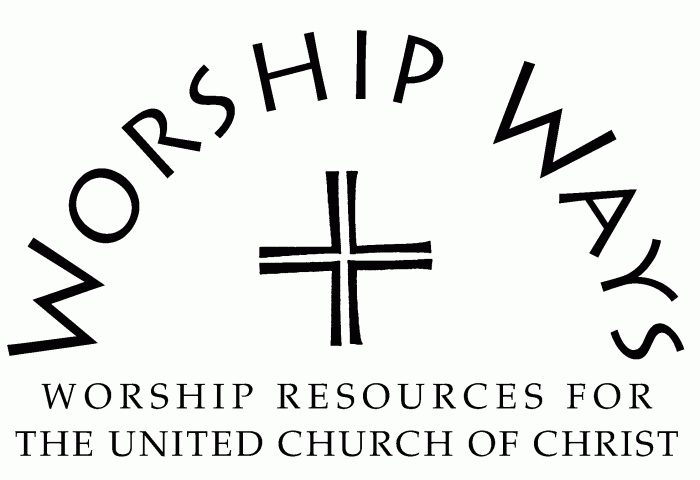 Copyright 2021, Faith INFO Ministry Team, United Church of Christ, 700 Prospect Avenue, Cleveland, OH 44115-1100. Permission granted to reproduce or adapt this material for use in services of worship or church education. All publishing rights reserved.