Workshop highlights efforts to address pandemic's internet connectivity crisis
More than a half century after the United Church of Christ's media justice ministry fought to force southern television stations to carry coverage of the civil rights movement, its leaders are still working to address one of today's key media justice issues: equitable access to broadband services.
During a workshop titled "Communications Justice: How to Get Affordable Quality Broadband for All—Locally and Nationally," panel members highlighted a new Emergency Broadband Benefit that helps low-income households and Native American tribes afford faster, better internet access, now that the pandemic has demonstrated how important that is.
Panel members also discussed specific ways in which churches, other so-called "anchor institutions" and advocacy groups had worked to address a range of "digital inclusion" issues, including internet access, personal devices and digital literacy.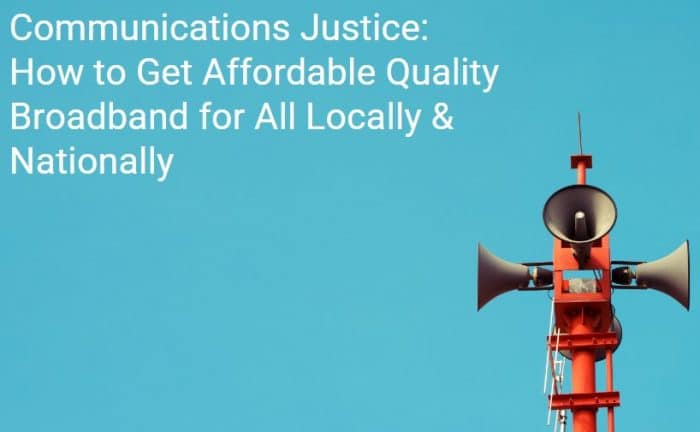 The workshop was held July 7, the first day of the 50 workshops that have been arranged for General Synod 33. Some workshops, like this one, included live audience members. Others were prerecorded.
Synod registrants will be able to view this and other workshops until Aug. 31; after that they will be available for purchase for on-demand viewing through Dec. 31 through the new Frontline Faith Learning platform.
Pandemic prompts idea
Cheryl Leanza, policy director of the UCC's media justice ministry, the Office of Communication, Inc., described how the pandemic helped policy makers see that internet access was an economic justice issue as schools, employers, governments, churches and other organizations were forced to move their activities online in spring of last year.
She described how she and another civil rights advocate got together in the pandemic's early days and sketched out an idea for a new program that provides low-income families with a discount of $50 a month from the costs of their internet access ($75 a month for households on tribal lands). Working with other groups, the legislation creating the Emergency Broadband Benefit program was passed in a mere nine months, providing up to $3 billion worth of support.
The program will continue until the fund is expended, but that it is expected to continue until the end of the year. Advocates are now pushing for the program to be extended beyond that. More information on the program and how to apply is available at www.EBBhelp.org. The website also has tools that can help churches and other organizations publicize the new benefit.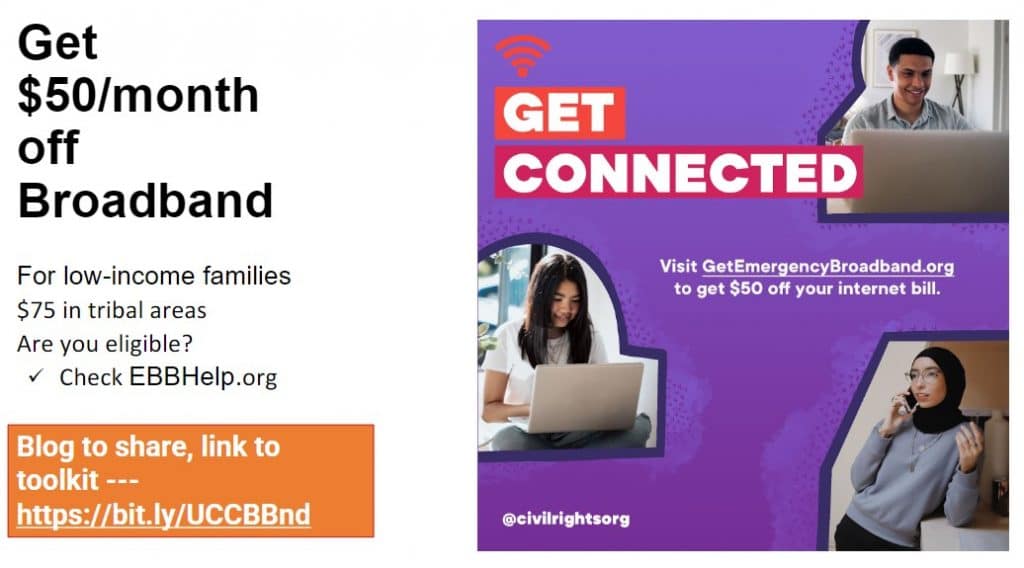 The panel also highlighted specific examples of how a UCC congregation and other advocacy groups have addressed digital inclusion issues.
How one church responded
The Rev. Zach Kerzee, associate pastor of First Church in Sterling, Mass, described how his church had responded to the pandemic by creating a Remote Learning Center to provide better, supervised internet connectivity for more than 50 families in their small, rural community. The church observed that "It takes a village to raise a child. During the pandemic shutdown, it was tough for the village to do its job." So the church envisioned a mission to "support families with a safe, supervised environment" and provide students with supervised access to remote school instruction, so that their parents could remain focused on their own jobs.
Kerzee described the regulatory and other challenges that the church faced in launching the project, which did not get started until January 2021. He said that since students returned to their regular classrooms in April, the church has been discussing whether the "really robust internet infrastructure" that it developed could continue to support community needs, possibly by creating an internet café or supporting homework help after school.
The church's senior pastor, the Rev. Robin Bartlett, noted that the church had changed its governance structure 10 years ago to make it "more nimble," more "mission-focused" and more "permission-giving." She said that making those changes enabled the church to respond quickly to the pandemic. It "starts from way back," she stressed, "not when you have a crisis."
High school student takes on provider
Kimberly Vasquez, a recent high school graduate of Baltimore City College High School and lead organizer for Students Organizing a Multicultural and Open Society (SOMOS) in that city, described how her organization had pushed Comcast to improve the Internet Essentials service that it makes available to low-income households. She said that when the pandemic hit, "if you didn't have internet, you were excluded from society as a whole." It "really showed how essential the internet is."
Vasquez said her family had internet access when the city shut down, but that trying to follow school from home had underscored the limits of her service. In April 2020, her organization got the city of Baltimore to provide $3 million to support home computers and hot spots, but that internet access, and the quality of that access, remained an issue. SOMOS did research and found that more than 40 percent of the households in Baltimore, where Comcast is the only cable provider, had no internet access.
Within a few weeks, SOMOS got 10 elected officials, more than 100 organizations and more than 1,500 individuals to support a letter of demands, asking Comcast to improve the service it provided to low-income households. The organization got a meeting with a local Comcast representative, but remained frustrated with the response. It then took its advocacy nationwide, connecting with organizations in the Comcast markets of Philadelphia and Detroit, state officials in California and Colorado, and Federal Communications Commission members. After nine months of advocacy, Vazquez said that Comcast agreed in March 2021 to double the speed of its Internet Essentials product. Vasquez said it was "a step in the right direction," but that she is still encountering problems with her own access, and is now directing her work toward higher levels of government and pushing for Baltimore to provide municipal broadband service.
Learning from others
Paolo Balboa, manager of programs and data for the National Digital Inclusion Alliance, described how his organization has worked over the past few years to build a coalition to address the digital divide. Balboa, who saw the needs when he worked for the New York Public Library, said the pandemic has only increased the need for this kind of support.
His organization gathers best practices from those working on issues related to internet access, adequate devices and support and training, and works to share that expertise more widely. He noted that social service agencies and groups such as churches, refugee organizations and housing authorities have been forced to develop solutions to these problems. Balboa directs his organization's Digital Navigators program, seeking to teach others how to provide the kind of patient, friendly, sometimes time-consuming support that people often need when they first use a computer or try to go online.
All of the participants stressed the value of seeking out others who have been working on these problems. And all agreed that communications justice issues won't disappear, even as the world opens up again.
Leanza noted the UCC's media justice ministry is continuing to urge Congress to address broadband connectivity as part of the infrastructure package it is working on. "We want them to know that they can't finish work without dealing with broadband," she said. "We all know that the world has changed, and that we are going to continue to want to do things online."
Sara Fitzgerald, a General Synod News Team volunteer, is a member of Rock Spring UCC in Arlington, Va. She is a member of the OC Inc. board of directors.
---
Related News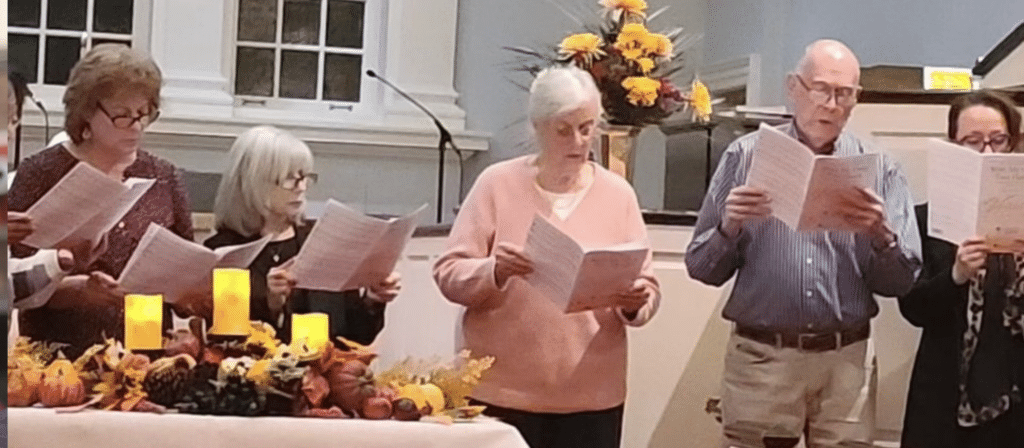 Many United Church of Christ congregations across the country participated in interfaith...
Read More