Words of a 12-year-old, emphasis on voting impress UCC participants in DC rally
Amid the dozens of distinguished speakers who addressed a march and rally in the nation's capital Friday, Aug. 28, it was a 12-year-old who caught the ear of two United Church of Christ ministers who were participating – one in person, the other online.
That speaker was Yolanda Renee King, granddaughter of the Rev. Martin Luther King Jr. She spoke from the steps of the Lincoln Memorial during "Commitment March: Get Your Knee Off Our Necks," organized by the Rev. Al Sharpton and his National Action Network. Sharpton had issued a call to the event during the funeral for George Floyd, killed by Minneapolis police officers May 25.
She recalled words her grandfather had delivered from the  same spot to some 100,000 people exactly 57 years earlier in what has become known as the "I Have a Dream" speech. His call for justice, and the movement for civil rights that he led, must not be forgotten, she said.
She exhorted her generation to embrace "a new phase of the struggle" for "genuine equality." "Great challenges produce great leaders," King said. "We have mastered the selfie and TikTok. Now we must master ourselves."
"My generation has already taken to the streets – peacefully, and with masks, and socially distanced – to protest racism," King said. "And I want to ask the young people here to join me in pledging that we have only just begun to fight, and that we will be the generation that moves from 'me' to 'we.' We are going to be the generation that dismantles systemic racism once  and for all, now and forever." She made the same promise about police brutality and gun violence, climate change and poverty
'Setting the stage for the future'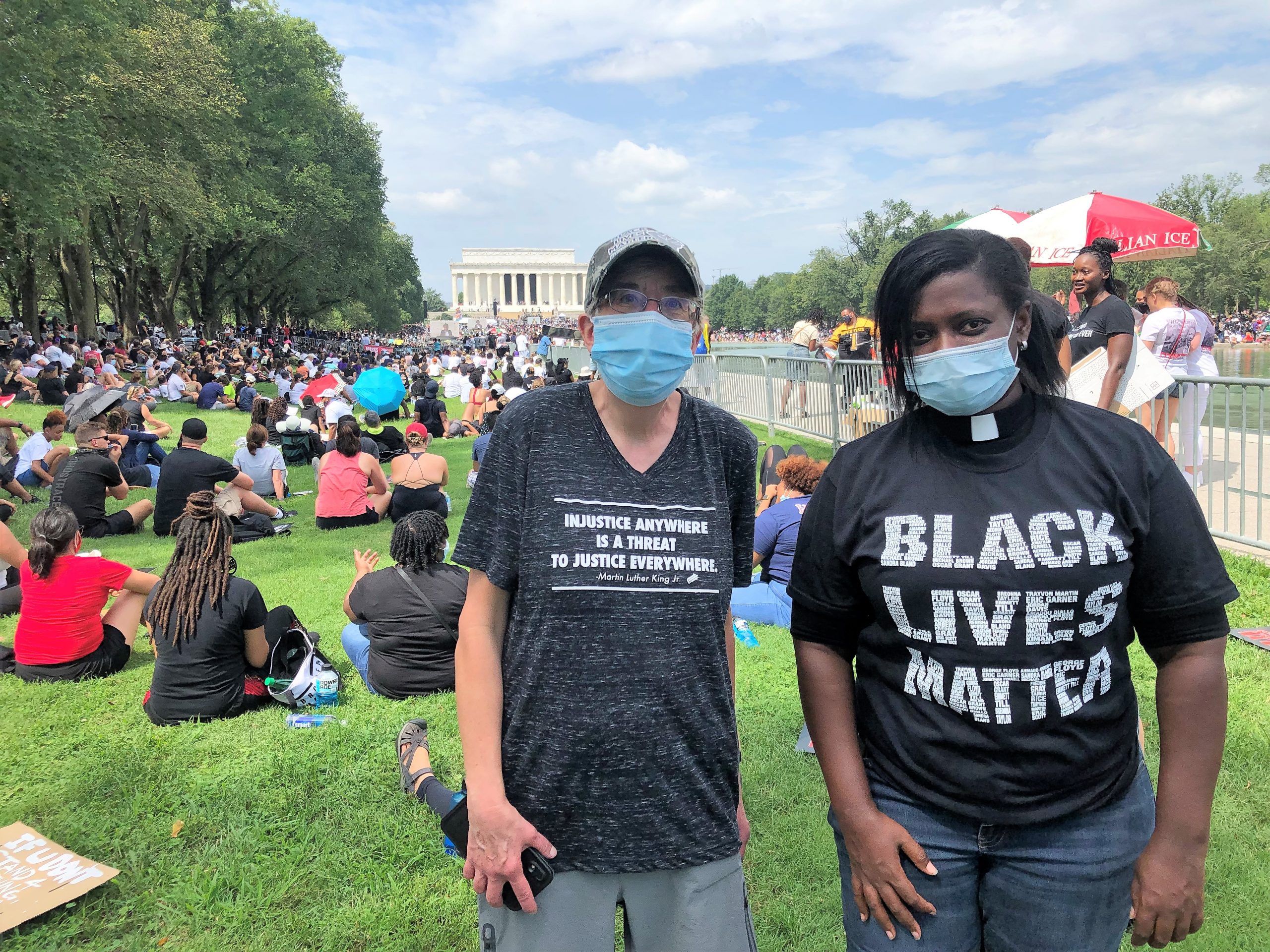 Taking hope in King's speech, from her viewpoint near the Lincoln Memorial Reflecting Pool, was the Rev. Sheila Guillaume, who flew from Florida especially for the march. "The diversity of the crowd was great to see, so many ages and races of people from all over," Guillaume said. "I think Dr. Martin Luther King Jr.'s granddaughter was really touching, setting the stage for the future and calling us to be the beloved community."
Guillaume said she had strong support for her trip from the Just Peace Church congregation she pastors, Union Congregational UCC of West Palm Beach – and once arriving in Washington, was glad to see she was not alone in taking pandemic precautions. All the people she saw at the event "were trying to be careful to socially distance," she said. "Masks were required. People were honoring the precautions."
"I felt like I was there on behalf of so many people who could not come because of the pandemic," she said. The event was an important way to show "that our quest for justice for all people remains a priority – it's not something we're ignoring. We're saying that we still believe in this dream that Dr. King had those years ago, that one day we will all be able to live together in justice, peace and equality.
"Even though it's heartbreaking to continue to see that police officers are shooting Black people, these marches give us hope that one day this type of policing will end and that we will have a justice system that is for all of the people."
'Impassioned call in these troubling days'
Guillaume was back in Florida in time to weave a mention of young Yolanda King's speech into her sermon during Union's Aug. 30 Facebook Live worship service – something also done by a Maryland minister who had watched the Friday event online, via a stream provided by the NAACP.
The Rev. Barbara Kershner Daniel is pastor of Evangelical Reformed UCC, Frederick, which considered taking a busload of people to the D.C. march, but decided against it because of the coronavirus risk.
But Daniel and other member did take part virtually, and she mentioned it Sunday while preaching on the biblical story of Moses, who was called by God to stand up to Egypt's pharaoh. Among all of Friday's speeches, Daniel said, she was most taken by the 12-year-old King, "who stood at the microphone and delivered a loud, forceful, impassioned call for justice in these troubling days of racial violence. And I gave thanks for a new generation responding to a higher call to rise up and speak truth to power, to powers who have closed ears and hardened hearts, in order for the cries of her people to be heard."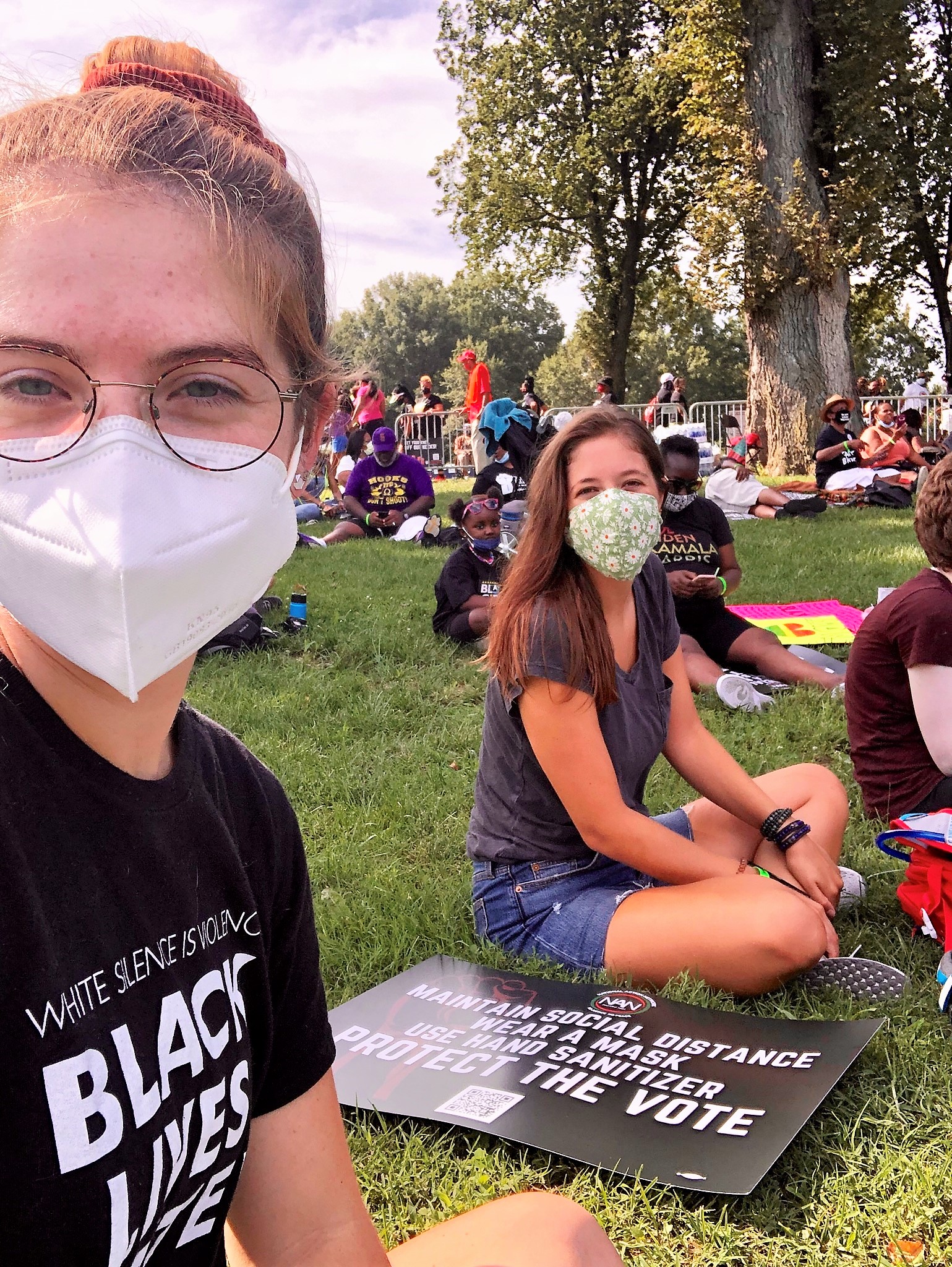 Though church members were disappointed not to be able to go, they are carrying on with anti-racism study and action in the coming weeks, Daniel said. Next up in their series of books and movies is Ta-Nehisi Coates' "Between the World and Me," she said. "And we have 20 people on our Get Out the Vote team," a nonpartisan effort to register and educate voters on important issues.
White responsibility; importance of voting
Also in attendance in Washington was Jessica Quinn, online communication specialist with the UCC's Capitol Hill advocacy office. She, too, was impressed by the event's pandemic precautions and substantive speeches.
"Our temperatures were checked prior to entering the area around the reflecting pool," Quinn said. "Participants were given masks, gloves and sanitizer, and marshals were present throughout urging folks to keep on their masks and to spread out as much as possible.
"There was a long list of powerful speakers all sharing a common list of messages: It is past time we demand racial justice, we must address the violent policing system in our country, and we must all use our voice in the ballot box in November."
Quinn said the greatest impact on her was "when multiple speakers called out white people of faith." "A clear message was relayed directly to white Christians: you must not be silent or look away from this movement," she said.
Voting was emphasized throughout the day – something close to the hearts of D.C. staffers who manage the UCC's Our Faith, Our Vote initiative. "Organizations were set up all around the gathering, checking registration status with anyone who walked by, and tickets were given out with a link to check your voting status," Quinn said. "Many speakers address the historical barriers Black Americans have faced in having their vote counted. Repeated it was said, 'even if you have to crawl to the ballot box, you must get out and vote.'"
---
Related News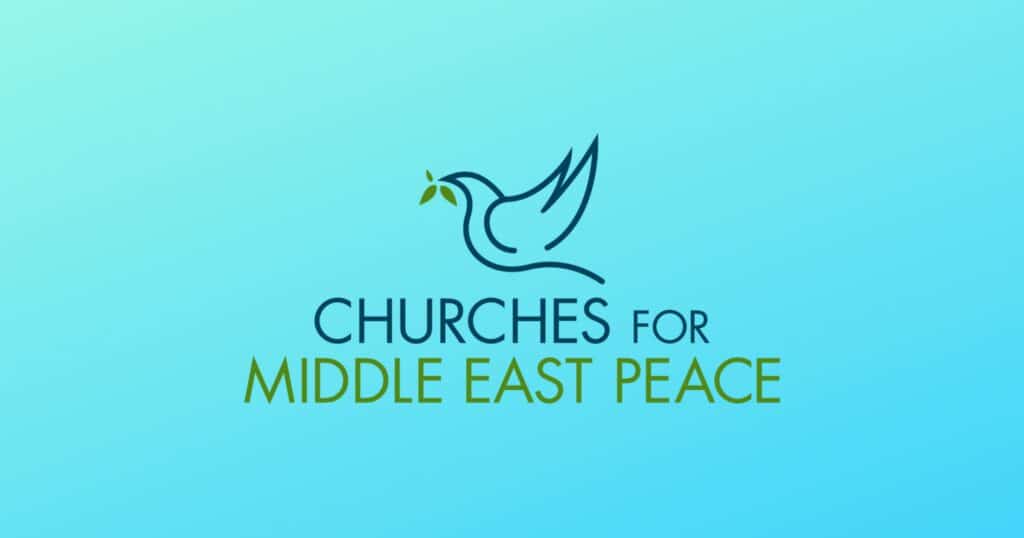 The following statement was issued Dec. 2 by Churches for Middle East Peace (CMEP), of which...
Read More