Winston-Salem church creates 'a nativity scene for 2020'
A North Carolina congregation hopes to provoke thought and offer inspiration this Christmas though its somewhat untraditional nativity scene set up along a highway in front of the church in Winston-Salem.
While baby Jesus and his mother Mary are both present in the stable, they are separated by a picket fence. Mary is reaching through the barrier toward the infant in the crèche wrapped in a Mylar blanket under a sign that asks, "Is there room for all?"
Parkway United Church of Christ installed the display on Dec. 6, its vision of the import of Christ's birth narrative as it relates to community experiences today.
'Barriers are many'
"The scene is an outgrowth of the justice team and the congregation's continuing work in response to the crisis of immigrant neighbors, the commitment to anti-racist study and action – including the UCC's Sacred Conversations to End Racism – and our current work with the movement to support those who are being evicted in our community," said Parkway's pastor, the Rev. Craig Schaub.
He said the team reflected on a statement in the birth story of Jesus of Nazareth in the Gospel of Luke: "She laid him in a manger because there was no room for them in the inn."
"The room we seek for our neighbors and ourselves is varied because the barriers are many," Schaub said. "It's not just a border fence and those over 500 children still separated from their parents at the border. It's the high rates of incarceration, pandemic isolation, those without adequate shelter due to eviction and foreclosure. We need room for sufficient medical care and the breaking down of barriers for people to live, love, and express who they are fully."
Halo, rainbow, books
The installation is steeped in symbolism, which artistic coordinator Tammy Willard listed in detail. The halo above Mary contains a compass star to indicate that "Christ creates a purpose and direction for life." The muted color palette calls attention to the rainbow flag representing the LGBTQ community. The fence references the border wall and "the irony of pulling children and holding them hidden from their parents, when much of America celebrates an infant born in a foreign city."
Willard also said the fence presents an important question. "What else creates walls between us? The answer we concluded to this is perspectives and experiences," she wrote in her visionary statement. "How do we share and learn with each other?
"One answer we found was books. That brought us to writing the names of book titles on the pickets. We worked to build a list that included perspectives from different religions, people of color and otherwise marginalized voices. We also included the Bible and the U.S. Constitution in that list because hope, love and ideals are available."
'Call of incarnation'
"Given that the church building is located on a state highway (N.C. 67), we see messaging on the highway embankment as a part of our ministry," Schaub said. "Over the years, we've had the UCC 'Be the Church' banner, a Black Lives Matter banner, a Unite in Love banner at the start of COVID-19, and now a permanent sign with various messages inserted into its base."
The Parkway nativity scene has been praised by members in the art community and panned by some for the use of the rainbow flag, Schaub said. The congregation will be asked to reflect on it in virtual worship on Sunday, Dec. 20, and the question "What call of incarnation visits you this season?"
"We think of barriers for those with disabilities and those facing mental health challenges. We think of room for an imagination of how we live within our ecosystems without bending them toward destruction," Schaub said. "Most deeply, though, there is a plaintive cry to the theme. Will we make room for all our feelings, all dimensions of ourselves? Incarnate holiness is birthing each moment in us to clear room for us to know the divine spark within us, in others, and between us all."
---
Related News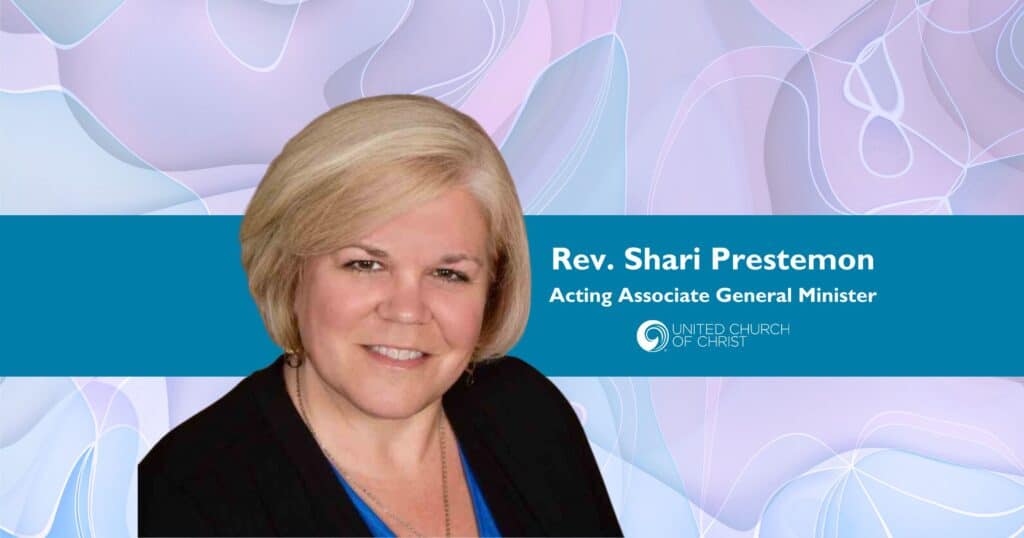 A new United Church of Christ national leader has been called. The UCC Board voted in a...
Read More