Tracking the UCC Ukraine response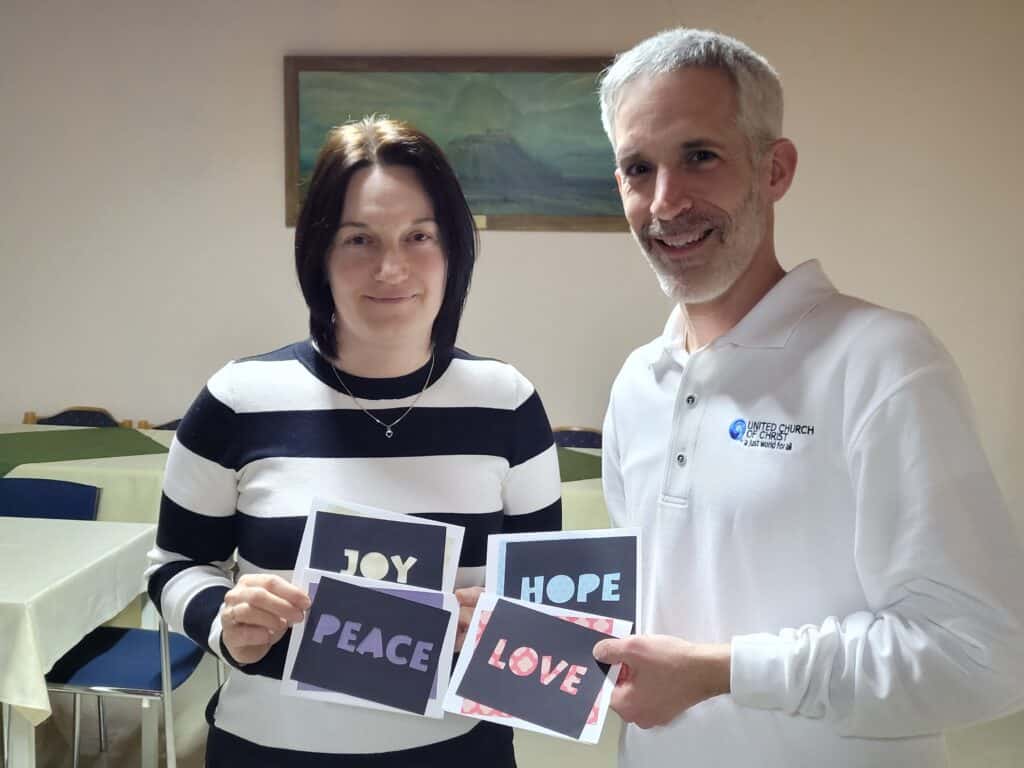 Day 5
Transcarpathia
by Rev. Joshua Baird
---
The first day that I worked from the new national office space last July, a small package was waiting on my desk. In it, I discovered 30 cards of encouragement for the people of Ukraine. The accompanying note read, "Words of Hope cards from the Chinese Congregational Church of San Francisco, Calif. Please send to accompany funds for Ukrainian Relief. Thank you." Unsure of whom to send the cards to, I held onto them until I knew I could get them to the right people. Two weeks ago, the box was one of the last things I packed as I prepared for this trip. I have carried this small vessel of solidarity each day of our journey, until today. As we visited with people from the Reformed Church in Transcarpathia, I knew who the cards were intended for.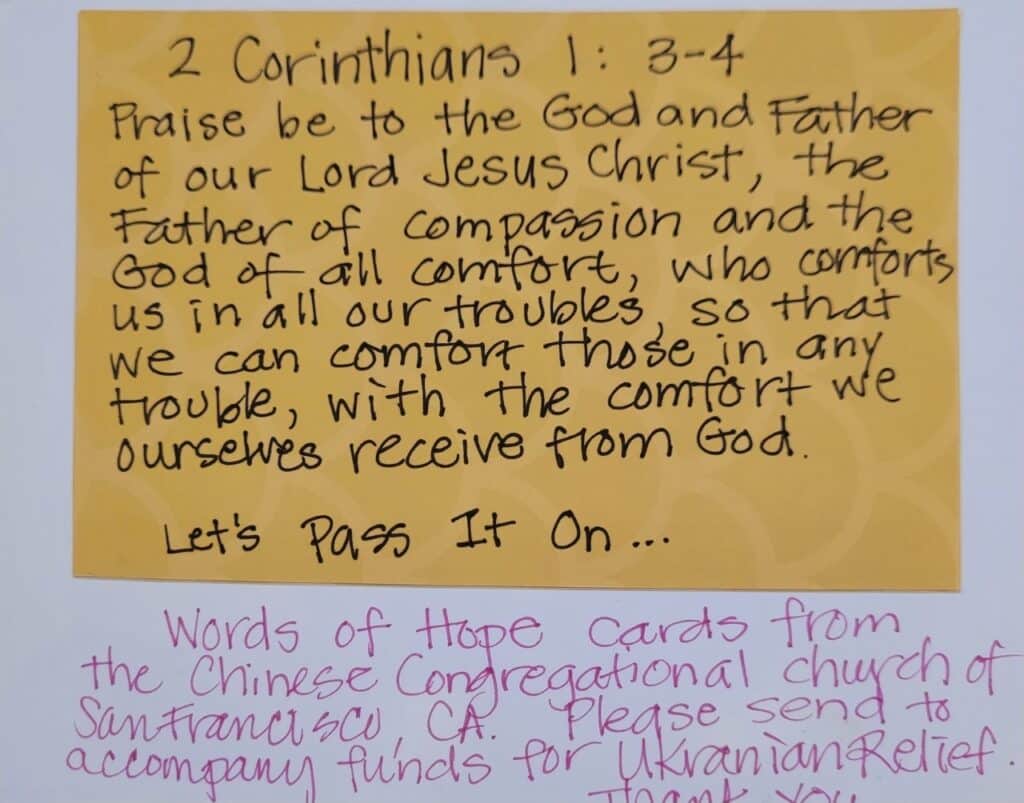 Across the region, the churches have established feeding ministries and schools; they bake bread to share and distribute firewood. One has even organized a volunteer fire department. So when the war began, and people from the east began to arrive, what else would they do but open their buildings, their homes, and their hearts to those fleeing the conflict? They gave from what they had to provide safe spaces, to provide sanctuary and rest – or purpose and work, when that was needed.
"Two women arrived together from the front," Pastor Nickolaus from the church in Dercen told us. "They were tired after traveling for several days to get here. But they said, 'Tomorrow, you will give us something to do.' I said, 'I am not going to exploit you, to put you to work.' They said, 'You don't understand. If we have nothing to do we will go crazy. Please, let us help.'" So the next day they joined the feeding ministry, preparing and distributing food in the community that had taken them in.
It has been almost a year since Russia's full scale invasion of Ukraine. An occasional hint of fatigue could be detected as the people we visited spoke of the wave of challenges they have faced. From the pandemic to the war, with inflation and energy shortages, there is no shortage of strain. Added to that, communities are being hollowed out as families and working age men are increasingly absent. Yet the people remain steadfast in their commitments to help neighbors near and far. By our presence and our time together, we were able to remind them that they are not alone. In the same way, we were reminded that we are not disconnected from the chaos of the war. These are our siblings in Christ. Their pain and fear, their hopes and prayers belong to us, too. Of course we can never expect to carry their burdens, but we can continue to express our care and concern and our prayers for their safety and for peace.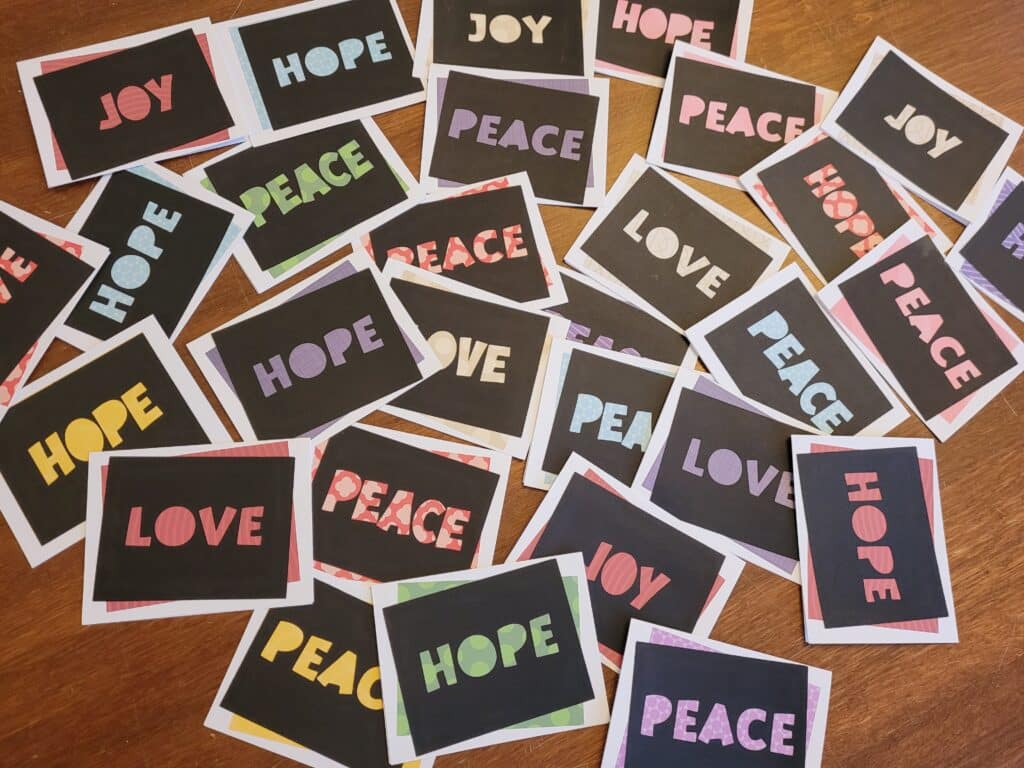 At the end of the day, we gathered around a dinner table with our hosts, with pastors and leaders from across the church, and with Krisztina Bado, Secretary of Bishop Zan Fabian Sandor, who was regrettably unable to join us. Bread was broken. Wine was poured. Food and stories were passed family style around the long table. We laughed together and shared in somber moments, too. The pastor of a large local church in the presbytery spoke about the importance of showing up for each other and I knew it was time to deliver the cards.
I entrusted them to Krisztina who immediately began distributing them among the church leaders with instructions about which schools and churches should receive them. Our experience of communing together around that table was affirmed by the scripture that accompanied the cards, which we shared
together, praising God who comforts us so that we can share God's comfort with others (2 Cor. 1:3-4). The people of the Reformed Church in Transcarpathia are living this out every day.
---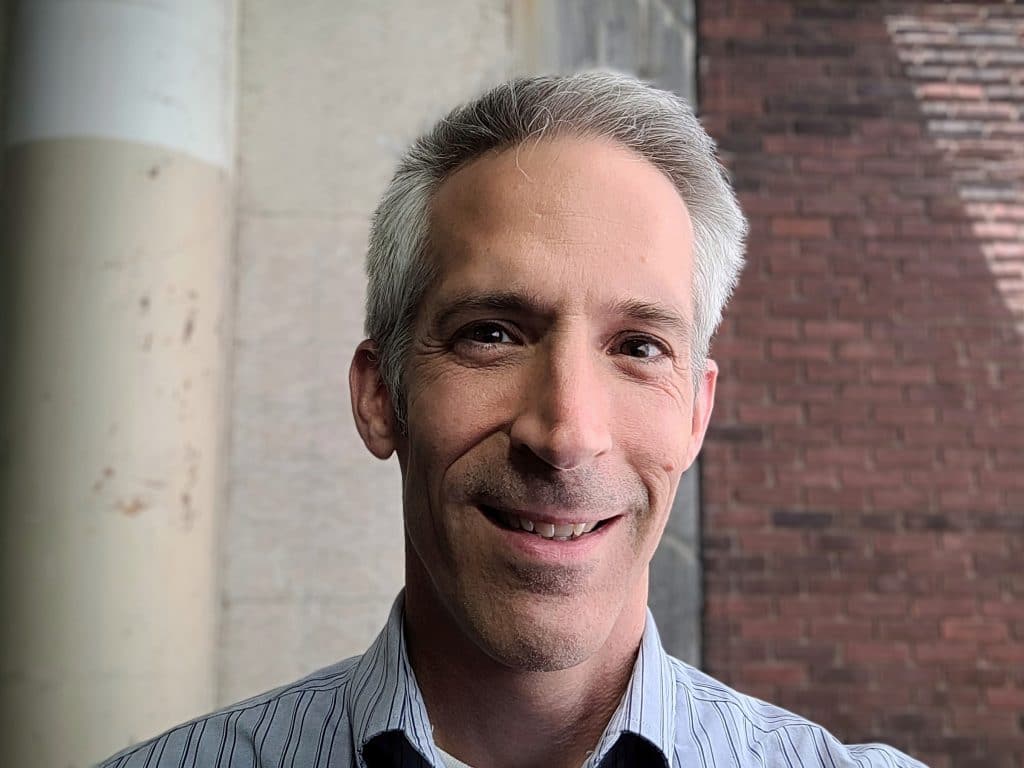 The Rev. Joshua Baird, team leader of Wider Church Ministries Global H.O.P.E, is part of a four-person United Church of Christ delegation meeting with global partners in Europe to see how UCC gifts are being used to help the people of Ukraine.